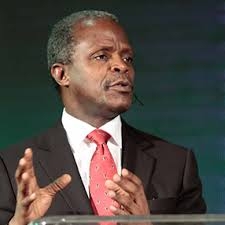 Archive
GRAND CORRUPTION REMAINS BIGGEST PROBLEM OF NIGERIA ECONOMY, SAYS OSINBAJO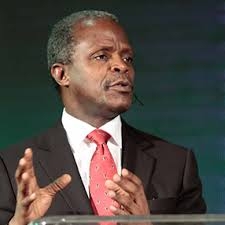 The Vice President pointed out that grand corruption is the direct withdrawal of money from the nation treasury account for personal interest or personal use
Hear him 'N60 billion was sometimes ago missed in the nation treasury without knowing how it disappeared, another 292 million US dollars was also embezzled in one transaction, all this cannot make us to develop as a nation'
Penpushing further reports that, Osinbajo added that no nation on earth can prosper or make a progress when its resource is looted and converted to personal use, noting that Nigeria resource will tremendously available for all if the money in the covers of the Government is not been stolen by looters.
He however urged the Nigerian youth to pay attention to what is going on in the country and hold Government responsible when the rulers failed to discharge their duties
" Nigeria future lie on the youth, you must be vigilant and take time to know the fact because the future belongs to you, and make sure that people you entrust with power are accountable for it'. Osinbajo said
In his remark, the Sigma Chief, Valentine Igbonekwu, said that the club is the oldest surviving Students organisation in Sub-Saharan African with considerable focus on good character, discipline, integrity, and national development which was founded in 1950 by male undergraduate of the University of Ibadan
His words ' Sigma is a social philanthropist Student organisation founded by a male undergraduate Student of University of Ibadan in 1950',noting  that the club has a standing statistics of 36 undergraduate members who currently run the club and being tutored to absorb the ideal that will launch them into the society especially at this time when moral have been relegated to the backseat of the society
Hear him' Sigma Club of University of Ibadan has immensely contributed to education development with timely interventions and prompt contribution, education foundation,  undergraduate scholarship scheme and sigma tertiary essay competition among other sterling initiatives
"Sigma annual public lecture over the years has become a robust platform where burning national issues of collective interest are intellectual x ray and dissected with a view to proffering lasting solution to them'
Earlier in his remark, the Chairman of the occasion, Dr. Wale Bablakin said Sigma Club has been consistently providing leadership education for Nigeria, noting that the sole cardinal of any Government should be youth empowerment
Hear him' the most significant things to do is how to give our youth good education because they are the future of tomorrow'.
Penpushing further reports that, Babalakin who is the Pro-Chancellor, University of Lagos stressed that Government must provide education for it citizenry at all level, stating that, "although Nigeria is not a wealthy country but we have a create goal to become it by funding education robustly and in a sustained way
He however urged Nigerians to support the Government to take education to higher level and that the Government should commit a lot of the nation;s resource on education so that Nigeria can move forward