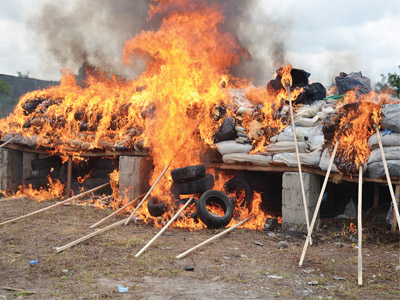 Opinion
War against drug abuse: Raising a drug-free generation
By Oluwaseun Boye
Drugs are referred to as substances that cause a change in an organism's physiology or psychology when consumed.They are typically distinguished from food and substances that provide nutritional support.
Consumption of drugs can be via inhalation, injection, smoking, ingestion, and absorption via a patch on the skin, or dissolution under the tongue.
In pharmacology, a drug is a chemical substance, typically of known structure, which, when administered to a living organism, produces a biological effect. A pharmaceutical drug, also called a medication or medicine, is a chemical substance used to treat, cure, prevent, or diagnose a disease or to promote well-being.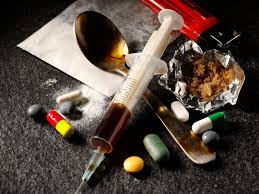 Traditionally, drugs were obtained through extraction from medicinal plants, but more recently also by organic synthesis.
However, in a report by News Medical Life Sciences, Drug abuse or substance abuse refers to the use of certain chemicals for the purpose of creating pleasurable effects on the brain.
There are over 190 million drug users around the world and the problem has been increasing at alarming rates, especially among young-adults under the age of 30. Apart from the long-term damage of drug abuse to the body, drug addicts who use needles are also at risk of contracting HIV and hepatitis B and C infections.
The causes of drug abuse, especially among youths have become worrisome, today, drugs are used by people for various reasons which may include: curiosity and peer pressure, for recreational purposes to obtain creative inspiration amongst others.
Basically, marijuana and hashish are the most widely abused drugs in the world. No fewer than 141 million people worldwide consume cannabis. The use of stimulants such as amphetamine and ecstasy is also widely reported with nearly 30 million people found abusing these drugs.
Cocaine is used by about 13 million people across the globe, with the highest number of users in the United States. Abuse of heroin and other opioids are less common than other drugs but being taken by about 8 million people worldwide, mainly in South-East and South-West Asia and Europe.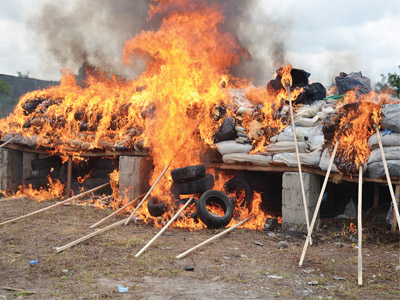 As a matter of fact, drug abuse is seen in various age groups and in individuals from all walks of life. However, recent findings showed that more men are prone to drug than women, while single people are more likely prone to it  than married individuals. Urban dwellers  are more exposed to drugs than rural dwellers as well as prisoners, street children and younger individuals are more at risk of drug abuse due to their contact to free society and care free wellbeing.
Records showed that Drug abuse is inflicting immeasurable harm on public health and safety around the world  on yearly basis and threatening the peaceful coexistence and socio economic development of many societies. The effects of drug abuse on humans are drastic, apart from the fact it can hurt the people who indulge in them, people around are not safe also. Drug abuse have adverse effect on people 's bodies system and could also lead to permanent brain damage as well as wastage of lives of future leaders in our society if there are no urgent government's action in place to curb it's high rising damage.
Consequently, this year's International Day Against Drug Abuse and Illicit Trafficking themed "Share facts on drugs, save lives" is an open declaration by the UN leadership that health is a fundamental right and so is justice. This theme aims at combating misinformation and promotes sharing the facts on drugs and also to create awareness of evidence based prevention, health risks and the solutions available to tackle the world drug problem, treatment and care.
According to the United Nations Office on Drugs and Crime (UNODC) World Drug Report 2020, globally 269 million people used drugs in 2018, which is 30 percent more than in 2009; and it is estimated that 35 million people suffer from drug use disorders. It is the important responsibility of national and international leadership to provide opportunities for safe life to every citizen. They should also put the drug producers behind bars along with their aides.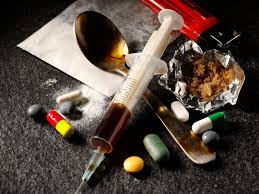 The National Agency for Food and Drug Administration and Control (NAFDAC) is a federal agency under the Federal Ministry of Health, responsible for regulating and controlling the manufacture, importation, exportation, advertisement, distribution, sale and use of food, drugs, cosmetics, medical devices, chemicals and packaged water in Nigeria.
NAFDAC has various basic functions. According to the requirements of its enabling decree, the Agency was authorized to: regulate and control the importation, exportation, manufacture, advertisement, distribution, sale and use of drugs, cosmetics, medical devices, packaged water and chemicals; conduct appropriate tests and ensure compliance with standard specifications designated and approved by the council for the effective control of quality of food, drugs, cosmetics, medical devices, packaged water, and chemicals, among others.
Unveiling a week-long  activities to commemorate the United Nations International Day Against Drug and Illicit Drug Trafficking, in Abuja, the National Drug Law Enforcement Agency boss, Gen Buba Marwa (rtd), pointed out that the growth of Cannabis should not be legalized in the country, though it is a money spinning venture as ascribed to a South West Governor, Marwa said, "The fact of the issue is one between saving lives and making money. From the drug survey of the United Nations Department on Drugs UNODC, 10.6million Nigerians use drugs and it will be 20million in 2030. We are the highest users of cannabis in the world and the consequences are there for everyone to see".
"The World Health Organization says usage of cannabis has health issues. With Nigeria having the highest prevalence ratio, this is not the time to be talking about legalizing the illicit drug. Ondo State is the greatest producer of this substance and NDLEA will continue burn down any farm or production site where we find this drug in accordance with the law. It is dangerous to our health and it has dire consequences" he said.
In the fight against drug abuse and illicit drug trafficking in Ogun State,  the state government under the leadership of Prince Dapo Abiodun had challenged all stakeholders not to leave government alone in the fight against drug abuse but calling for collaboration in achieving the set objectives on ending illicit drug dealings.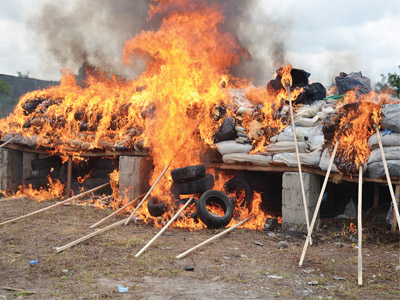 The State Government emphasised on this at a town hall sensitization programmes held at the three Senatorial Districts of the State through Ogun State Drug Control Committee (OSDCC). The aim of the meeting was to ensure that drug eradication and substance calling among the youths were nipped in the bud.
The Chairman, Ogun State Drug Control Committee (OSDCC), who is also in charge of  Pharmaceutical Services in the Ministry of Health, Pharmacist Olufemi Fafiolu, expressed concern for the high prevalence of the menace amongst the youths as well as using the platform as part of government's multipronged strategy as well as  to  enlighten the stakeholders on the dangers inherent in drug & substance abuse, focusing on the effects of the drugs on individuals and the society at large.
In the fight, it is imperative that all stakeholders  understand their roles, partner with the government and come out with a strategy to tackle the challenge headlong.
As at the last count, more than 150 secondary schools across the State had been sensitised on the inherent dangers of drug abuse, as emphasis are on the youths who are the future generation.
At the forum, a major stakeholder, the Olu of Ilaro and Paramount Ruler of Yewaland, Oba Kehinde Olugbenle,  who spoke through the Oloke Odan of Oke-Odan, Oba (Dr.) Olurotimi Fagbenro, was of the opinion that the menace of drug abuse would continue to linger without parents taking responsibility for their actions, as children are likely to emulate social vices from adults close to them.
The traditional ruler, advised all stakeholders to also embark on aggresive sensitization programmes on drug and substance abuse among transport workers, as this would go a long way to reduce road accidents as many road crashes have also been linked to drug and substance abuse by adults.
It has now become expedient to create , different fora as avenues for information dissemination and for interaction between the public and the stakeholders in the fight against drug abuse, drug addiction and drug trafficking.
Traditional rulers, civil society organisations, religious leaders, professional bodies and the media must also join in fighting the menace of drug abuse and illicit drug trafficking by educating the youths, being good role models and reporting suspected cases to the appropriate authorities for intervention.
The Office of the Wife of the Governor, Ministries of Health and Women Affairs and Social Development are not left out in their various massive campaigns and sensitization  against illicit drug usage.
Security agencies should not leave the fight to NDLEA alone, rather they should collaborate and  strengthen their partnership, intensify their collaborative efforts in the areas of intelligence exchange and other support services.
Sister security agencies, such as the Nigeria Police Force (NPF); Nigeria Immigration Service (NIS); Nigeria Custom Service (NCS); and Nigeria Security and Civil Defence Corps (NSCDC); must also join hands in fighting the menace called drug abuse and illicit trafficking.
Religious bodies must continue to engage open dialogue on drug abuse, mobilise worshippers as advocates for global response to fight the menace.Faith-based organisations can also be of great support in the prevention and care in the dissemination of information in local languages, these materials can be developed locally or obtained from sources, such as the Ministries of Health, NGOs and faith-based networks. Religious leaders can help to issue press statements and grant interviews in the media (newspaper, radio and television) on the adverse effect of drug abuse.
Educational Institutions especially the Tertiary ones should encourage  students' forms where they  will pledge not to use drugs or alcohol on campuses as well as putting in place a team that will work with law enforcement agents to get the message across among other mentoring programs.
As the world celebrates International Day Against Drug Abuse and Illicit trafficking, this brings to the open the great challenges the world is facing concerning global drug abuse and how it's better knowledge will foster greater international cooperation for countering its impact on health, governance and security.
Besides, more concerted efforts must be put in place to save the future of promising youths who believe in the power of drugs through sensitisation and enlightenment campaign programmes, youth empowerment and creation of gainful employment.
Oluwaseun Boye is an Information Officer with the Ogun State Ministry of Information and writes via [email protected]
FOOTNOTE: You want to share story with us? You want to advertise with us? You need publicity/live coverage for product, service, or   event? Contact us on WhatsApp +2348073463653 or email [email protected]