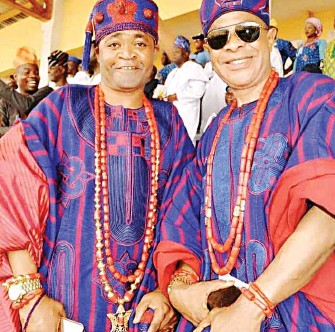 Interviews
ROYAL RUMBLE: OGUN TRADITIONAL RULER , OBA SOWEMIMO SCOLDS COLLEAGUE,OBA AKAMO
The Olu of Owode, Oba Kolawole Sowemimo, is a known flamboyant traditional ruler in Ogun State and a close colleague of Olu Itori, Oba Fatai Akamo , but recent development showed that, the centre cannot hold between the two of them, as Sowemimo verbally attacked and scolded Akamo over what he described as excesses of Olu-Itori.
Penpushing reports that, the aggrieved Sowemimo engaged journalists in an interview, where he threw venom on Akamo, and also owned up to some of his own mistakes as a traditional ruler. Our Correspondent, Yanju Uwala was there and produced the detailed interview. Below are the excerpts, enjoy:
Q: Kabiyesi, what is your name?
A: My name is Oba Kolawole Aremu Sowemimo, Olu of Owode-Egba.
Q: Kabiyesi, can you please shed more light on the ongoing issue that is on ground?
We all learn how to take responsibility for whatever we do, we learn from our mistakes, you understand, like me as I am talking to you now, I have learnt from my mistakes, whoever that will come as a Governor or whoever that is the Governor now is my Governor, I will not overdo anything with anybody, provide anything is wrong, I will take it as my mistake and I will take it as my responsibility, I will not do things like that, we learn from our mistakes. Most of them that are playing games now, you understand, is not new, they  have been doing it for a long time, but when it comes to a certain time, you should learn how to stop, whatever it may bring back, we should just respect ourselves as royal fathers, we are the fathers of all. I will remember or quote when Baba Osoba spoke to us, that we are royal fathers, we should behave like one, we are fathers of all parties, you understand, and whatever anybody do that is wrong, we should just learn from our mistakes, and take responsibility, and we should stop shifting blames, lieing, covering up, you understand, it is not new, like I am here today all because of what Akamo wrote, the Olu of Itori in Alariya Magazine in Yorùbá, saying that "Idi to mofi paada leyin Amosun gangan ree; Eniyan Buruku patapata gba ni Amosun" (Reason I withdrew  after Amosun; He is a complete wicked person) by Olu of Itori, and he said a lot of things in the magazine that moved me, he started all these kinds of behaviour during OGD, you understand and it's not a lie, OGD install him, and he's the one that installed me as Kabiyesi, he told us from day one that whoever is the Governor of the State, we should be 100% loyal to that government, when OGD was there, we all went to PPN and when the table turned around it doesn't mean, he's our Governor we love him, we go all the way with him. When Amosun came, he doesn't want to see us, he took us as his enemies, but with maturity he played a wise game, he called us back again, you understand and we are with him. For past eight years, this same Akamo, Olu of Itori, formed a forum, Ogun Central Obas Forum, or what is the name of the forum, and he's the Chairman of the forum, he is the one going back and front with Amosun, why now saying another thing. I am saying this for the new government to know the kind of person he is, we can't continue like this, we learn from our mistakes, you understand what I am saying, condemning Amosun, Amosun is this, Amosun is that, talking about Dangote, he is the one that caused problem between Amosun and Dangote, I can say it loud, he is talking about Dangote that Amosun that destroyed Dangote's properties in Oluke, you are not Kabiyesi of Oluke, that community is not your community, there is a Kabiyesi there, Akamo purposely blocked that Kabiyesi there, Oluke not to be promoted because he's claiming that place is Itori all because of money from Dangote, we can't continue doing things like that, he now ran back home to this present administration that Amosun did not helped them, the destroyed Dangote's properties, that the present administration should call Dangote back, he is the one that caused the confusion between Dangote and Amosun.
Q: How, Sir?
A: God bless you. He went with his friends and all his groups, I am close to him. He went to tell Dangote that Amosun have approved the place that Dangote should continue building, you understand, without the consent of the past Governor Amosun, now Senator, and when that one heard about it, he has to take another dimension, he destroyed all the buildings he built, and it is same thing he's doing now with the new government and he's saying it publicly that Dangote should come back, he will now go back to Dangote and say he has spoken with Governor Dapo Abiodun, that Governor said it's okay, you understand, all because of money, and there will be confusion, when everything has to go through due process and it is not like that, and this very community we are talking about is not your community, it is Oluke and Oluke is not Itori, there is a Kabiyesi in Oluke, Akamo blocked that Kabiyesi not to be promoted, do everything, you just don't want that Kabiyesi to be known, claiming the community that doesn't belong to you and now you're blaiming Amosun, when you caused the problem, now you want go and run to the present administration, that he should call Dangote, he will be using this  new Governor that he spoke with our Governor.  Governor Abiodun is my Governor, and anyone God puts there is my Governor, I cannot have different Governor; Governor is not for everybody but they should know this guy, that what he is doing is wrong, and he started with OGD.
Q: Kabiyesi, I want to ask you, are you now calling for a probe of the formation of Ogun Central Obas Forum activities, are you also calling that the issue resulting to Dangote's factories not following due process, are you calling for a probe into its activities, so that you get into the root of this problem, by this present government?
A: The government has all the resources to know the truth, whether I am lieing or playing games, it is so simple. Firstly, that place is not Itori, if you go to Dangote's dictionary or whatever they call it or programme or profile, or whatever, he named that place Itori, that place is Oluke, it is none of his business at all but because of his selfish end, every community there is Itori,  Dangote is just a business man, he doesn't know A from B, there is one Kabiyesi there too, Olu of Jagunna, he blocked that one not to be promoted, I have the records, even the Commissioner for Chieftaincy Affairs can confirm this, before, that one cried out that this is Jagunna not Itori, there is Jagunna very close to Itori, there is Oluke, at Oluke, their  Kabiyesi has been installed even before me, going to nine years now, he's blocking that guy, he wants to use his fame, all because of money he got from Dangote, that's not a life, stay where they put you, that's what Baba Alake told us, "Stay in your own community, develop your community, stop jumping" where they destroyed that building, where Dangote is working  is not Itori, it is Oluke, and there is a Kabiyesi there.
Q: Are you confirming that Olu of Itori is using all these for his selfish purpose to get money from Dangote, are you confirming that?
A: 100%), I can say it anywhere, and if he says it is a lie, he can take me up. I have a proof and I know what I am talking about.
Q: Are you now warning the present administration?
A: That is why I am here, they should just be careful of him, he is using the forum, using our names collecting money from party A, party B, party C, I can prove it everywhere, even the parties can prove it, this is not life.
Q: What we are made to understand is that Obas do not play partisan politics?
What we do, we should take responsibility and change. I cannot be found doing that sort of thing with anybody again, running around, campaigning again, I have learnt from my mistakes, and this is what he supposed to do, he should learn from his mistakes than playing games, lieing, covering up, if you just go through this magazine, you will be surprised that, this kind of thing can come out from his mouth, we are all there with the former Governor, Amosun, when he was going on the 28/29 eve, dancing with him, he took everything from him, gave him car, he gave him money, he gave him everything, we are all there and for him to just come to this newspaper, Alariya telling them that, he was there dancing seeing the end of his enemy, who is his enemy? He should learn to be responsible, he should learn to take responsibility of any action, it is just a matter of if I do something wrong, I am sorry, I will adjust, period, than playing games, saying a lot of rubbish about him, telling them if Amosun not insane, he will not have installed 75 Obas in a day, he should not forget that Gbenga Daniel installed him, the same process about 57 or more than that Obas, I am one of the beneficiaries, and Eselu is the one that took Akamo to Gbenga Daniel for his promotion before they promoted him to first class Oba, now he condemned OGD when Amosun came, now he's doing same thing now, I will not take it. This present administration should just know we take our responsibility to whatever we do wrong, it will not happen again.
Q: Are you apologising?
A: Yes, 100%), what I am telling you is that I have to be loyal to the administration of Ogun State, 100% loyalty, that is what Governor OGD taught us, and that is what we did, you should check the history what I am telling you now from OGD regime, we followed him all the way to PPN, when Amosun came in we followed him to APM, if Akamo  be saying, why did Amosun go to APM? I was in the former Governor's house when Akamo was the one picking the pictures of Triple A, that is the one they should use for the poster, now he's condemning them that why should they go to APM? Is that not madness?
Q: Many people believed that you are very close friends, now my question is have you tried any other option to correct each other?
A: God bless you. Yes, I called him when we go to Imora, and God is my witness, I called him and told him, let us change this our behaviour, that people are looking at us, we are no longer kids, you understand, that everything in life is just temporary, if for politicians, they are just there for certain period of time, Kabiyesis will live forever, whatever they give others, let's give them their own share. I called him and say it publicly, change this kind of life, don't because  you want to get something from somebody, if you do something, you shift it on somebody's head, I can give example of it, we danced together with Amosun, right here on the 28/29 and he told me that we should not go to stadium, because of those people, that they will be shouting on us, Akamo was the first person to be at the stadium on that day, and I was at home, I was even in Abeokuta waiting, after the ceremony they went to Chief Osoba's house with some group of Obas, and they started lieing that Olu Owode was the one that gave them the APM uniform, they wore and this and that, and he is the chairman of the forum, he brought them, I have witnesses, Olu of Adodo is my witness, Oniro is my witness. He was the one that brought that thing they wrote APM  Ankara that we wore, we all put it on, the Olu, Obafe put it on, himself put in on, the one I brought without the logo of APM, I have it,  Olu of Adodo-Ota, it still there, I am not lieing, now you went to Chief Osoba's house and told them that Olu of Owode was the one that brought the uniform, you were the one, you're the chairman of the forum, why are you lieing? Why do you want to put everything on my head and be telling them that Amosun is this, Amosun is that, Amosun gave him a jeep, I did not get anything from them and you ought to take responsibility for whatever action you took, and then you apologize for whatever you do, you adjust, period. Why you playing games, why you condemning Amosun, he enjoyed him pass everybody, so therefore the present Governor needs to be careful with him, he's a player. I can say it anywhere, and if he says I am lieing, I have my facts, I can say it anywhere. He can go any length