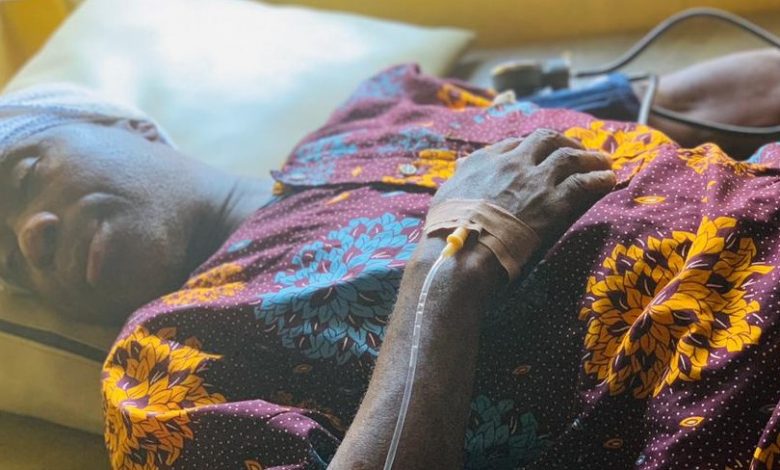 Interviews
I am still alive today by God's grace, says man attacked over failed marriage to cousin
When Mr. Tijani Waidi Adio woke up on Saturday, November 21, 2020 little did he knew that he would end up in the hospital by the end of the day.  Unknown to him, attackers were on their way to avenge over a failed marriage proposal to his cousin, one Simiat Adeyanju Olusanya by Chief Adeyemi Abidoye.  By the time Abidoye and his men left Tijani's family home in Ijebu-Ode, Ogun State blood was all over his body.  Tijani recalls his narrow escape in this special interview at his Abeokuta abode with Penpushing Media.
Q: It is nice to meet you healthy today.  Can we know your name sir and who is Simiat Adeyanju Olusanya to you?
A: Thank you for coming here today for this interview.  My name is Tijani Waidi Adio.  And Simiat is my cousin.  We are both from the same family in our home town, which is Ijebu Ode.
Q: Can you tell us what happened to you on November 21, 2020 while visiting your extended family in Ijebu Ode?
A: Yes, it was the day that I was injured by some men who came to our family house.  But, I know the man who led them.  He is Chief Adeyemi Abidoye.  He is a popular troublemaker and I think he is one of the landgrabbers or so.  He is a terrible person from what I knew of him and people who are familiar with his lifestyle.
Q: How were you injured?
A: I was badly injured when the men came to our house on the said day.  Indeed, I had just finished eating and was relaxing on a chair when they came shouting my name.  And when I went to the door to open it and see who was there and his mission, I was surprised when the door was pushed and I fell on the ground.  My heart almost jumped out of my chest because I was really afraid.  I was not expecting such rude shock.  Before I could utter a word, they started beating me shouting you are a crazy man.  All my appeals to them that what did I do or they should leave me fell on deaf ears.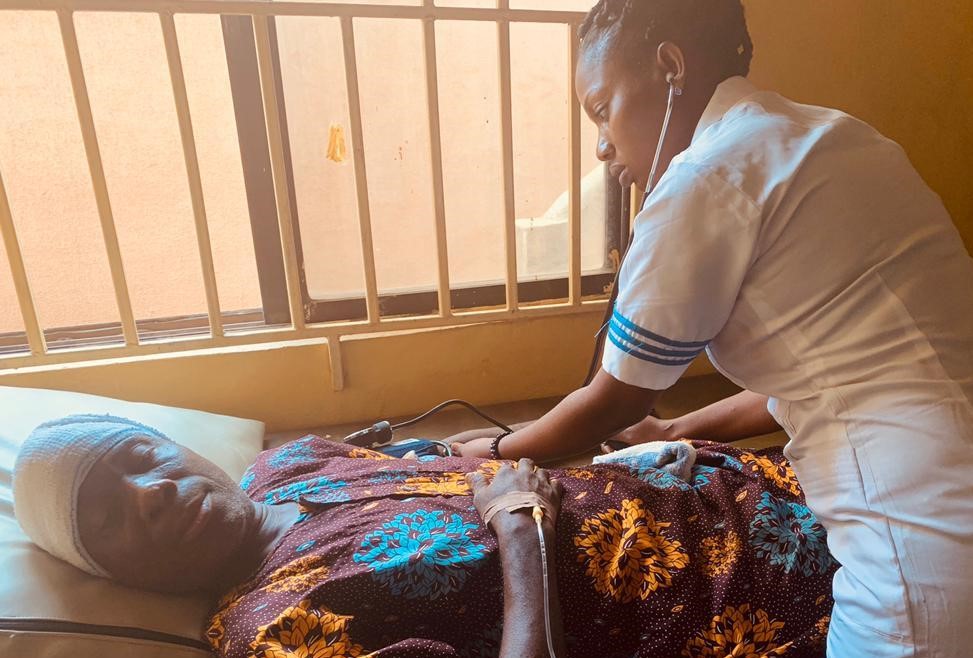 Q: Do you know why they came for you in Ijebu Ode, when actually you live in Abeokuta?
A: Sincerely, I don't know.  Let me say that they must have been monitoring my movement.  Otherwise, how did they come on the day, Saturday, that I just arrived Ijebu Ode?   But they told me their mission, just as they kept beating and hitting me hard on the floor.  They asked me: "Where is Simiat, where is Simiat before we kill you?"  That was when I had an idea of why I was being punished by the unexpected attack.  Chief Abidemi Abidoye specifically told me that he came to avenge the disappointment and disgraced he suffered by Simiat's action and me who he said refused to divulge to him where Simiat was hiding.
Q: Can you explain better over the disappointment and disgrace?
A: Yes, he said he had printed invitation cards for their wedding and informed his family and friends that he would get married to Simiat, and that a day had been chosen ahead of Simiat's return from her travel.  He told me that she informed him she wanted to visit her children for certain occasion or so.  Actually, I don't know the full details.  According to him, he because furious when Simiat failed to returned as promised and the date for the wedding had elapsed.  So, he felt embarrassed and disgrace by her deception.
Q: What actually concerned you in the matter between two adults?
A: I must confess that I knew the Chief wanted to marry Simiat and at a point he began making arrangements for their marriage.  Along the line, actually I don't know the details of their conversation or agreement, but after Simiat travelled the Chief kept pestering me where she was.  But, I told him that I had no idea; I told him that I was sure both of them would have discussed it.  He said Simiat talked about travelling and that she would be back soon, and that since she left she never returned and he was really angry that Simiat deceived him to run away from him.
Q: But, let's go back.  How did you escape the attack on that day?
A: It was God's grace.  God used my cousin, Safadeen who came at the right time.  When he saw me being beaten and blood all over my body, he shouted for help to attract neighbours.  On hearing someone was shouting, the men quickly left me and ran away with the Chief threatening me that they would come back for me.
Q: What happens after that?
A: I was taken to the hospital by my cousin and neighbours.  Then, the matter was reported at the police station.  The police boss promised to investigate the attack and take appropriate measures to arrest the men for prosecution.
Q: And have they been arrested now?
A: Actually, I don't really know and not actually interested because Chief Abidoye has connections and he may have sorted out the matter or the police are still working on the case.  But, I am just concerned that I am alive and my niece is not in any harm's way.  The point is that since I escaped and alive why should I worry much on Chief's arrest?  That is the job of the police and I have left them to that, but whenever they call me, probably tomorrow, to give evidence at the station or court I will honour the invitation.  But for me alone, I am not interested in taking the case to court because of many reasons.
Q: But why subjecting you to this ugly treatment because of marital issue?
A: It is good you asked me that.  The point is that the decision to marry or not rest squarely between the two of them: Simiat and Chief Abidoye.  But, Chief Abidoye was angry because he claimed my family disgraced him and he was seriously embarrassed over Simiat's action.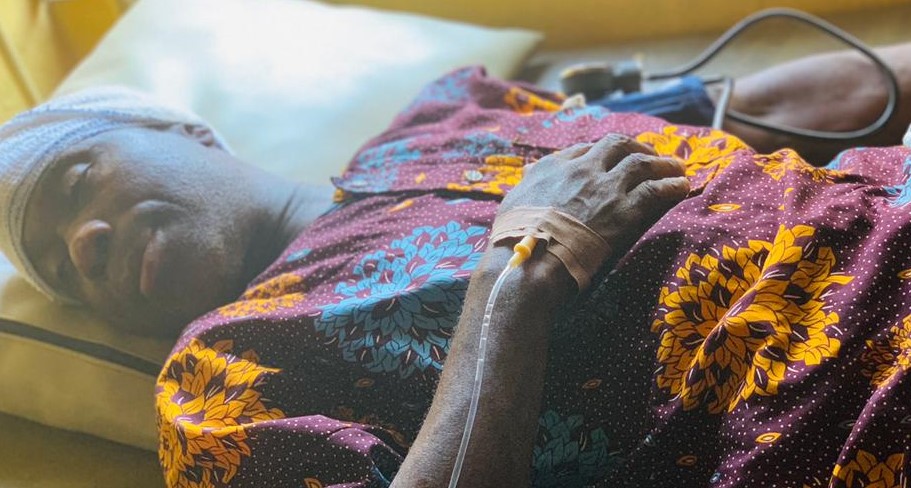 Q: Did you see that incident as such?
A: According to him, he had planned their wedding by printing invitation card since he was banking on the date that Simiat promised to be back from her trip.  He said he later discovered that Simiat had all along been lying to him and deceiving him while he was busy, underneath, planning the marriage.  He stated that he felt betrayed and he would not take it lightly, particularly with someone like him who is a notorious person who can do and undo because of the decay in our society.
Q: How can you describe the extent of your injury?
A: I don't really know.  Only the doctors can say specifically, but I was told I had a fractured injury and that is why I still feel pains inside my bones on the left leg and my ribs.  But, I had cuts on the head where blood gushed out like water then.  But that had been taken care of and I am better now, though I still visit hospital for further treatment.
Q: But I need to ask you where is Simiat now?
A: Good that you asked me, but I am not ready to disclose where Simiat is.  This is due to safety reasons as I don't want further attack on me and her eventually if, by chance, Chief Abidoye found out where she is.
Q: Is it that you don't want to disclose because the Chief is still or will be after you?
A: Again, I repeat that I don't want to say anything about that.  Security of my life is very important.  Similarly, the safety of my cousin, Simiat is crucial to me.  Since I have escaped and I am still alive, I need to be careful; indeed, I am just conducting this interview because of your appeal to me that the whole world must read and learn from my bad experience.  So, let us leave Simiat's whereabouts alone and not talk about it.  Thank you.
Q: Still, I want to ask you that were you attacked because you opposed the marriage?
A: Opposing or supporting the marriage is not the issue.  Why must I be attacked even if I opposed it?  Marriage is between two people.  So, what is my business whether they agree to marry or not, or that somebody travelled for reasons best know to her.
Q: But, did Simiat told you why she travelled and never returned for the marriage event?
A: I don't want to talk on that for security and safety reasons.  That matter could be problematic and it is delicate, and don't forget I may not really know the real intention of my cousin, particularly since I was not present when she and Chief Abidoye were discussing the plans between them.  So, let us leave it at that.
Q: So, you did not oppose the marriage between them?
A: Not really, because the choice and decision rest with Simiat not me.  Though, I can give advice to my niece but the final decision is hers, not mine.  Indeed, the Chief felt disappointed and decided to punish me when I refused to disclose where Simiat is, and I am happy that I am better now and Simiat is not directly under danger of attack.  Because, with the level of anger in the man, he can do and undo anything bad on my cousin.  So, the best thing is to keep silent on Simiat for now.  Even her younger sister is keeping low profile now due to the threat on her in her home in Sagamu.  Our family members are being careful now.
FOOTNOTE: You want to share story with us? You want to advertise with us? You need publicity/live coverage for product, service, or   event? Contact us on WhatsApp +2348073463653 or email [email protected]