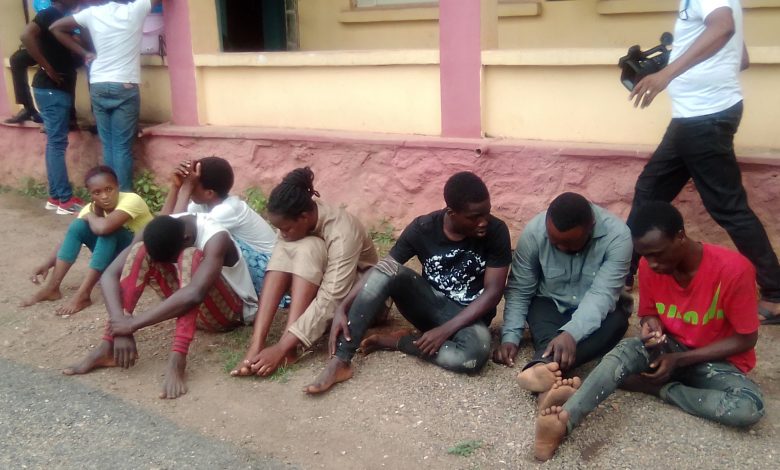 Crime
Internet Fraud: Police Parades 7 suspects
Yanju Uwala in Abeokuta
Seven criminal suspects comprising four males and three females were on Thursday paraded at the Police Headquarters, Eleweran, Abeokuta, Ogun State capital for alleged  internet fraud.
Penpushing reports that the suspects were: Habeeb Sanni, Computer Operator (20 years), Adewunmi Olarenwaju, Phone Dealer (40 years), Adeosun Olatomiwa, Phone Operator (22 years), Titilayo Morakinyo, Student at Gateway Polytechnic, Sapade, Ogun State (22 years), Adeoti Busayo, Hair Dresser (30 years), Mayowa Morakinyo, Internet Fraudster (20 years) and Esther Oshin, Mother of twins (29 years) and prime suspect.
The State Commissioner of Police, Edward Ajogun, while analysing the criminal scenario during a brief briefing  said that about ₦1.5million was siphoned off from the petitioner's account by the internet fraudsters, and was used to purchase goods, including handsets.
"The facts of the case are that on 8/9/2020, a woman by name Gbemisola Mosaku Ajimoh, went to Adatan Area Command, Abeokuta to complain that her bank account has been hacked into by some internet fraudsters and about. ₦1.5million siphoned off'.
"A team of detectives headed by one of the Command's bests, W/Sgt. Ibiyemi Olayemi, was detailed to investigate. In the course of investigation, it was revealed that the money siphoned off the account was used to purchase goods, including handsets. The handsets were subsequently sold to a receiver, one Akinwunmi Olanrewaju at the Computer Village, Ikeja, Lagos State", he said.
"Investigation revealed that the petitioner carelessly entrusted her ATM card in care of her friend, by name Esther Oshin, who also happens to be her church member. Esther assessed her bank account and discovered some millions of Naira in it'.
The money belongs to some illiterate butchers who regularly pay money into the account for onward transfers to the cow sellers they do business with. Esther later got a link to one Mayowa Morakinyo, an internet fraudster, "Yahoo-Boy", who requested from her and obtained the last four digit of the ATM and OTP (one-time-pin) in her possession'.
"With the information, Mayowa Morakinyo moved out from the account a total sum of One Million five Hundred Thousand Naira to purchase goods, including telephone handsets from Jumia Online marketers'.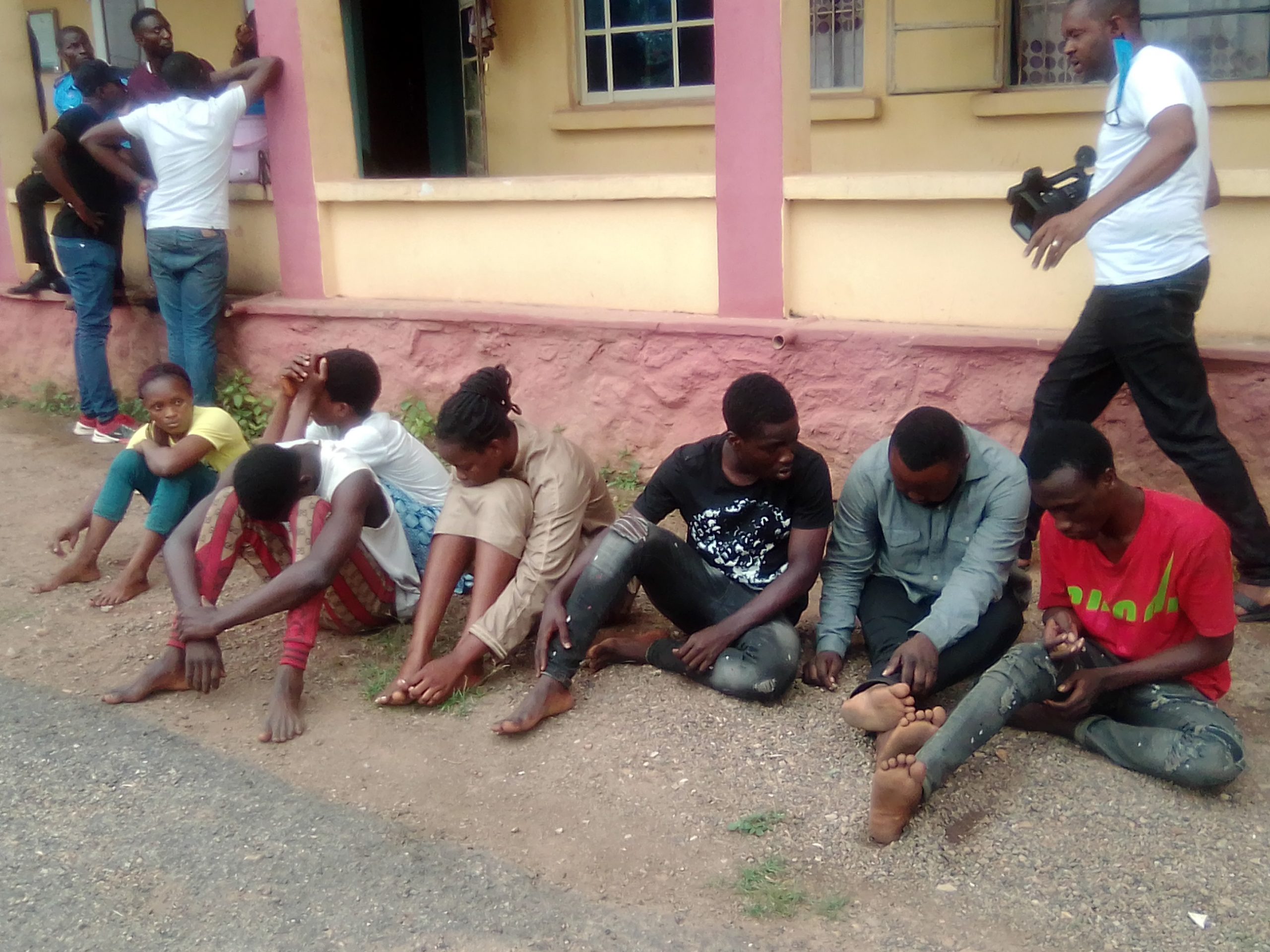 'The handsets were subsequently sold to a receiver, one Adewunmi Olarenwaju, at the Computer Village, who bought each of the phones worth ₦380,000 at the rate of ₦240,000. The police having earlier arrested the other accomplices in the case, visited the Computer Village on Monday, 5th October, 2020, with a view to inviting the receiver, Adewunmi Olarenwaju for questioning'.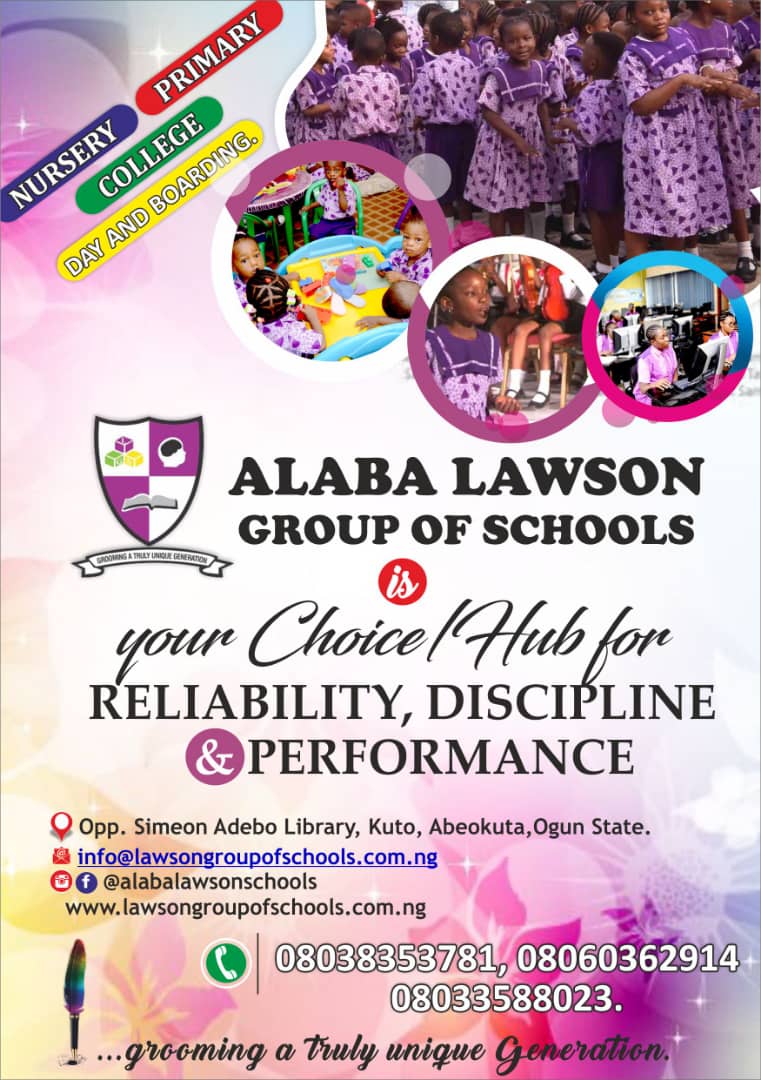 'In the process, he raised alarm and mobilized hoodlums, who were screaming that "we don't want SARS" to prevent his arrest. They also got the detectives beaten up. A police from Area 'F' Lagos, on distress call raced to the scene to rescue the detectives and succeeded in effecting  the arrest of the receiver", he said.
Penpushing further reports that when speaking to journalists, the prime suspect, Esther Oshin, mother of twin disclosed that she was asked by Mayowa Morakinyo to send the ATM card pin even though he was already aware that she wasn't the real owner of the account.
"The friend I called and the guys knew I wasn't the real owner of the account because I explained to them, so when I got there, the guy said I should send the pin to him, and he asked me to wait with that my friend, that he's going to send an OTP to me and when he send it, I should send it to him back, even I used to tell them that I am at home but that my friend is far from me and when I got there, he sent the OTP and I sent it back to him, and he told  me it's done, and I left the place, I went home.
"I don't know the types of phones he ordered for but I know he ordered for like ₦340,000 phones in 3 places and one Android phone, totalling ₦1.076m. And later when they got to where they want to sell the phone, the guy said they didn't buy the phone well, I don't know how much they bought it, he just asked me for where to send my own share, but I don't know how much they sent to me", she said.
The phone dealer,Adewunmi Olanrewaju  on his own comment,  said that it was through a colleague, Tomiwa that he got to know about the phone, and he asked from him how he got the phone and also let him know how much he will purchase it from him, which is ₦260,000.
"Actually it was Tomiwa I knew, Tomiwa came to my office on September 4, that he wants to sell a brand new phone with a Jumia receipt, the value of the phone in the market is between ₦275,000  to ₦280,000 precisely.
"And when he came, I asked how he got the phone and he said it was a customer that ordered for 11 Promax on Jumia, they eventually delivered XX Max,  ₦280,000, but in the market it is between ₦270,000, ₦275,000 and ₦280,000, but I cannot buy it like that, I am buying it ₦260,000", he said.
Penpushing also reports that on alleged attack on the police, Olanrewaju , said that nothing of such happened, arguing that but it's a way by the men of the force' to add to their own case at hand'.
"You know police, they will surely say one or two things, they do not touched them, when they came for my arrest, I followed them easily because I don't want the police issue and when I was inside their car, those guys were shouting outside, "go and make the entry" and from the police station that is what caused the issue'.
"Because they didn't make entry of the case, they only want to take me out of the market like that, and we don't even know them because they don't put on uniform, only one among them that put on a SARS uniform", he explained.
The petitioner, Gbemisola Mosaku Ajimoh, a dealer in sales of provisions, said three persons do forward money to her account, but she didn't know that, that's what Esther Oshin wants to use her phone for when she collected it that she wants to withdraw ₦2,000 from it.
' I gave her my phone with my ATM and she used the number on the card to withdraw the money, having known the total amount of money in the account'.