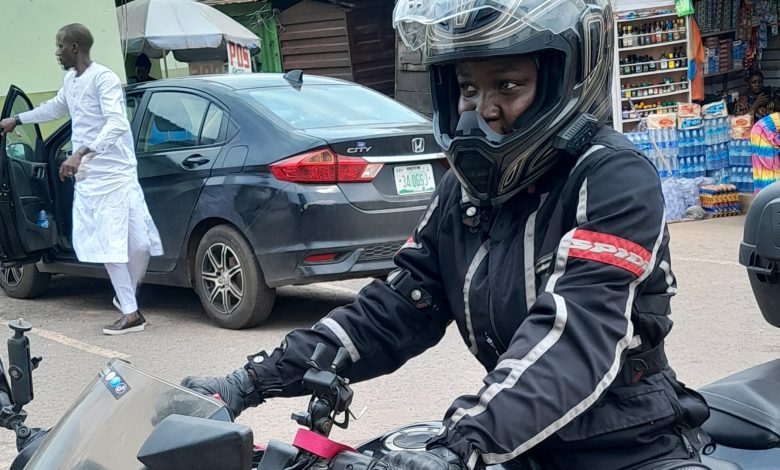 Metro Plus
Hafsoh Babatunde, 29-year old Nigerian female biker to embark on global tour
Hafsoh Babatunde is a 29-year-old officer with the Ogun State Command of the Nigeria Immigration Service (NIS), whose passion for bike have brought her to global reckoning, having toured  across Northern parts of Nigeria, as well as some part of the West African countries.
The Abeokuta born lady and a graduate of University of Ibadan where she obtained her first degree and later Masters from the National Open University (NOUN), in this interview opened up on her journey into the world of biking.
Penpushing reports that record has it that she has travelled round the 36 states of Nigeria, and remained the first female biker in the country who holds that record, while in the course of her trips, have being to Benin Republic and some other parts of African countries.
The record equally showed that her passion for the bike has taken her to 19 northern states of Nigeria even inspite of the huge cost of petrol. Penpushing Media brings you the excited interview with the record break biker who can also be contacted on +2347065873502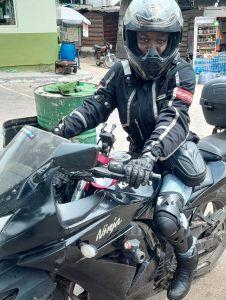 Excerpt
My name is Babatunde Hafsoh Olayemi, 29.  I'm an Immigration Officer and a fashion designer.  I started biking last year (2022) September, less than a year now. My reason for joining the biking world was because I felt biking was cheap but when I joined it was a different thing but I thank God I joined. Recently I did a tour round the northern part of Nigeria. I have traveled the whole part of Nigeria. I have also taken a tour of Togo and Cotonou.
On risk involved
When I was travelling in the Northern part, it was riskier because that part is not safe and that's one of the reasons I embarked on the trip and for safety reasons I was restricted to riding during the day time. Once it's beyond evening I would sleep anywhere I am.  I had to ride through a longer route for safety reasons instead of a shorter route which is safer and the north is very far.
Marital status and Parents reaction on biking
I'm single. My parents were not really happy when I told them that I was going to embark on the tour but I assured them that I would be safe and we all prayed about it.  While on the trip, I was always calling to give them an update.
On weather condition
When I went to Sokoto, the weather was very hot, I had to rest every hour to take some water or rest. When I got to Plateau, the weather was cold. Some environments were conducive enough while some were not so most times, I checked the weather.
Resident and take-off point
I reside here in Abeokuta. I am always taking off from Abeokuta. I traveled from Abeokuta to Togo and other parts that I have toured to.
Fear during the trip
Yes, when I went to Taraba, on my way to Jalingo, I went through a lot. The road towards getting to Jalingo is a terrible road, but I wasn't really aware of it. I initially took the road because I felt it was shorter but I realized that the former road that I ignored for this road was better, though longer. The road was more than 120 km but the police van that I saw was just two so it was so scary traveling on such a road where security was not guaranteed. By the time I got to town, people that saw me were wondering how I was able to survive that road.
Encounter with dangerous animals?
I didn't experience that. Even when children and herders saw me, they just waved at me so I just moved on.
On next trip
My next trip is to Senegal. I should be able to, because my last trip was equivalent to getting to Europe. There are just 30 minutes left, it's not far because the whole trip through the North was 5,920km. I was able to navigate my way through the map and people who had traveled that part.  At some points I called people from there to ask which route is safer.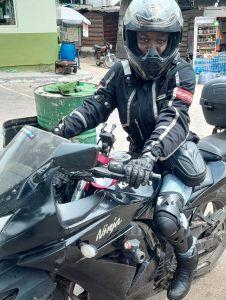 Source of inspiration
I love to explore; I love to see things myself. The reason why I traveled to the Northern part was because people say the North is not safe but I was able to. I decided to see for myself and I was able to go as far as Sokoto and Maiduguri and the people there were not as bad as I thought. They were really accommodating.
On official job and educational background
I'm a junior officer in the Immigration Service, I joined in 2016.  For, my first degree, I attended University of Ibadan and for my Masters, National Open University.
Cost of getting the bike
Getting a bike is as expensive as getting a car. I went to training school in Lagos and also have some of my friends that educated me before I started. The duration of my training was four weeks.
Coping with marriage when married and how expensive is the trip
I hope I marry a man that will support and encourage me when I'm married. My trip to the North was more than a million naira. I can't say the exact price. It wasn't cheap but I was able to raise the money somehow. When I started the planning, people almost discouraged me but I was able to see beyond what they saw. Venture into was nice though, expensive. I'm glad I did it without a sponsor.
On fuel consumption
Fuel consumption on a daily basis, is averagely N30, 000 or more depending on the trip and that was for the last trip.  It depends on the distance I want to cover. Sometimes 700, 600 depending on the distance. The fuel consumption of my bike is not as high as that of a car. It is 200 km per hour
Combining trip with work
I embark on my trips whenever I'm on work leave.  I cannot leave the office without taking permission. My last trip too was during my leave.  I embarked on the Cotonou trip on the weekend. I left on Friday and came back Sunday evening.
Next countries planning for the trip
I'm planning to go to Senegal and I pray it works. I want to tour the whole of West Africa first then, after that I can go beyond. Just like I started with the intention to tour around Nigeria and I have been able to do that. It's one step at a time.
On trip to Northern part of Nigeria
I started the journey in the northern part on 4th of June and I ended it two weeks later. I started from Abeokuta; I headed to Akure from Akure to Kaba, from Kaba to Lokoja, from Lokoja to Abuja, from Abuja to Nasarawa Lafia, from there to Bauchi from Bauchi to Gombe, Adamawa, Jalingo. Because the routes were not safe from Maiduguri to Taraba, I had to go to Yola then ended the journey in Akure.
FOOTNOTE: You want to share story with us? You want to advertise with us? You need publicity for product, or service, or   event? Contact us on WhatsApp +2348073463653 or email [email protected]