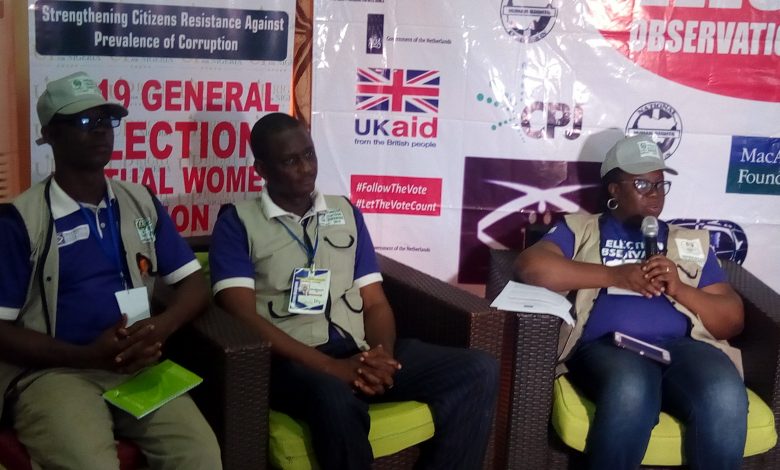 Archive
For the Record: STATEMENT BY THE CHAIRPERSON, DR ABIOLA AKIYODE – AFOLABI AT A MID-DAY BRIEFING OF THE TRANSITION MONITORING GROUP (TMG) ON THE CONDUCT AND OUTCOME OF THE GUBERNATORIAL AND HOUSE OF ASSEMBLY ELECTIONS HELD ON THE 9TH OF MARCH 2019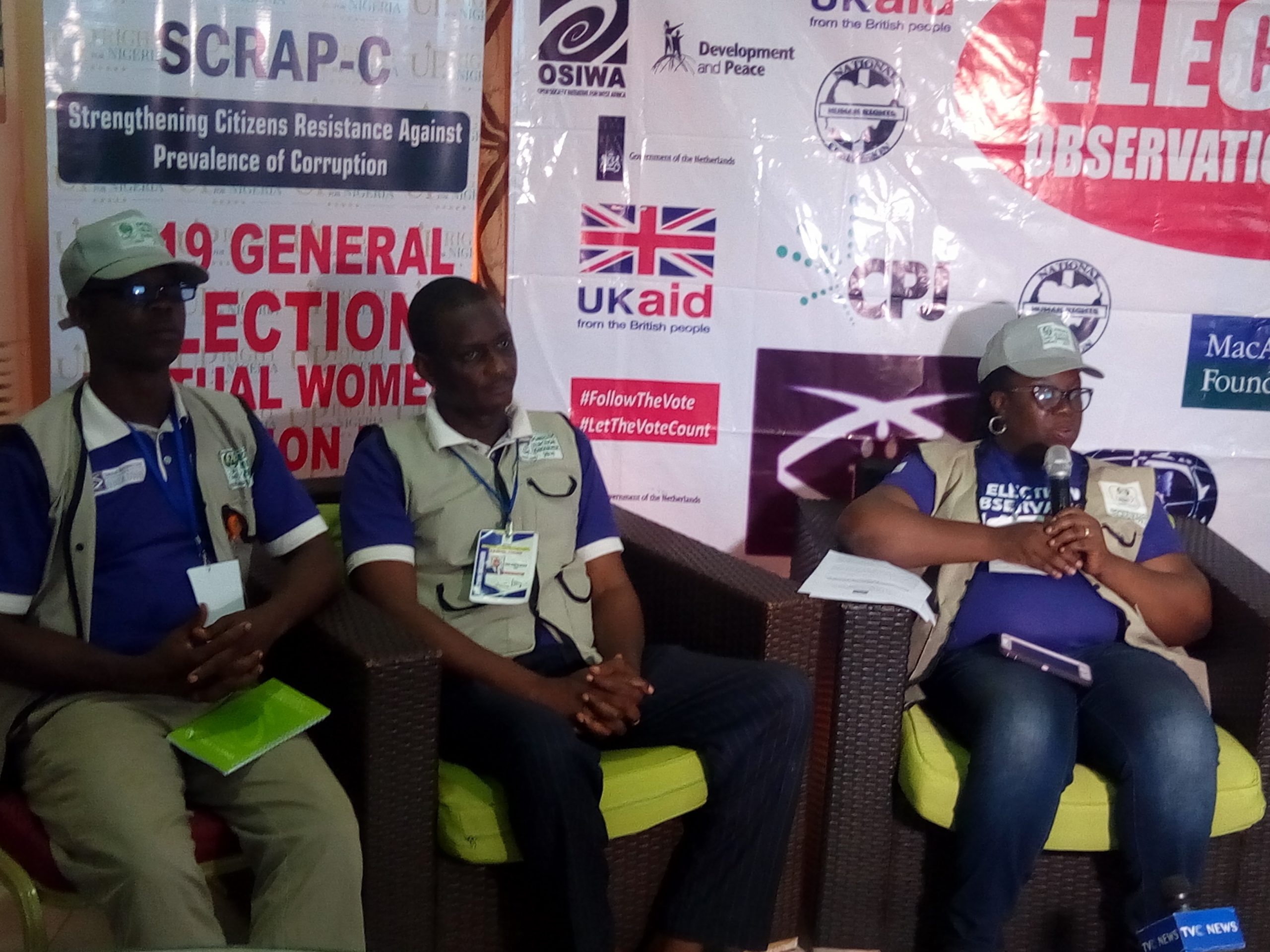 Methodology
TMG's observation effort, is intended to help promote credible elections in Nigeria that are conducted in accordance with international and regional standards as well as the laws of our country by providing real time independent non-partisan information on the conduct of Election Day processes, setup of polling units, accreditation of voters, voting and counting.
The methodology involves deploying trained and accredited citizen observers to polling units, also taken advantage of developments in information and communication technologies (ICTs) created an election information platform with text messaging system. To ensure real time information, TMG observers submit their reports text messages using their mobile phones as reports were received directly and processed.
Observations
On a general note, the election process went well across most states; Kano, Borno, Ogun, Osun, Plateau, Katsina, Enugu, Jigawa, Kaduna, Nasarawa with election officials turning up early and carrying out their responsibilities in most polling units reported if compared with the February 23rd elections. The TMG observers reported early set up of polling units across the state as well as early turn out of voters but there is a general report of low turn- out in most states. However, voters conducted themselves in orderly manner.
Accreditation and voting commenced in most polling units around 8.00 am. There were also reported cases of card reader malfunctioning leading to difficulty in conducting electronic accreditation caused by the inability to verify fingerprints which resulted in slow voting. Most of the challenges observed relate to card readers showing past information.
Nevertheless, the polling officials conducted themselves professionally and were able to handle complaints and issues arising from the voting process effectively, this could be an indication of proper training of the polling officials and a good understanding of the processes. Persons with disability (PWDs), the aged and pregnant women were given priority in the voting process even though the location of the polling stations still posed challenges of access for these groups especially for PWDs.
The TMG observed that the election was largely peaceful with citizens conducting themselves in a peaceful manner while security personnel also conducted themselves in a cordial and civil manner. The over policing of our election remains the funny curve of our election as reported by our observers. The reconfiguration of the poll settings was observed by TMG reporters which to an extent helped to protect the secrecy and sanctity of the election.
The TMG observers reported massive vote buying and financial inducement of voters in most states, Kwara, Ogun, Katsina, Adamawa in particular. While it wasn't observed that INEC officials were in anyway complicit in the act.
TMG bemoans the siting of polling units such that in some locations, the polling units were sparsely located and in some others, clustered within close proximity to each other. In addition, we observed that some polling units were located in shops, in open street corners, unlike the traditional locations such as public schools.
TMG expresses concern over report from Benue State that election materials were diverted, snatched and election officials held hostage. TMG also condemns the treatment of Ad-hoc staff, the failure of INEC to pay their allowance which led to their refusal to perform their duties.
Conclusion
In conclusion, we observe that most of the flaws recurrent during the election are a common feature of elections in Nigeria. Therefore, the challenge for the leadership of INEC is to address these problems in a holistic manner.
TMG calls on political parties to take responsibility for training and orientation of their supporters to ensure that they act within the ambit of the law.
Finally, TMG is committed to actions that will continually contribute to entrenchment of democracy in Nigeria.