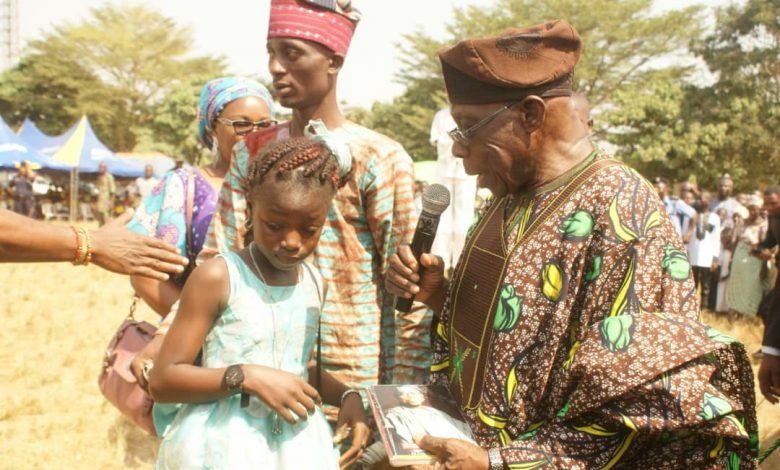 Interviews
Trending
EXCLUSIVE: A DIALOGUE WITH 11 YEAR OLD GENIUS WHO MEMORISES VOLUME OF BOOKS
Ebunoluwa Constance Adeoye, is  11-year old girl, a student in JSS 2 at  Greenland Academy located in Onikolobo area of Abeokuta, Ogun State Capital, and just discovered as  a genius, who memorized volumes of books, and also academically exceptional
Penpushing reports that, the underage girl has become a household name, as well as personality being reckoned with at various functions in Ogun State and environs. She got the attention of former President Olusegun Obasanjo and his wife, Bola, at Ibogun community, homestead of the Obasanjo's during the Christmas celebration in the town.
The young talented girl amazed Obasanjo and his guests, as well as the villagers when he memorsied a book written on Obasanjo, titled,'  "Boss of Bosses – The History of Olusegun Obasanjo", authored by her teacher, Adebayo Odunbaku.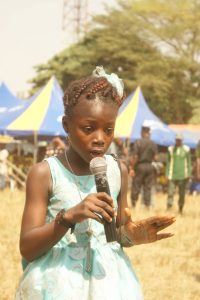 The exemplary performances of the girl at the ceremony caught rapt attention of Obasanjo who stood up from his seat to appreciate and acknowledged her, and also encouraged her, predicting that she has a brighter future to offer the world best of her talent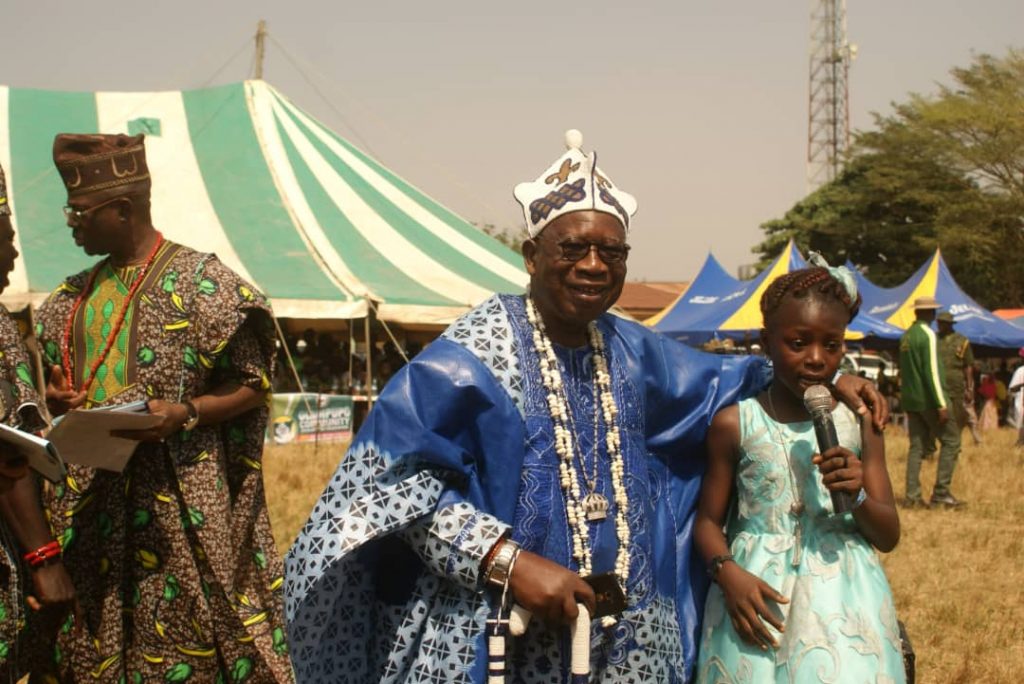 Penpushing further reports that, Ebunoluwa recorded similar feat, doing same for Ogun  State Governor, Prince Dapo Abiodun, Bishop David Oyedepo, Honourable Yusuf Adejojo and Alhaji Omolara Subair (a retired journalist) among others.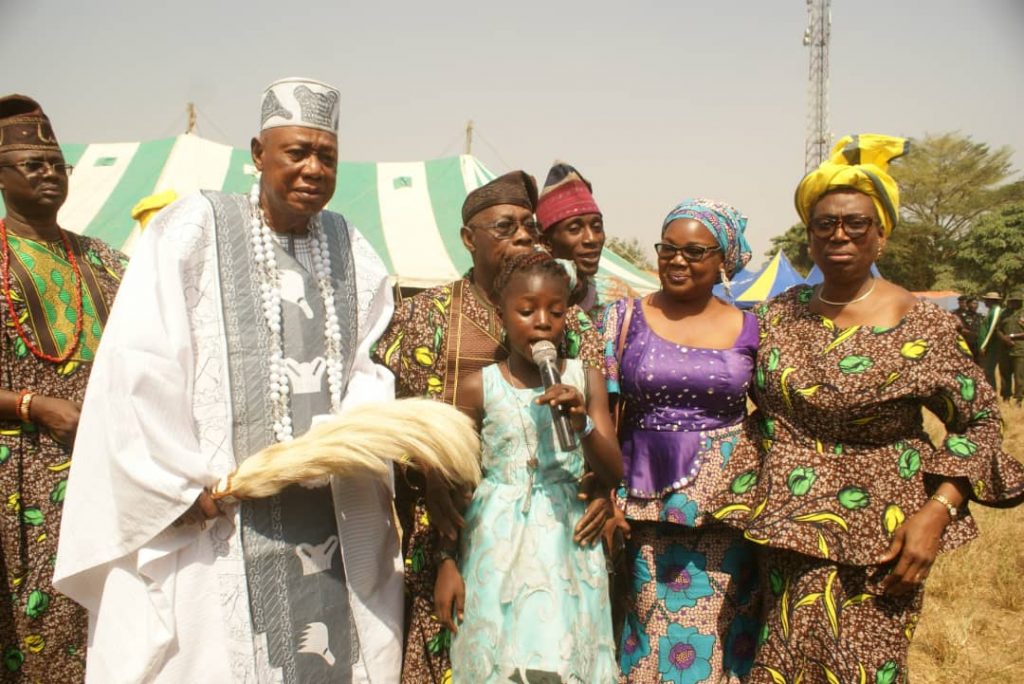 The Governor who was dazzled with her performances could not hold back his love for her, as he stepped out from his seat at  the function, to hug and took number of photographs with her, which he(Governor) used as her social media contact
Penpushing,  correspondent, Yanju Uwala, however, took time to engage Ebunoluwa in an exclusive interview which is produced below:
Q: Can you please tell us your name?
A: My name is Ebunoluwa Constance Adeoye.
Q: How old are you?
A: I am 11 years old
Q: What is the name of your school and what class are you?
A: The name of my school is Greenland Academy, and I am in JSS 2.
Q: It was learnt that you memorised a book on former President, Chief Olusegun Obasanjo offhand. Can you tell us what made you to recite the article offhand?
Q: It is because I like memorising, reading and reciting things, I mean articles offhand.
Q: How many times have you memorised and recited articles offhand?
A: I have done it five times now. I did it for the State Governor, Prince Dapo Abiodun, Bishop David Oyedepo, Honourable Yusuf Adejojo, Alhaji. Omolara Subair (a retired journalist) and Chief Olusegun Obasanjo.
Q: Now that you have been doing this kind of recitation for prominent Nigerians, is there any plan for you to continue with it in the future?
A: Yes
Q: Are your parents in full support of this your recitation of articles and where are your parents?
A: They are fully behind me in this recitation of articles;  my mummy is here with me, while my Daddy is in America.
Q: Concerning your education, is there any plan by you to go into book writing or is there any plan by you to write a book later in the future?
A: Yes, I am planning to write a book, and I also planning to become a journalist later in the future.
Q: Which year did you started reciting these articles offhand?
A: I started reciting articles offhand in October 2, 2018 with reading of the political history of former Senate President, Dr Bukola Saraki, on the school Assembly ground and I have read 11 articles in all, including the five I read on the prominent Nigerians.
Q: Now, where have you been getting these articles that you have been reciting offhand from?
A: I have been getting it from my teacher, Mr Adebayo Odubanku, he has been the writer of the articles.
Q: How has been your friends' relationship with you ever since you started reciting article offhand?
A: Well, all I can say is that there was also a time that they also felt like reciting articles offhand like me, so that's all I can say about them, nothing much.
Q: Can you also do an offhand recitation of articles in Yoruba language efficiently, as you do in English language?
A: Yes, I can recite it but it would take me maybe two days to prepare for it to comprehend, but one day I will also do it.
Q: Out of all the events you have been to, which one is the most important that you can still remember and can cite whenever you are asked?
A: It was a debate programme that was organised by General Oladipo Diya (retd) at Rev. Kuti Memorial School, in October, 2018, the title of the Debate is: 'Cross-Carpeting in the Nigerian Politics'. The reason why I love it most is because, it took me just a day to prepare for it, since then I see it as the most efficient one among others.
Q: Being a genius in article recitation, do you also do well in your academic performances or you're just good in that aspect of articles recitation offhand?
A: I am doing well too in my academic performances and in the just ended academic session, I came second in my class, so I am not just a genius in article recitation but also in academic activities.