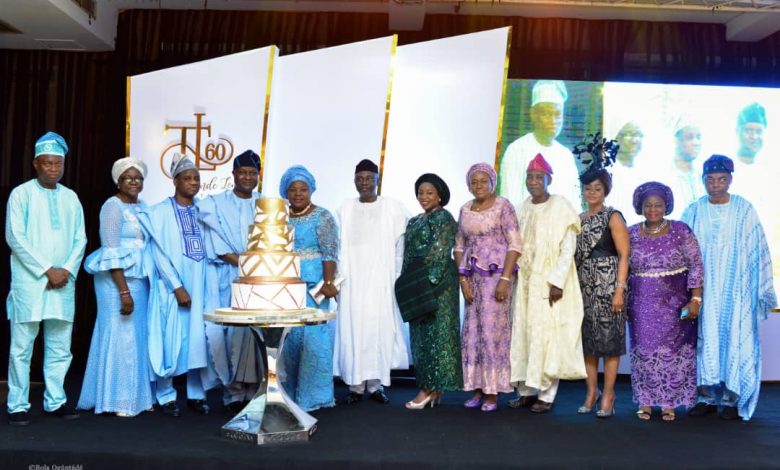 News
TUNDE LEMO AT 60: LENDS A HELPING HAND TO THE NEEDY
Olabisi Kayode-Adedeji in Lagos
Dateline: December 26 and the event of the day was birthday celebration and empowerment programme designed for Nigerian youths, a brainchild of the celebrator, Tunde Lemo,  a former Deputy Governor, Central Bank of Nigeria(CBN).
Penpushing reports that, the venue of the twin event was the Oriental Hotels located in Victoria Island of Lagos, which was full to the brim with guests across the country, including a band stand which provided melodious soul winning songs.
The celebrator who was born on Monday December 28, 1959, is the third Child of his father, Chief Ezekiel Olukolajo Lemo who died in 1997 at the age of 70 and mother, Madam Eunice Olufolake Lemo(nee Olubiyi) who also passed on 2018 at the age of 85
Penpushing further reports that, the young Lemo started to demonstrate sterling leadership qualities in his school days, which he started at the age of Six as a pupil of St John's Anglican School, Igbein, Abeokuta in 1966 and rose to attained University Degrees which later catapulted him to greater height of his career.
The celebrant who is in tune with God, was ordained a Minister in the Foursquare Gospel Church, Deacon in 1998, inducted as a Pastor in 2004, as well as Reverend in 2008, and currently one of the Assisting Minister at Foursquare Gospel Church, Ikoyi, Lagos State.
Penpushing also reports that, Lemo who enjoys mentoring youths in financial literacy, economic empowerment and entrepreneurship, anchored a financial literacy programme tagged, 'Success Academy', a monthly programme that helped a great deal empowering young and enterprising young and enterprising members of his church.
The former Central Bank of Nigeria(CBN) Deputy Governor, together with his wife, Oluyemi established  the Tunde Lemo Foundation about 20 years ago, which has contributed immensely in providing support for the underprivileged and needy.
Penpushing reports that, the foundation, in addition to the educational support, has also supported individuals in life threatening medical interventions, in the past including surgical operations within and outside the country.
The celebrator celebrating his 60th birthday took further leap with his empowerment programme tagged, 'Lend a Helping Hand', reaslising the reality that a good number of youths are leaving the country for better opportunities, but may not immediately achieve their full potentials, because they may not have the skills that their host countries require.
Penpushing further reports that, 'Lend a Helping Hand' is an interventions programme aimed at equipping interested unemployed youth; graduates and non-graduates, with vocational skills that will either enhance their employability or prepare them for self-employment
'We have identified reputable vocational institutions with proven track record for the training and development of youths, and these institutions in many cases assist in the employment of their graduates'. Lemo said.
Penpushing also reports that, the foundation is providing a digital inclusion vocational skill, as an alternative and this will be anchored through the Digital Inclusion Academy of CBC Netcomms Nigeria, and the Academy runs an entrepreneurship programme designed to empower and promote a job creation mentality in individuals through IT networking and bandwidth provision in remote locations, which is aimed at enhancing digital inclusion in Nigeria through community Wi-Fi
'We plan to train a minimum of 100 eligible youths per annum at the estimated cost of N25million. The programme will run for an initial period of 5 years, from 2020 to 2024. The estimated cost for the entire period is therefore N125million', Lemo disclosed.
The celebrant as part of his 60th birthday has pledged to provide 20% of the funding(N25million), and equally hope to raise partners who will commit to participate in the programme in the following categories; Platinum, Gold and Silver, stating that donors willing to assist but unable to participate at the partners category, are free to indicate their financial support.
Penpushing reports that, the foundation assured that, 'It is important to state that all contributions will be accounted for, reports will be provided annually and distributed to all our partners and donors', adding that 'all donations are for the direct beneficiaries through the payment of school fees directly to the participating institutions'.
The initiator of the empowerment programme emphasized that, he was convinced that, 'together we can make a difference in the lives of the upcoming generation in Nigeria.
Penpushing further reports that, some notable dignatries at the colourful event include; Osile Oke-Ona Egba, Oba Adedapo Tejuoso with his Oloris, Pastor Tunde Bakare of Latter Rain Church, with wife,Segun Oloketuyi( former General Managing Director, Wema Bank),Rev Felix Meduoye(former General Overseer, Foursquare Gospel Church),Rev and Rev(Mrs) Sam Aboyeji(General Overseer Foursquare Gospel Church)
The dignitaries also include:  Ademola Adebise(General Managing Director, Wema Bank), Dimeji Kayode-Adedeji(Founder Penpushing Media)Ambassador Folake Marcus-Bello, Eddy Amosu ( Media Consultant) Titi Oseni-Gomez(Former Speaker, Ogun State House of Assembly) and Olalekan Olakitan,( CEO Prime Contact Communications Limited)  among others.