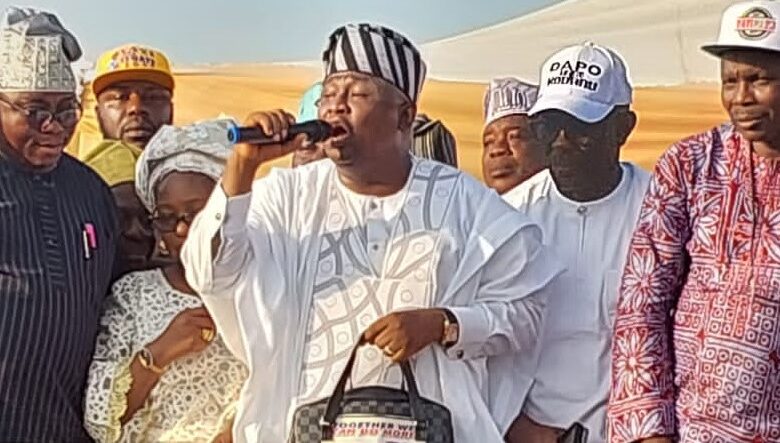 Columnist
Senator Solomon Olamilekan Adeola's Ogun West Mega empowerment programme as a bold move towards emancipating the masses
Empowerment could be classified into series; ranging from economic, to political, cultural, societal and national empowerments, all of which are critical and interwoven, as they dovetail with one another. The turning point among these and relevant to this subject matter is economic empowerment, which is geared towards alleviating the poverty level of the people.
Economic empowerment is a predetermined effort, put in place to assist the downtrodden people to discover their potentialities and gain economic power for their livelihood. A purposeful leader uses this as a platform for the economic enhancement of his people, making them to become more responsible to themselves and the society, become self-fulfilling, earning them higher social status and a sense of belonging and purpose, as well as enhancing tranquility and peaceful co-existence, to discourage youth restiveness. It is a veritable means of sound life expectancy, healthy and stable environment, among others.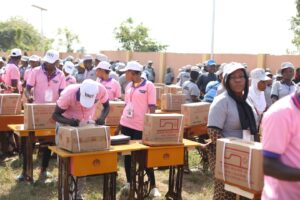 Some twelve or thirteen years ago or thereabout, Ogun State indigenes enjoyed many mega rallies under the Gateway Front Foundation outfit of Otunba Gbenga Daniel, who was the State Executive Governor at the material time. The economic empowerment of the GFF really alleviated many women and youths throughout the state, Ogun West inclusive.
The government of Otunba Daniel equally empowered the district politically, by appointing Alhaja (Chief) Salimot Makanjuola Badru as his Deputy Governor and many other  political appointees from within it into juicy offices. Those organized before these ones and subsequently, after the exit of his administration were misrepresentation of what empowerment should be. The people of Ogun West had been exploited, cheated and ripped off. They were used as tools for political expediency and have not really experienced any major benevolence and meaningful emancipation by their representatives and leaders in many quarters.
On Monday, 21st November, 2022 however, Ogun West witnessed an empowerment like never before tagged "Ogun West Mega Empowerment Programme" put in place by the indefatigable Senator Solomon Olamilekan Adeola, FCA CON currently representing Lagos West Senatorial District, who is aspiring to represent his ancestral West District of Ogun State in 2023, under the platform of All Progressives  Congress (APC).
This particular exercise was a fulfillment (and the first batch) of the promise which the Senator made at Ilaro, headquarters of the district, during his birthday celebration, that he would train Six Thousand (6,000) indigenes of the area in various skills and vocations and thereafter equip them with tools and logistics to start their businesses seamlessly.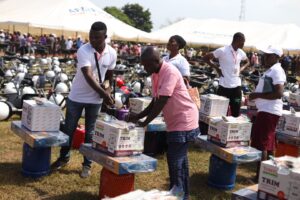 The beneficiaries were chosen without any religious consideration, political sentiments or social segregation and without any string attached, while the second (about 3,000 in numbers) is expected to follow suit in another month or thereabout. This empowerment pprograme is "promise made and promise kept", which is characteristic of a charismatic and purposeful leader, who walks his talks.
The mega empowerment of Senator Solomon Olamilekan Adeola in Ogun West on Monday 21st November 2022, symbolizes what the nearest future holds for Ogun West. It is a token of a great future and fortune, because "morning shows the day". Aside from this mega empowerment, this APC Senatorial Candidate for Ogun West for 2023 General Election had a few weeks earlier given out brand new Buses to the Christian Association of Nigeria (CAN), League of Imams, Council of Baales, Marketmen and women and similar groups across Ogun West, and distributed dozens of Transformers to several communities across the district, with a whopping sum of One Million Naira (#1,000,000:00) aide to energize each of the transformers in the respective communities.
He equally facilitated the construction of a huge and modern Pavillion in Ilaro (Oba Ashade Agunloye Pavilion) for the use of Yewa/Awori people. He had earlier sponsored the construction of a multipurpose Library for the Federal Polytechnic, Ilaro, as well as the upgrade of the Polytechnic to a Technological University, even though he is yet to represent Ogun West officially.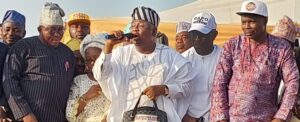 Strategically, what had happened within Ogun West in recent past, with the providence and benevolence of God, through Senator Solomon Olamilekan Adeola (YAYI) should be commended, as they demonstrate a fine spirit of selflessness, effective leadership, responsibility and responsiveness.
It is a clear indication that the district is at the verge of breakthrough, break forth and ascension to favourable moments, whereby the people will have a sense of belonging. His massive empowerment and socio-economic regeneration in Lagos, which is now being replicated in Ogun West is giving vent to the real meaning of democracy: government of the people, for the people and by the people.
The emergence of the situation where the government's public service and comfort are brought nearer to the people without agitation and they feel loved and protected. If YAYI's largesse in Lagos West is anything to go by, then Ogun West is expected to be truly liberated and emancipated with effect from the 2023.
Apart from the wonderful spirit of emancipation which he has showcased,  he has up-to-date performed his other key legislative duties of Law making, oversight activities, in a manner    that emphasis better life for the people, proficient execution of the constituency projects, which are conspicuous in many places around Lagos West, all signifying that he is a perfect democrat, unrelenting philanthropist, dynamic and purposeful leader and a patriot, selflessly hardworking and always concerned with the overall good of majority of his people.
It therefore  comes  to one that this kind hearted man, is the very person which Ogun West earnestly need at this material time, to pilot the people to their desired higher grounds and fulfilment. Senator Adeola would be a great model for the other representatives and public servants within the district, as they would aspire to emulate him in due course, for an absolute emancipation of Ogun West from the clutches of predators and the destitution which they have inflicted on the masses.
It is obvious that some people who do not wish Ogun West well, for reasons best known to them are averse to the homecoming of Senator Solomon Olamilekan Adeola, because they are aware of the stuff that he is made of, particularly his giant strides in Lagos West. They are scared that his homecoming to his native land of Ilaro-Yewa in Ogun West, will liberate the poor people and free them from their      exploitation and manipulation, hence they are      unrelentingly resisting his people-oriented move. All the patriotic and well-meaning Yewa/Awori people, are admonished to shine their eyes and be wiser than before. They should accept Senator Adeola as their God sent, to enhance their socio-economic and political status in Ogun State and in Nigeria as a whole.
Yewa/Awori people and other residents should cast their votes for Senator Solomon Olamilekan Adeola (Yayi) massively, so that he could emerge as their Senator come 2023, to consolidate   his on-going rebuilding and reawakening of Ogun West.
Chief Samson Olu. Oderinde is an Author, Essayist and Public Analyst,Ex-Member, OOU Governing Council, Ex-SSA (Political) to former Deputy Governor of Ogun State, Former Executive Chairmen, Yewa North LG.
FOOTNOTE: You want to share story with us? You want to advertise with us? You need publicity for product, or service, or   event? Contact us on WhatsApp +2348073463653 or email [email protected]