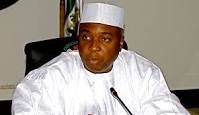 Archive
SARAKI FAULTS ELECTORAL COMMISSION'S VERDICT ON OSUN GOVERNORSHIP POLL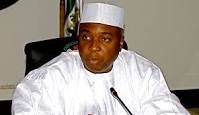 "The INEC should note that the Osun gubernatorial election is not only about that South-western state. It is about our country and the entire world is watching. Our national interest is at stake. The integrity of our electoral system is at stake. The reputation of the electoral body is at stake. The future of our democracy is on the line. The way INEC conclusively handles the Osun election will determine global expectations from our political process. It should therefore ensure that the wish of the Osun State electorate eventually prevail.
"I praise the dedication and hard work of PDP supporters and the candidate of the party, Senator Ademola Adeleke. They have remained steadfast, resilient, focused and determined. 
"Let me also commend all the other contestants in yesterday's election for their gallant efforts because it is clear they are all working for the same objective from different perspectives and platforms to ensure that the era of mis-governance, pain, injustice and insensitivity to the plight of the common people comes to an end. It is our hope that they will all co-operate with Senator Adeleke to ensure that Osun State witnesses a development-oriented era.
"Let me remind our party supporters and the good people of Osun State that this INEC decision constitute only a delay of the victory of Senator Ademola Adeleke and the PDP in Osun Gubernatorial election, as our triumph will come either through the judiciary or  a further balloting.
"I thank PDP supporters and the general public in Osun State and note that we got to this point after many months of hard work, determination and focus. We should not despair and not lose our focus and determination to ensure that the final results reflect the will of the Osun people.
"Our party is ahead, despite the irregularities. Our people must remain resilient to see this through to the finish. Now is the time to re-strategize, reach out to all the other candidates and their supporters, build on our lead, and bring this election home.
"Our supporters and the entire people of Osun State should remain calm and maintain peace as we move forward to see the successful completion of the electoral process. "Once again, I thank all supporters of the PDP and the people of Osun State who stayed up all night, both physically and on social media to monitor the numbers and protect our votes. We remain undeterred, and we all remain determined to ensure that Senator Ademola Adeleke becomes the next Governor of Osun State", Saraki stated.