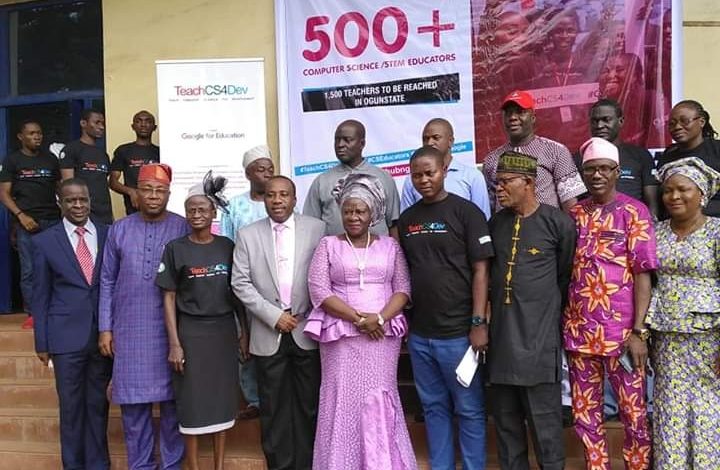 Archive
OGUN GOVERNMENT PARTNERS GOGGLE IN TRAINING OF TEACHERS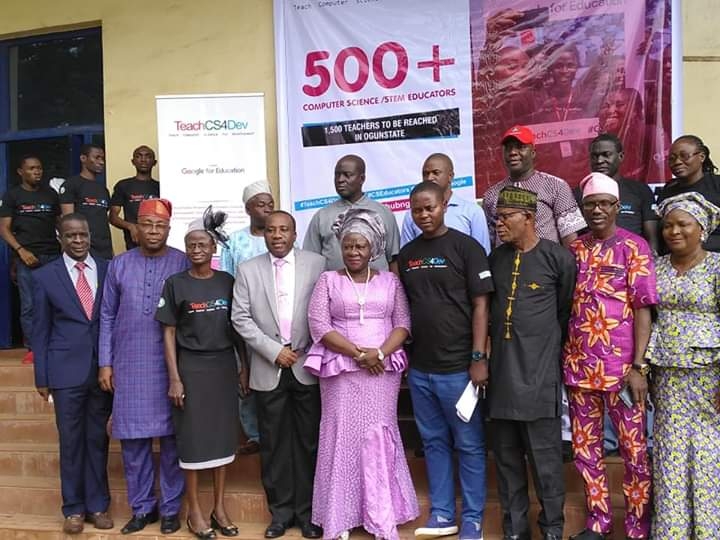 The Permanent Secretary, Teaching Service Commission, Mrs Mojisola Dosunmu while declaring open the one- Day training for Computer Science Educators and Teachers across the Secondary Schools in the State, tagged  " TeachCS4Dev" held at Lisabi Grammar School in Abeokuta , said the programme  was in line with the vision of the present administration.
Penpushing further reports that, Dosunmu added that it was also aimed at revamping the educational sector of the state as well as to aid teachers, particularly the computer science educators in the classrooms with the necessary skills and methodology to impart knowledge to the students.
The Permanent Secretary  reiterated the commitment of government to boosting the morale of the teaching and non-teaching staff in the State, pointing out that the Commission was  working assiduously on the early release of the letters of promotion for the year 2016/ 2017 recently approved by the Governor.
The Creative Director, Online Hub Educational Services, Mr. Ishola Adebayo, said Goggle and Online Hub educational services and the training was aimed at sharpening the skills of  computer science educator and teachers as well as to widen their horizon in the field of ICT for based on their school curriculum
Penpushing also reports that, she noted that the problem of teaching computer science effectively in school was as a result of poor foundation, instructional materials and lack of professional development in the delivery of computer science curriculum.
The Permanent Secretary added that the training tagged"  Teach Computer Science for Development " , specifically  focused on classroom delivery with emphasis on bridging the practical and computational needs for computer science educators to cover the core areas, such as Robotic, Coding and designs, Networks and Internet, Data processing and Analysis.
" We believe the  core area will not only improve the knowledge of the educators but will also equip them with highly developed CS skills and learned knowledge to be utilized in solving problem as we will engage the CS educator with delivery process that will fosters interactive learning and conduct meaningful evaluations that offers constructive feedbacks", Adebayo said.
The Chairman, All Nigeria Confederation of Principals of Secondary Schools (ANCOPSS), Dr. Ayodele Womiloju ,the State Chairman, Academic Staff  Union of Secondary Schools , (ASUSS) ,Comrade Akeem Lasisi and the Nigeria Union of Teachers (NUT) Vice Chairman, Comrade Akinola in their submissions appreciated Governor  Abiodun for his laudable vision for the education sector, particularly with the promise of taking the sector to its  pride of place saying that teachers would always reciprocate the governor's gesture with improved delivery in the classroom.