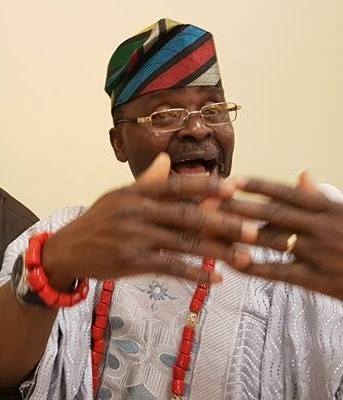 Archive
NIGERIA YET TO HAVE PURPOSEFUL LEADERSHIP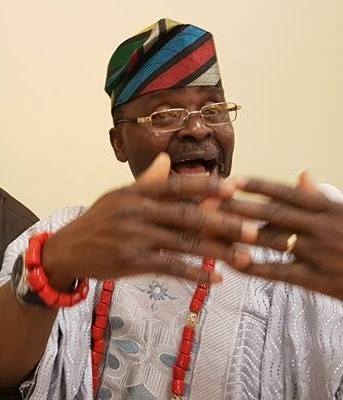 North America on number of issues which cut across the globe. Enjoy the heart to heart interview conducted by Penpushing crew
 Q: Chief, we are aware you recently left office as the President of Olumo Progressive Association Canada Inc, Toronto Canada.  How would you describe your tenure?
A: Definitely, it was quite a good experience, particularly to serve one's community outside the country, and indeed in a great country like Canada.  No doubt, there were series of challenges, but then the period of my four years was eventful and I am happy that I served and I left at the time I was convinced it was time to go.
Q: But why did you leave when your members wanted you to continue in office?
A: It's a great thing for members of one's association to say continue in office, but the person involved must tarry a while and think.  So, I believed four years was enough for me and I should quit the stage for another leader to be in the saddle and introduce new ideas that can move the association forward.  I can't be the only best in our association, even they tried to make me to be one.  I mean our association has many good heads as members to lead and participate as executive members.  And I have this philosophy of not staying too long in a position unlike some of our African leaders who prefer to stay almost perpetually in office, until, sometimes, when they are kicked out or disgraced out of office like it happened recently to the past Zimbabwean President Robert Mugabe.  Or they even love to die in office.
Q: Any regret leaving office?
A: No, not at all.  There's no single regret when becoming the President, so why must there be regret leaving the office?  Why must quitting the stage be difficult?  Just because of the beauty or paraphernalia of office or what?  How many of us do think that it's because we are still alive that's why we are fighting for one office or the other.  Can those in the grave do that?  That's why leaders need to cogitate deeply and be prepared to leave office at the appropriate time.  And the beauty of my situation is that despite my insistence to go my members wanted me to stay, but I firmly rejected it, even efforts to amend the constitution for me to continue in office legally.  However, on the day I finally left, I was unanimously, without any exception, chosen again to become the Ex-Officio thus indirectly bringing me back on board to still be part of the exco, where I have been playing my background roles as I am no longer the President.
Q: How will you describe your fellow citizens in Canada?
A: Till date, I can say that we have responsible and reliable members who are really making not only Egba and Yewa indigenes from Ogun State, Yoruba from Nigeria and Nigerian-Canadians in North America proud, but living a peaceful life devoid of drugs, crimes and characters that can tarnish the image of us and indeed Nigeria.  We thank God for this.
Q: To what extent is the association helping the home country, Nigeria?
A: To best of our capabilities, we have been doing the little we can.  Beside the individual financial and material assistance to our various family members back home in Nigeria, our association, for instance, is part of ENA in North America that has been giving out N1 million scholarship on a yearly basis to students from Egba and Yewa axis, who are in institutions of higher learning. There are others, too, that have donated series of equipment, particularly medical, to various health institutions and organisations in our communities in Nigeria.  You must also know that the huge millions of dollars, converted to naira, being sent by our people home for businesses and construction of houses and projects, no doubt, have been helping Nigerian economy to grow.
Q: I think it is necessary to ask you this: your association's name is Olumo Progressive Association, the name which is synonymous with Egba, but you have Yewa members among you.  Why is it so?
A:  Good question and I am happy you asked me, and even the right person to answer you.  Historically, the association was formed by the Egbas at inception.  At a point, because outside the country we don't really see the difference in us particularly Egba and the old Egbados, therefore a couple of Yewa guys came.  I was not yet a member then.  But interestingly and funny enough, these Yewa friends are from Abeokuta.  Why?  Though their old parents migrated from Egbado axis to settle in Egbaland (areas like Ibara, Oke-Ilewo, Ishaga), but these guys were born in Abeokuta.  They grew up, went to, for instance, primary and secondary schools and did everything in Egbaland including marrying Egba, before they travelled here in Canada.  They probably don't really have close ties with Yewa, or old Egbado like they have with Abeokuta.  So, to them they fell in line and did not see anything wrong being members in association with Olumo as a name.  And indeed, someone from Ayetoro said that name does not matter to him, but the sense of belonging to serve our people is the most significant, particularly since both Egba and Yewa are from the same state (Ogun).  In fact, I was impressed with his decision and I ensured that we made him a member of the "powerful" ENA Scholarship Committee, where he has been serving for about or over three years now.
Q: Are we expecting some of you in Canada to return home to join politics and bring about good governance in Nigeria?
A: That, I can say, is an individual decision, not a group one.  And we have never discussed politics on our agenda except probably outside the meeting chats, by members, to discuss about governance and leadership problems in our dear country.  Whoever is interested in politics is free to return to Nigeria and participate.  If we are informed and the person requested for financial and moral help, we'll surely try our best because we want a better Nigeria where we can all be proud of and return to live peacefully, one day, as we do here in Canada, with adequate security, electricity, good health system and various social amenities, among others.
Q: What about you?  Are you not interested in politics?  
A: Why not?  I am a political animal and indeed I want a better governed Nigeria, where our people will see themselves as patriotic citizens reaping the dividends of democracy from voting responsible, reliable and responsive leaders into various offices.  But, there is a problem.  I am not sure of contesting for elective positions, except under certain conditions, but I could take up appointment, if offered, to play my part in ensuring a good society being governed by decent and civilized people who have the utmost interest of the people at heart, not some "jegudujeras" we have now, who are inflicting pains on our people.
Q: What is your opinion on Nigerians in abroad voting in future elections?
A: Definitely, it is a good idea that I will promptly support anytime and any day.  In fact, I had expected our present lawmakers to give the idea utmost consideration to enable us vote in picking our leaders.  But like they often say probably those legislators at home are afraid of Nigerians outside the country because it can't be easy to influence majority of us with money and materials.  And it will be difficult to rig elections as electronic voting would be the best approach for those in diaspora to vote, thus eliminating rigging like ballot snatching, underage and multiple voting.  To me, the time to do that has come, to enable Nigerians outside the country vote during elections, and if possible contest from here.  Yes, I'm not joking.  We can contest as political party members or independent candidates.  At least, for instance, PDP and APC have chapters here with members holding meetings, etc.
Q: What is your message to Nigerian leaders?
A: Without hiding the truth, Nigerians at home are not finding it easy at all; they are really suffering due to government neglect in providing them the basic necessities of life to make them be happy.  No electricity, no provision of amenities, education is experiencing decay, no job for the graduates, no payment of salaries as at when due, no easy access to loans and many more.  I learnt the rate of robbery is on the rise now due to joblessness, not to talk of kidnapping for ransom. You may say we are far from home because we live abroad, but the truth of the matter is we are closer to our people, even more than those at home.  Majority of us call often and often to find out what is going on.  We send things, which include money and material stuffs, home regularly to assist our suffering people.  We do ask them questions, we go on the internet to read news and know what is going on in our country in terms of governance and indeed rulership. But, the truth must be told, we are yet to have leaders who can lead us to eldorado.  Though, President Muhammadu Buhari has good intention, but can he do it alone?  If, for instance, he is not corrupt what about those working in his government?  And so far, has President Buhari been able to move faster the way he promised and we expected his government to pace up in terms of dividends of democracy for our people?  And what about the states?  Can he be there to monitor what is going on, even in his fellow APC states not to talk of those under PDP controlled ones.  The basic point is we are yet to have good government and purposeful leadership in Nigeria.  It appears we still have a long way to go except God quickly intervenes.  Above all, our leaders must rule with conscience and the fear of God to help their fellow citizens share from the government they voted for instead of looting and looting of our common till.  It's saddening, sickening and indeed unfair the level of impunity in governance, and in fact in government, in Nigeria.   
Q: May we know you before we end this interview?
A: Pretty simple.  I'm Chief 'Femi Shodunke, an indigene of Abeokuta from Ogun State and a journalist by training right from Ogun State Polytechnic (now Moshood Abiola Polytechnic), Abeokuta to University of Ibadan where I obtained Master's degree in Communication and Language Arts and finally to Ryerson University, Toronto in Canada, where I also completed a Master's degree in Media Production in 2013 and I am currently the Publisher of my online newspaper, GatewayMailin Toronto, Canada.
However, let me add that, like I said before, I just left office last month as the President of Olumo Progressive Association Canada Inc after serving two years of two terms, making four years in office.  I am currently the National Public Relations Officer of Egba National Association USA and Canada, and the pioneer and immediate past National Public Relations Officer of Oodua Progressive Union Canada Chapter.  It will also interest you to know that I was, about two weeks ago, elected as a Member of the board of African Canadian Social Development Council, the umbrella body for Africans in Canada.  
Q: Chief, are indeed a chief and what is your title?
A: Though I'm often called "Oluwo", which is a chieftaincy title, from our family linage in my community in Imo area of Abeokuta, but indeed I am a community chief in Egbaland.  I was conferred with the title of Baaroyin of Igbeinland in 2006 by the Olu of Igbein, Oba Festus Oluwole Makinde, in recognition of my journalism dexterity.  Similarly, I was conferred with the title of Baaroyin of Agboland near Itori in Ewekoro Local Government area of Ogun State.
Q: Are we expecting more chieftaincy titles, particularly one from Egbaland through the Alake and paramount ruler of Egbaland, Oba Adedotun Aremu Gbadebo?
A: I'm not sure if one will come from our royal father, Alake, but I am not really interested in any further chieftaincy title. But acceptance, or rejection when one comes my way, will be determined by many factors.  Even if you have several titles, you can only be addressed as "Chief" (at once) not multiple "chief, chief, chief Lagbaja."  So, no big deal and being a chief is just a mere honour, though it confers responsibility to contribute one's quota to the community where the title was given.  Anyway, time will tell as we don't know what will happen to us tomorrow, but we pray for good health and long life, with prosperity too.
Q: What are the factors to determine acceptance or not?
A: Don't bother about that, but when we get to the bridge we'll know how to cross it.  Thank you for this interview and God bless.
Q: Finally, you are a member of Penpushing and indeed an administrator.  How will you describe the platform?
A: Indeed, Penpushing was created by my great brother and fellow journalist, Dimeji Kayode-Adedeji, a Prince from the Risawe Ruling house of Ijesaland, though practising his profession in Ogun State.  It was one of the brightest ideas to have come from him, particularly as a venture to redirect journalism in a more professional way.  Who do I mean?  He created the platform to establish uniqueness as a place for 256 members to have access to prompt and reliable news, not fake ones you easily find around.  Not like the junk we read in most chat groups these days due to bastardization of the social media by charlatans who should not be in the business of information cum news dissemination at all.  The gentleman, within one year of Penpushing, has organised a successful lecture with series of ideas also still on the way, one of which is website for Penpushing.  No doubt, the platform is a genuine place to get the latest news with genuine sources, particularly with the level of discipline being applied by members on the thread.  Let me conclude by saying that I am thrilled to be part of such endeavour not only as ordinary citizen, but also as a journalist. And most significantly, to mix with great personalities on the forum, many of who include ex-governors, retired and serving permanent secretaries, past and present vice-chancellors, traditional rulers, heads of parastatals, journalists, artistes, radio and television presenters, and they're both from within Nigeria and outside the country.  Penpushing is the best forum I ever known and associated with, particularly on the Whatsapp as a platform of news dissemination and communication cum cross-fertilization of ideas for progressive development of our nation.