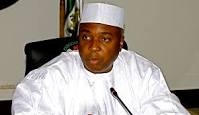 Archive
I WANT TO BECOME 'DIGITAL' PRESIDENT TO TRANSFORM NIGERIA FOR BETTER, SAYS SARAKI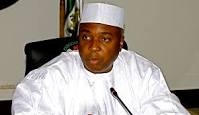 The party Presidential hopeful who was accompanied by Senator Dino Melaye and other notable party leaders, noted that there is new order globally which encourage dynamic and energetic leader, adding that he belong to that category who can rule the country better.
'There is a new order all over the world. We have seen bringing dynamic, youthful, energetic and digital President. Our people are suffering because you cannot give what you don't have.  We need a visionary leader. It is time not to vote for sentiments, but vote for someone that can perform', he added. 
'I believe I have the capacity, ability and track record to, it is time we have a leader that stand for justice and I believe I represent such person.  Our elders, I know many aspirants have come here, tell them your son has come out, they should mellow. In October 5 and 6, I want Ogun delegates to vote for me', Saraki emphasised.
Penpushing reports further that, the controversial Senator representing Kogi State, Dino Melaye in his remark added comic to the meeting, as he embarked on series of political songs to seek support for Saraki.
He also condemned the ruling All Progressives Congress, (APC), as well as President Muhammed Buhari, calling on him to retire to Daura, his home town on completion of his first term in office.
Melaye said, the ruling party is a disaster to the nation, calling on the party delegates to support Saraki at the Peoples Democratic Party, PDP, primary, which will eventually paved way for him to contest and win the Presidential race