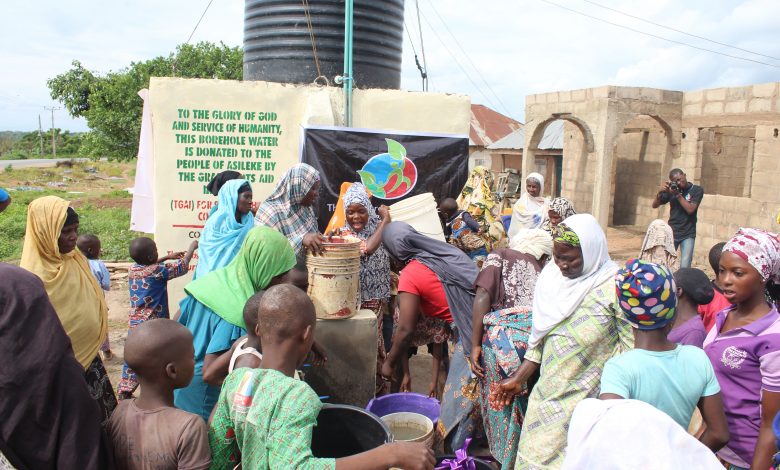 Archive
HOW UNIVERSITY LECTURER PROVIDES SUCCOUR FOR RURAL COMMUNITIES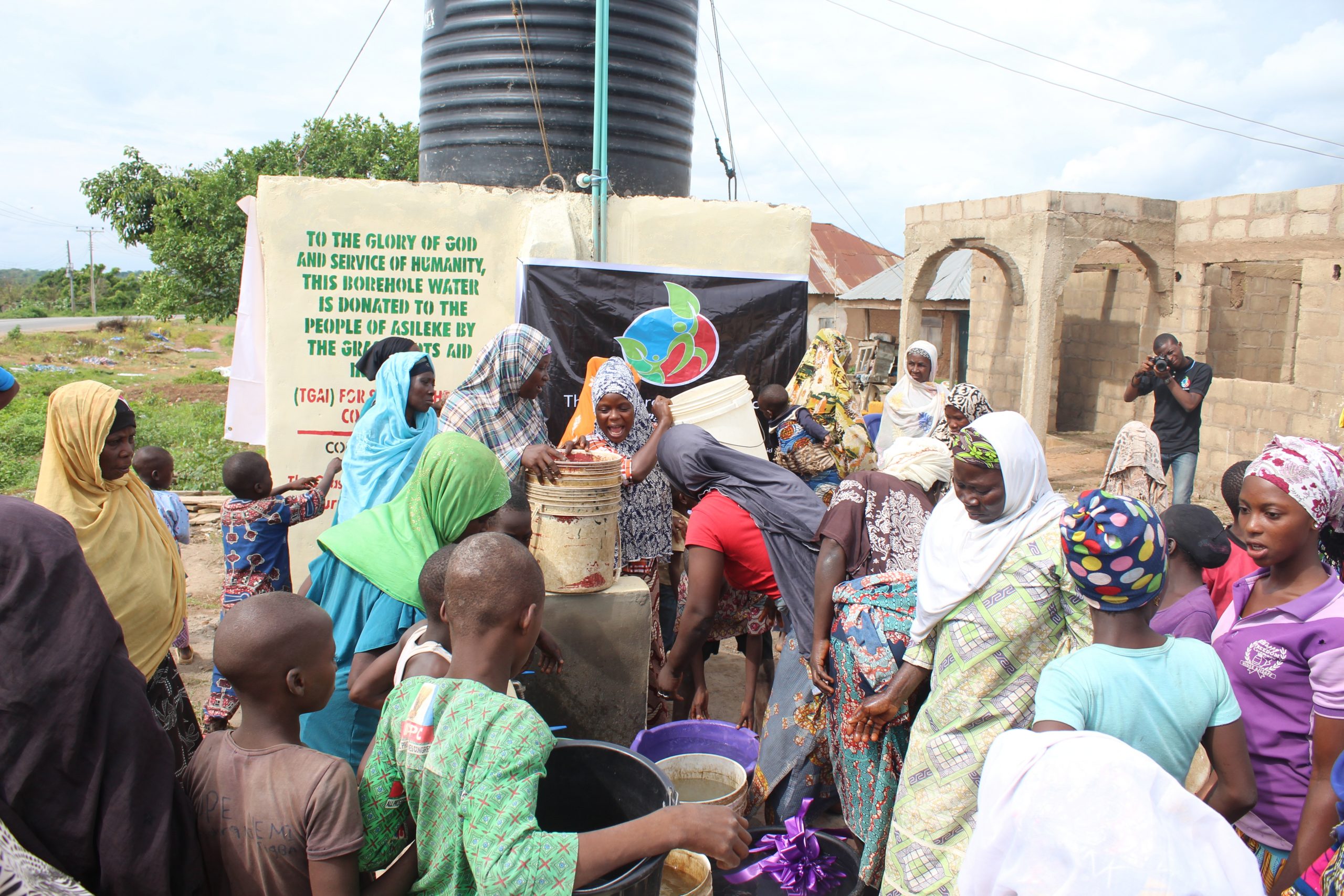 Provision of safe water in different communities has being part of the core values of TGAI since inception. Water is an essential commodity for human existence, however several rural communities in Nigeria are still denied this basic infrastructure for human survival. Despite the fact that over 60 % of people in Nigeria live in rural areas, it is so disheartening to know that about 70% of rural settlements in Nigeria still don't have access to safe water. In May 2017, a borehole was provided for rural dwellers in Ago-Oja village, Kwara State to solve their perennial water crises. In June 2018, another borehole was sunk in Asileke village of Oyo State whose water crises resulted in downturn in health and socio-economic problems. In August 2018, another borehole was sunk in Elewuro village in Oyo state. Bore-hole water were sank in Aiyekale village of Oyo State and Oshin Gada on 2nd  and 30th of June, 2019 respectively.
How many communities have you touched so far ? 
The Grassroots Aids Initiative  has touched over 15 communities in 4 states in Nigeria. We have touched directly the lives of over 6000 people.
How do you get funding for the project ?
Our projects are mostly funded by Social Media Crowd funding platforms. We do this by posting pitures of water problems in respective communities with compelling pictures which usually evoke sense of pity. We also get individual or Corporate donations
When you are not on community outreaches ,what do you do ?
I teach, research and also speak on various related topics on different platforms both in and out of Nigeria.
Tell us about your love for photography ?
I had fallen in love with photography at a tender age; those innocent periods when we were asked to say 'cheese' while the camera would click away. Then, my natural assumption was that everyone was in love with taking pictures! I couldn't imagine how anyone on earth would see taking pictures as an inappropriate. Even at that tender age, I knew pictures brought so much happiness and it was a special
way of preserving beautiful memories. I always looked forward to catching a glimpse of the pictures taken when the professional photographer clicks away on the analogue camera. As I grew older, I used to fantasize about owning a camera. The opportunity eventually came during my undergraduate days. I can hear you say it took so long. The passion for photography as such regained a new force and the fire has kept burning in my soul since then. In the recent past, I had different shattered perspectives of photography; I saw it as a mere art that everyone practices just to keep record of the past and present. My doctoral degree sojourn to Malaysia redefined my appetite for the creative hobby. The beautiful green sceneries in and around Malaysia were awesome. The environment kept firing the passion that was domiciled in me. There and then, I made a resolution that I must strive to make a remarkable impact when I resume duty at my place of work back home in Nigeria
What has been the response of those communities  ? 
In the beginning when we started the NGO, most of the communities that we went for feasibility studies do not believe us when we tell them that we wanted to take pictures to tell stories to raise funds for them. Some of these community people were so hostile that some of them stoned us when we refused to give up on our persuasion. We had to cajole and convince profusely before they reluctantly agreed. After the huge success of the water project in Asileke, then we started receiving calls from other villages. Now, we only go to check the villages to make sure they actually have a water need. Once we went to a village and we realised that the existing water projects in that community was not maintained, we  would not  embark on a project in that community. Even after the execution of our projects, we still maintain cordial relationships with the community people. We still stay in touch up till today
Which community outreach are you considering next ?  
We have clothes and shoes donations to make for the next few months before we embark on another major project before the end of the year. We have not considered which community we would activate those projects yet but between now and December we would execute 3 projects.
What  are your future plans for  The Grassroots Aid Initiative?  
 The Grassroots Aid Initiative (TGAI) is striving to be one of the foremost NGOs in Nigeria that strives to  improve the lives of people at the grassroots level especially when it comes to SDG 4 and 6. TGAI  wants to be known more as a water solution NGO because we have been able to discovered our strength in SDG 4 than other SD Goals. In the next 10years, TGAI wants to be a force to be reckoned with when SDG 4 for rural communities is concerned.
Have you got any international collaboration or assistance or are you optimistic of getting one ?  
I have not gotten any international collaborations but TGAI receives funds from individuals from outside the country through gofundme which we usually use to raise funds. . We have been applying to different donor agencies but we have not gotten a positive response yet.
Why did you chose to tow  this path ?
I have been working in the  University of Ilorin for over 13years now. Colleagues in my working place saw me as a failure because i had a very low self-esteem. I challenged myself to create a path for  myself that would be different from what i was used to. I wanted to prove to myself that I am not a failure and that I can achieve any task once I  set my mind on it. I started taking compelling pictures of people in rural areas. The pictures were showing a narrative of the struggles, challenges and activities of rural people which are often ignored or taken for granted. I posted all these pictures on my personal social media handles  and suddenly, people were reaching and engaging me .They were asking me so many questions about these pictures; this improved my low self-esteem. Then the pictures started compelling my followers to be moved to contribute positively to the challenges of these people.People started donating money and materials. The rest is history as they say. With compelling pictures and emotive storytelling skills, I  have been able to contribute meaningfully to the lives of over 6000 people.
 What is your view about gender discrimination and violence against women?
I personally believe that women need to be empowered in order for them to resist any form of violence and discrimination. Women need to be so good in their various fields to the extent that they can't be ignored or discountenanced. Our parents should also groom women to have a high self  esteem and believe in themselves.                                        
You are also an academic staff in a University, how do you ensure that your rural outreach does not interfere with your role as an academic staff?
I always map out a plan in every academic session. I have more courses in 1st semester than in 2nd semester so I usually place capital projects between November and March. I focus on capital projects between April and August while I use the period of 1st semester to focus on how to map out my plans and strategies for next projects.
 Lead us into your educational background ?            
I attended University Utara Malaysia, Malaysia – Ph.D. Communication ,2015, University of Ghana, Ghana – M.A Communication Studies ,2008 University of Lagos, Nigeria – B. Sc. Mass Communication ,2005;Enterprise Development Centre, Pan-Atlantic University: Social Sector Management Programme, December, 2018.
 List any awards, prizes or other fellowships  won.
Best Paper Award, Post-Graduate Symposium on Communication and Media (PG-COME'15), School of Multi-media Technology and Communication, Universiti Utara Malaysia, Kedah, Malaysia (2015),ETF Scholarship Award, University of Ilorin, Ilorin (2012 – 2015);Social Sector Management Programme Scholarship, Pan-Atnlantic University, Lagos. Nigeria (July 2018 – Oct 2018); Heroes Leadership Award: Heroes Nations, Ilorin. A leadership training Organization, Ilorin (August 2018); Humanitarian Personality in Nigeria : University Campus Journalist, University of Ilorin
 What's your philosophy of life ?
Once you believe in yourself ….every task is attainable
Why is your idea worth spreading in one to two sentence
Using compelling pictures to tell human angle stories which evoke people's emotions to take part in developmental projects of rural communities who are often ignored or taken for granted by government and urban people.
 What is your crowning achievement
I am a humanitarian photographer who have used  pictures to tell compelling stories of the daily activities, struggles, beauty of over ten rural communities in  four states in Nigeria. On social media, I have  been able to use digital storytelling cum photography to successfully convey a humanitarian cause to evoke the emotions of people. My crowning achievement is that I have been able to utilise my photography skills and story telling capacity to not only inspire change but also to make my audience see the reason why helping people makes the world a better place for everyone to live in. I feel more fulfilled in the last 27 month
Share an example of something you have been a part of, created, led or joined that you consider unique. Why do you think it is groundbreaking?
Oshin-Gada is a quiet little village  in Ilorin East Local Government of Kwara State, Nigeria. The sleepy village is deprived of basic facilities such as schools, health centre, safe water etc. that are needed for the basic survival of man.  Several attempts by the Head of Chiefs in the village to persuade the government of the day to come to their aid were futile. The village was named after river Oshin which ran through the village. The river was believed to have huge spiritual potency for solving spiritual problems  of people and as a result of this, people came from far and near to use the Oshin river for spiritual cleansing. While some people bath in the river, others throw spiritual substances into the river to appease the God of the river to solve their various problems. However, majority of the inhabitants  of Oshin Gada migrated from the Northern part of Nigeria about 100 years ago. Therefore, there is a conflict between the beliefs of the migrated inhabitants and the real land owners. While the original land owners believe in the spiritual cleansing potency of the river, the Northern migrants do not believe in it. Subsequently, there were several water borne diseases outbreak in the community which lead to deaths of children and women, sickness of kids and depleting financial resources of the family members who are sick. The migrants believe the crisis suffered by their people especially the kid and women was as a result of the rituals the river was used for. As a result of this situation, there were several clashes between the people who use the river for spiritual cleansing and those who use it for household consumptions. Effort to make the police authority to intercede resulted in futility. The users of the river for spiritual cleansing believe that the land belongs to the Yoruba clan (the real land owners) hence the migrants from the Northern part of Nigeria do not have any right to stop them from using the river for what they believe in  In June 2019, myself  (leader of the team)and my TGAI team members swung into action. I was the lead photographer for the project. I took compelling pictures in the village to tell human angle stories that evoke emotions of people to take action through contributing their widows' mite towards providing safe water for the people in Oshin Gada. Writing human angle stories to evoke the emotions of people is also one of the lead roles that I play. Public relations and advertising knowledge that I have acquired all through these years were also latched on  to formulate  strategies for my team members  to crowdfund donations on social media  on this humanitarian drives. After few weeks of strategizing and deliberations, we were able to commission the project in June 30, 2019 . This project is a landmark achievement because TGAI has been able to prevent a major crisis between the migrants and the land owners. With the completion of this project, TGAI has been able to reduce health hazards in the community. With this water project, there has been an improved peaceful coexistence among inhabitants of Oshin-Gada. Water is indeed beyond what we drink, water affects all strata of life of people, especially people who live at the grassroots. 
What other accomplishments would you like to share? Please give context.
As a result of the success story of my digital story telling capacity on social media, I have been invited to about ten talk programmes in  and out of Nigeria to speak on the  challenges, inspirations and accomplishments. I have also been able to mentor several young people to always believe in their dreams no matter what it takes.