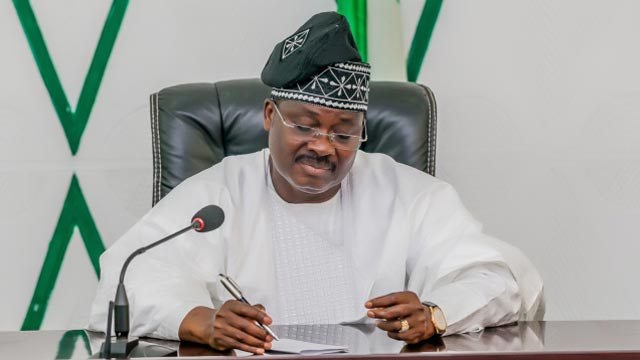 Archive
GOVERNOR AJIMOBI PRESENTS N285BILLION 2019 APPROPRIATION BILL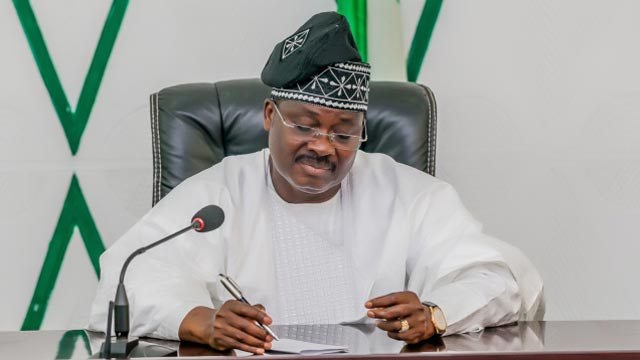 Hear him further "The summaries are highlighted as follow with our top priority sectors such as Economics with N100, 535, 047, 409.19k with is 61.50%. While the Law and Justice will take the sum of N672,500,000.00k 0.41% and the Sum of N49, 349, 775, 475.10k with 30% while the ministry of Administration will take home N12,914,111, 692,00k with 7.90%.
"Rt. Hon. Speaker, the structure of the 2019 budgetary proposal reflects the priority the Government has accorded the various sectors, in terms of their expected developmental effects. Mr. Speaker, members of the house, permits me to do a quick review of the 2018 approved budget. The 2018 budget estimates of a sum of Two Hundred and Sixty-Seven Billion, Four  Hundred and Thirty-six Million, Three Hundred and Fifty-Seven Thousand, Nine Hundred and Twelve Naira, Nineteen Kobo (N267,436,357,912.19) only, was presented before this House for your consideration and approval'. 
'This Honourable House reviewed this proposal to Two Hundred and Seventy One Billion, Seven Hundred and Thirty One Million, Seven Hundred and Forty Two Thousand, Two Hundred and Sixty Naira, Thirty Kobo (N271,731,742,260.30)
"The policy thrust of the government shall be guided by the manifesto of our great party, the Action Congress of Nigeria (now All Progressives Congress). The priorities of this administration shall thus be human capital development encompassing education, skill acquisition and healthcare delivery infrastructure development Rural development and integration Revitalization and development of agriculture and agro-allied industry'
"Promotion of security from a developmental perspective, through the provision of social inclusion and rule of law and democracy and good governance', the Governor emphasised.
"The philosophical framework of this administration shall be the establishment and communication of a clear Vision, Mission and Values that will launch a Restoration Agenda for Oyo State. In doing this, we shall establish an efficient and result-oriented government that will make our State welcoming, safe, secure, business-friendly and leisure-friendly to everyone.