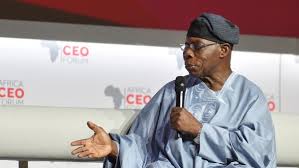 News
'GOD HAS DONE ENOUGH FOR ME',OBASANJO CONFESSES
Former President Olusegun Obasanjo on Thursday confessed that God has done enough for him, and could not hide the fact to the world, stressing that giving testimonies should not be seen as being boastful, but to appreciate God.
Penpushing reports that, Obasanjo made the confession at the Annual Thanksgiving Service organized for him by the Christian Association of Nigeria (CAN), Ogun State Chapter, adding that, thanking God and giving testimony must go together.
'I thank all of you. God has done a lot for me, I don't know about you, God has done a lot for me.  I just want to read one passage; the passage I'm reading is from 1Coronicle, chapter 16 verse 8: "Give thanks to the Lord, call on Him, make known among the nations what He has done", he said.
'I believe that thanking God and giving testimony must go together, thanking God and giving testimony of what God has done for you, for me, must go together but some people get it wrong, they say giving testimony is boasting but here, it says " let the nations know, let the world know what God has done for you",
'That is not boasting, that is praising God. That is explaining or heralding what God has done and that is why again, I cannot thank  CAN, Ogun State Chapter enough for organising this special thanksgiving and you have said it will be an annual event, I can't agree with you more.
'Any day, any time that we get together to thank God, it is worth it, it is what we should do and it is a good thing to give thanks to God, it is a good thing and anybody who doesn't want to do a good thing, it is up to him and his God, me, I want to do a good thing. I want to do what will please God, I want to do things that will make God shine His face upon me, I want to do things that will make God presence go with me wherever I go',Obasanjo emphasised.
'Those of you who know where I was born, how many of you know Ibogun-Olaogun? The village where I was born is so small that no matter how large you make the map of Nigeria, Ibogun-Olaogun will never appear'.
'And yet, somebody born in that village of pure illiterate parents, will have the opportunity that I have now, to reach the stage that I have reached, to be used to achieve whatever I have been used to achieve, I cannot thank God enough', the former President emphasised.
'I always say this, whatever I have achieve, whatever I have done, I thank God because it is not me alone, there are those who have worked with me, some of them are dead, some of them are still alive and without them, I will not have been able to achieve much. I thank God for their lives and may the souls of those who have died rest in perfect peace. On occasion like this, let us just thank God and keep thanking God', Obasanjo said.
The Ogun State Governor, Prince Dapo Abiodun in his speech  described the former President, as a World Ambassador, an African icon and a global citizen, who has done the State proud, adding that he had always lived his life with the fear of God and never failed to appreciate the goodness of God in his life.
Penpushing also reports that,Abiodun  described his relationship with the former President as that of a father and son that dated back many years, adding that his Christian life characterised by taking care of people around him, is worthy of emulation.
The Governor called on Obasanjo to continue to support the present administration in Ogun State with prayers, saying with God, all things are possible.
The Bishop of Egba Diocese, Anglican Communion, Rev. Emmanuel Adekunle  in his message said, God would bless the people, if they believe and follow his teachings in the new year, admonishing the congregation to repent from their sinful lives and develop the attitude of thanksgiving.
Meanwhile, the service had in attendance the former Governor of the Ogun State, Otunba Gbenga Daniel, former Governor of Ekiti State, Chief Segun Oni, President, Africa Development Bank, Dr. Akinwunmi Adesina, Dr. (Mrs.) Tokunbo Awolowo-Dosunmu, Odole of Oduduwa, Chief Kessignton Adebutu,  Alhaja Salimot Badru(former Deputy Governor,Ogun State), Prince Gboyega Isiaka, Prof. Kayode Oyesiku National President, Baptist Boys High School, Old Boys Association, Deacon Owolabi Oladejo(founder, Metropolitan Broadcasting Services) and traditional rulers.