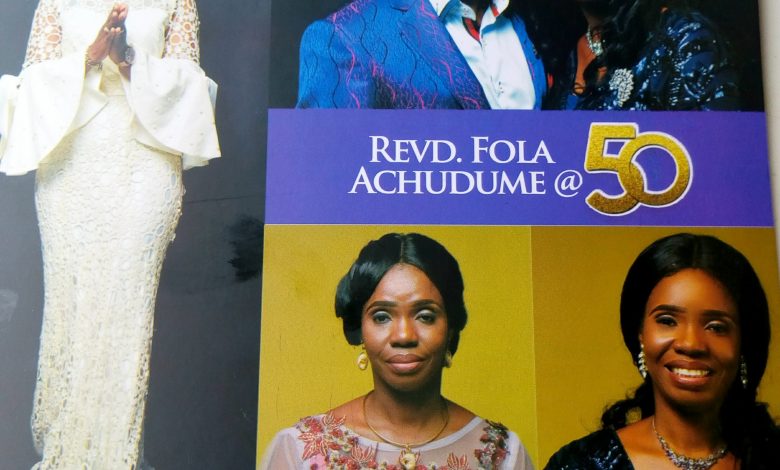 Archive
CELEBRATING FOLAKE ACHUDUME IN GRANDSTYLE AT 50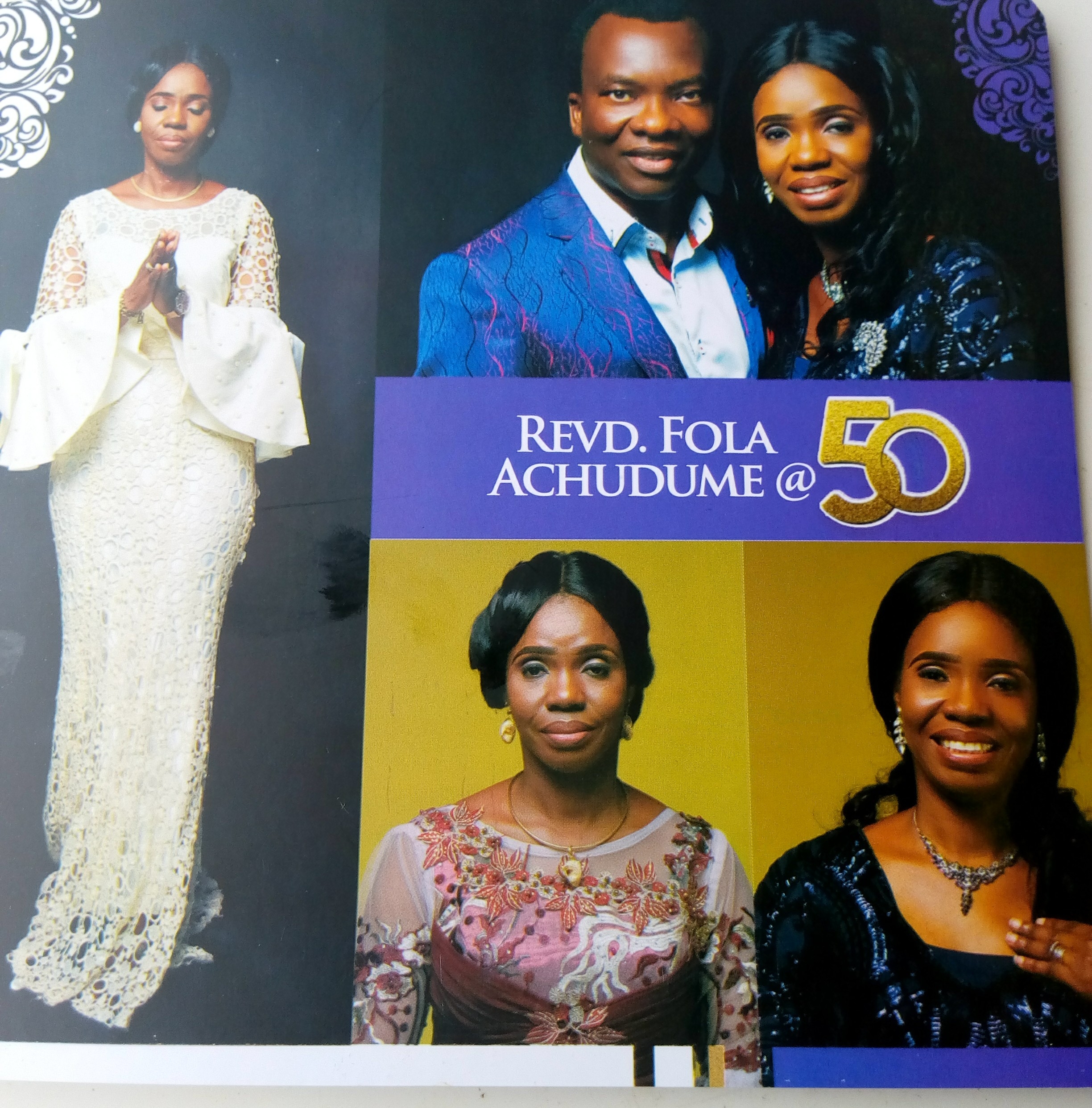 He said throughout her infanthood, Folake gave her mother no post-natal worry or stress as she grew up healthy, feeding and developing well, portending good ante-natal care and good breast feeding by the mother
'Save minor and inevitable health challenges, Folake, like those before her never gave her parents any anxiety in her growing up. Let me happily celebrate my wife for this', the excited father of the celebrator said.
The father pointed out that, no sooner Folake settled down in school than flashes of the academic empowerment began to manifest, adding that she was doing well in class academically and behaving well like a child from a disciplined home
'Quite in disposition, but sharp and quick witted, she left no school master in doubt as to her dedication to her studies, positive attitude to carrying out assignments, thoroughness in all her work, humility and commitment to her evangelical activities'
'She showed leadership traits to the warm embrace of the school authority. She was the School Library Prefect in her final year and left school in 1985 with very Waec results. She secured an admission into the University of Ibadan in 1986 and graduated in 1989 with a Bsc (Chemistry) Degree', the father stated
Similarly, the Founder of Penpushing Media, Prince Dimeji Kayode-Adedeji commenting on his knowledge about the celebrant, said she is a wife, a responsible husband would want to have, and a mother every child would want to have.
'I got to know Mrs Folake Achudume through her husband, Rev Lawrence Achudume over two decades ago. I took time to monitor and observe her characters, and I can boldly say that, she is a wife a responsible husband would want to have. She is a mother every child would want to have'
'When she 'died' sometimes ago, but was miraculously returned back to life by God, that clearly showed that she is a Godly woman, whose Godly behavior is a motivation for all to emulate. As you start another new year, I welcome you to the club of the 50's and prayed that God will continue to bless you abundantly. Peace, wisdom, intelligence and other good things shall be your portion, and you will not lack. Once again, happy birthday to a great wife and responsible mother', Kayode-Adedeji wrote.
The Iyalode of Yorubaland, Chief(Mrs) Alaba Lawson in her own remark, while congratulating Achudume said she is pleased in joining her in giving glory to the Almighty for the wonderful happiness and blessed five decades that she has spent.
'You have been a shinning beacon as a moral force for good countless others and you help to build and stabilize many homes and lives. I know that this can sometimes be a thankless work. However, I have deep confidence that Jehovah God will equally reward you in secret'
'I pray that may you continue to find favour in the eyes of the Almighty. I also pray that the loyal love of Jehovah, the God of mercies never depart from you and your entire household in Jesus name. More grease to your elbow', Lawson wrote
On his own part, Chief Femi Shodunke, Publisher of GatewayMail Newspaer in Canada wrote, 'Indeed, and as a matter of fact, not many men will be lucky like Apostle Lawrence Achudume, the founder of Victory Life Bible Church worldwide, who not only got a pious, beautiful and fantastic wife, but a committed, dutiful and supportive mother of his children'
'In all honesty, since I have known this gentle, elegant, and modestly colourful sister Folake almost two decades ago, I have always seen her as an epitome of womanhood, a dogged fighter of the best for women (especially in the Christian fold), a great promoter of the truthful dissemination of the gospel and above all a virtuous woman, dedicated and lovely wife who fortunately by divine direction, Apostle Achudume has been lucky to have, particularly in his priesthood and life'
'No doubt, at 50,this beautiful, shy, ever smiling and indeed a godly woman deserves all accolades those who knew her pretty well can shower on her this great feat and awesome milestone in her life and significantly that of her man of the people, ever youthful looking handsome husband', Shodunke the National Public Relations Officer, Egba National Association USA and Canada emphasized.
The Governor of Akwa-Ibom State, Udom Gabriel Emmanuel while speaking at the ceremony appreciated God's love for the celebrant, who he described as a woman of great virtues, and commended her as a good mother.
Penpushing reports that, the Governor represented by his Special Adviser on Religious Affairs, Rev Daniel Akwatang , pointed out that the celebrator is a pillar of support for her husband, and enjoined guests to also emulate her kind heartedness
Also from Chapel of Restoration and Simeon Agbolabori Ministries International, Houston Texas in United States of America (USA), the Bishop of the Ministry, Dr Simeon Agbolabori said the life of the celebrator inspired many across the globe.
'Your life and ministry have inspired very many across the world. Your profound insight into the word of God and the depth of delivery has converted moulded and transformed lives. Your humility and simplicity have been well spoken about by people you know and don't know', the Cleric noted.
'The anointing upon your life is incomparable. You are the embodiment of the Proverb 31 woman. It is a very special honour to have related with you, your family and the entire Victory Life Bible Church family these years. So with Jesus joy in my heart, I congratulate you on this landmark celebration and I wish you many more years in great faith, strength, peace, divine protection and security'
The Spiritual father of the celebrator, Pastor Femi Akintayo in his own remark said, good thing about her is that, 'though she grew up in a large family and the father could not sustain five of them in the University at a time. She never reflected an ego'
'She is never conscious of her status or intoxicated by what God has given her. She has remained teachable and willing to learn in much good counsel has obtained her safety. In short, Folake is known to be a simple heart and in character, soft spoken but not drifting. A good family person that carries every one along', he stressed
Penpushing report further that, after the Church service, the birthday train moved to D-Marque Victory Plaza located along Moshood-Abiola Way, Abeokuta for another round of colourful reception, where all provision of menu and drinks were made available.
The reception programme was jointly anchored by two notable entertainers: Moroof Sorunke, popularly called MC Murph and Lepacious Bose, and had in attendance number of personalities, which include clerics, Government representatives, traditional rulers, journalists, captain of industries and professional bodies among others was kick-started with music introduction.
Penpushing further reports that, programme for the reception also include, welcoming of guests, grand entrance of celebrant, opening prayer, opening speech, testimonies, comedy, special performance, celebrant dance, presentation of gifts and cutting of birthday cake which was conducted by the Iyalode of Yorubaland, Chief(Mrs) Alaba Lawson.
Penpushing also reports that, a remarkable highlight of the talk of the town birthday came from the joyful husband of the birthday girl, Apostle Lawrence Achudume who from the bottom of his heart presented a new brand 2018 model EX 460 Class Lexus Jeep to his wife.