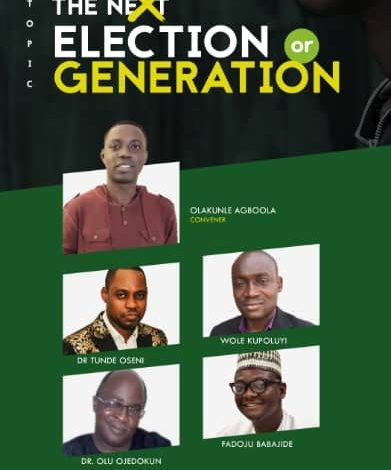 Africa 2050 Summit 2019 will be organised in several Universities across Africa this year kicking off with LEAD CITY UNIVERSITY on Friday, February 1st, 2019. Africa 2050 is a day summit to discuss the Theme, 'THE NEXT ELECTION OR GENERATION'. This is coming up at this time when Nigeria is preparing for 2019 general election. The summit will be an intellectual gathering of concerned political leaders, industry leaders, media giants, erudite and youth from different institutions across Nigeria. The podium will be given to distinguished speakers and at the end have a think- tank section of dissecting the subject matter. This is not a political campaign forum but a soul-searching summit of building a large room of development for the upcoming generation.
The acuity of the upcoming generation should plumb the existence of our being as individuals or as a leader in various capacity. The soul searching self of most political leaders in Africa has been lost into plunge of selfish- interest, greed and discontent. The Prime quality of a great leader is the clear perception they hold for the future; thinking about the future most of the time. However, thinking about the future requires strategic planning, which in turn requires visionary leadership. For the future of the Africa's development, some strategies are imperative. Strategies such as; quality leadership, increased industrial research, and development, strong democratic institution, effective legislation against political and economic corruption, both of which are impediments to sustainable development.
Africa has a bright future but might not reach her full potential if the political parties and leadership structure at the moment is not re-structured. The weakness of looking beyond the large room of corruption marred with selfish-interest and greed will keep Africa as a dark continent. It has become a necessity for Africa 2050 to educate, enlighten and create a sense of awakening for the development of Africa. Africa 2050 Summit will be organised in more than Twenty Universities across Africa, which is open up to sponsors and partners who are apt with the vision of Africa 2050.
Africa 2050 Team is composed of different organisations and media outfits who have shown a great interest in keying to the vision of making Africa a great Continent. A profound gratitude goes to LEAD CITY UNIVERSITY, ADRON HOMES, EDUBRIDGE CONSULTANT LIMITED, THE CIRCLE MEDIA PLUS, AFRICAN VOICE NEWSPAPER UK, NTA IBADAN, BCOS IBADAN LEADCITY FM, PUNCH, INDEPENDENT NEWSPAPER, BBC AFRICA, PENPUSHING, SYSDGIT COMMUNICATION, UNITED NATIONS, CHANNELS, PUNCH, 4ACE TV
Olakunle Agboola Team Lead, Africa 2050