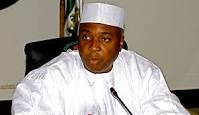 Archive
SARAKI WONT RESIGN AS SENATE PRESIDENT, SAYS SENATORS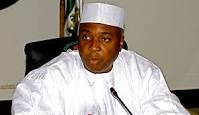 "Our colleague from Katsina State has equally demonstrated that even though he has spent four terms in the legislature, he has not imbibed parliamentary ethos. Even his knowledge of the provisions of the law and the Senate rules is suspect. That is why he misrepresented the provisions of Rule 12 order 1, 2 and 3 of the Senate about the process of reconvening the Senate after it properly adjourned. By the provision, without all the leaders of the four parties initiating the reconvening of the Senate before the adjourned date, nothing can legally happen'.
Also without the consent of the Senate President, nothing can happen.We urge him and his colleagues to know that if they tried anything illegal and indecent, we will resist it through legal means. They saw an instance with the way our colleagues in the House of Representatives quickly gathered to foil their failed coup early this week'.
"Abu Ibrahim and his cohorts have shown that they are desperate to win the 2019 elections at all cost by all means. We are surprised that this defection is making APC so uncomfortable that they are ready to bring the country down because some Senators left their party'.
 'We gave them all the opportunities to make amends from their destructive, non-inclusive and dictatorial ways. They did not take the chances and were behaving as if nobody matters. They are running a government by cabals, serving selfish interests and forgetting all the promises the party made to the people before being elected into office'.
"The APC government has always demonstrated serious contempt for the legislature. That is why they have sent only a paltry 11 executive bills to the National Assembly in 38 months despite their promise of reform in various sectors of the country, The APC government came in 2015 and the first proposal they put forward was to have emergency powers in a democracy. Thank God we did not fall for their antics'.
"We call on all Nigerians and the international community to take note of the threat by Abu Ibrahim and know that if there is any illegal move to reconvene the Senate or there is breakdown of law and order in the Senate, the man has leaked their plan.  The APC cabal in the Senate should be held responsible. Nigerians and the global community should know the type of people in charge of Nigeria now and how they seek to desecrate and destroy democratic institutions at will", the statement emphasised.