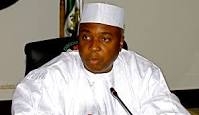 Archive
SARAKI TO PDP: LET'S WORK TOGETHER IN DEFENCE OF DEMOCRACY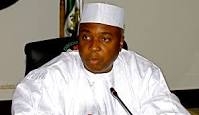 The President of the Senate, who recently decamped from All Progressives Congress (APC) to the Peoples Democratic Party (PDP) urged members of the PDP's NEC, to endeavour to acknowledge the contributions of every member of the party, regardless of who they are or where they stand. 
"What we have learnt from history, and what we have continued to see, is that everyone is important on this journey that we are embarking, and no sacrifice is too much for us to make to reach that promised land. However, we will only reach that promised land when we see a greater tomorrow for our people, and for all Nigerians. 
"Therefore, I want to make an appeal on behalf of all of us — when we get back to our constituencies, please, let us continue to open our arms and receive the people who have the numbers that will give us victory come February 2019. This is because, we are all here to work towards a better and greater tomorrow on behalf of all Nigerians," Saraki said.
He thanked the party under the leadership of Prince Uche Secondus, National Chairman of the PDP, and Senator Walid Jubrin, the Chairman of the PDP Board of Trustees, for welcoming back himself, his State Governor, Abdulfatah Ahmed; Governor Samuel Ortom of Benue State and Governor Aminu Waziri Tambuwal of Sokoto State, back to the party.
"On behalf of all of us, those who have left and are now happy to be back here, I want to assure you that we will work tirelessly to do what is right and put this country in the right situation."
Saraki also pledged to join others under the umbrella of the PDP towards making the nation's democracy stronger, providing security, stronger economy and quality service delivery for the benefit of the people.
"The message that I would like to leave you all with, is: 'Let us all work together, so that this time, our sacrifice can truly be worth it for all our people. I thank you for the warm reception you have given to us. We are grateful that you have received us into where we truly belong."