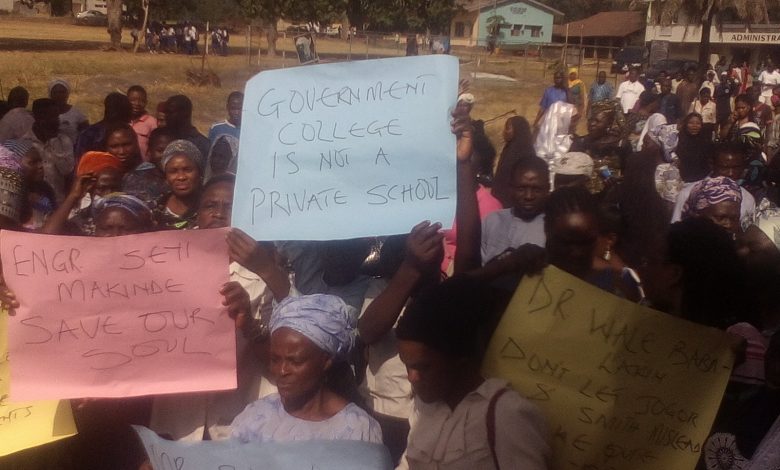 Archive
PARENTS, OLD STUDENTS AT LOGGERHEAD OVER ADMISSION INTO GOVERNMENT COLLEGE IBADAN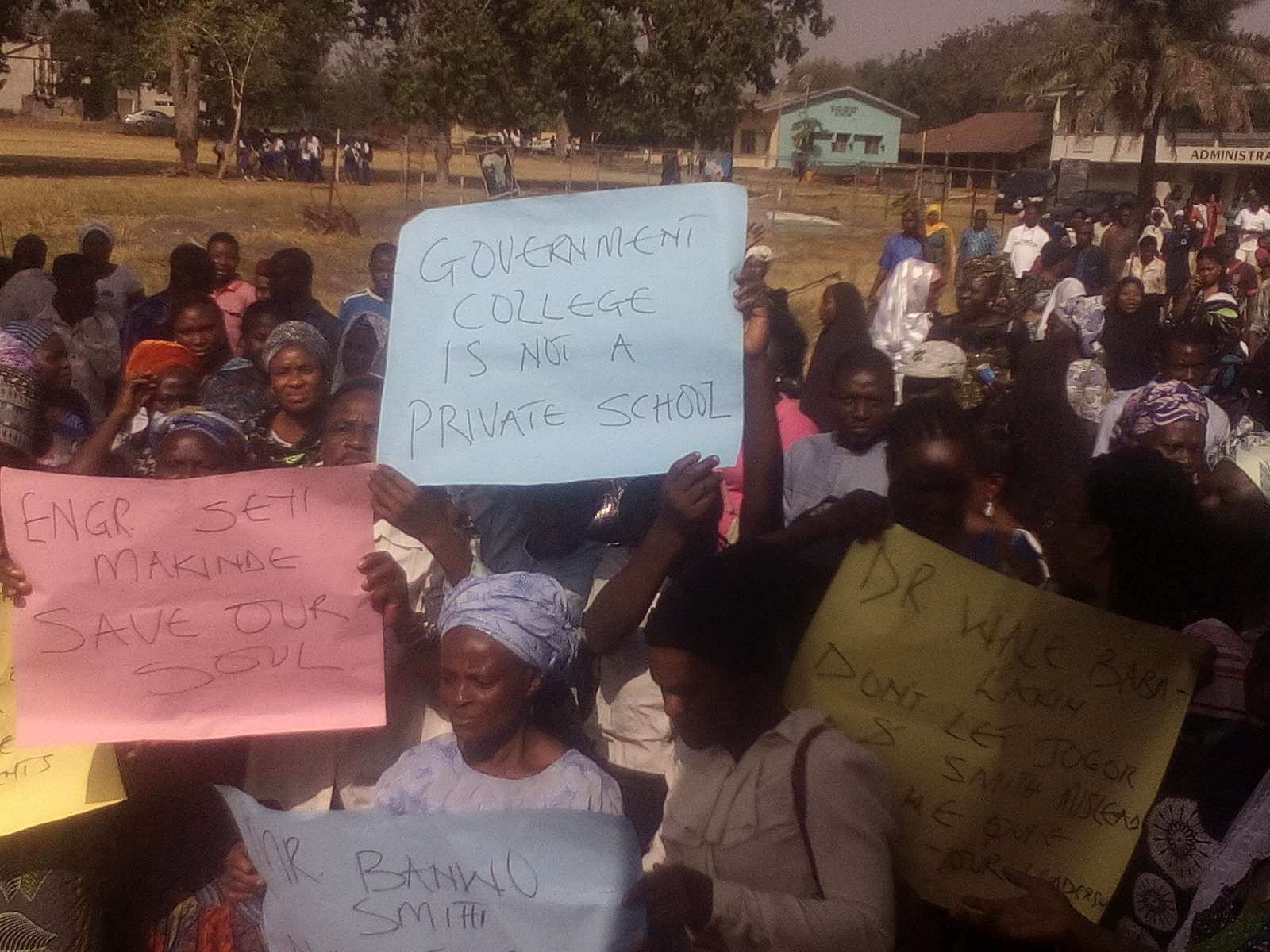 The parents of the affected students trooped out in hundreds on Wednesday in Ibadan,  Oyo State Capital to showed their grievances over the development, calling on the State Government to come to their aids and save the future  of their children warning that the proposed move by the Old Boys Association can affect the students both mentally and psychologically.
'240 JSS1 students were admitted into the school 1, while 248 were also admitted into the school II, but the school, through the Governing Board wanted to reduce the numbers of the students admitted to 160 each for both the school 1 and the school II respectively, while the remaining students will be deployed to another schools in the city', the protesters stated.
Penpushing further reports that  one of the aggrieved parents, Mrs Aikomo Odunayo while speaking with journalists during the protest said that there is a report that the college through the Old Boys Association are planning to redeployed some JSS1 students admitted for 2019/2020 academic session into the school, saying that though the students might be many for the school to accommodate, but government should find ways of accommodating them into the school.
"This development has affected our children a lot, there is no basis for either the school or the government to redeployed our children because they meet the admission requirements of the school and examination was conducted for them before they were eventually admitted into the school."
"Government and the school authority should find solution to this matter, we don't have anywhere to take our children to, laying them off will caused a lot of damages to their education, only those who are not up to the standard should be laid off."
Penpushing also  reports that another parent of the affected student, Mrs  Roheem Oluwafemi , noted that some students might decided not to go to school again as a result of the redeployment, saying that this will negatively add to the social vises going on in the society.
"Some of them might turned to be a garage boys, touts and even a bus conductors, they can become miscreants and useless to the society, by doing this, it shows that their future is at stake",Oluwafemi emphasised
The parents, however called on the Oyo State Government to as a matter of urgency resolve the issue before it get out of hands, adding that they(parents) are ready to abide with whatever conditions the State Government might give them instead of their redeployment of their children to other schools in the city.
Penpushing reports that a former President of the Old Boys Association of the School, Mr Banwo Smith,in reaction  said that the redeployment of the students is important in order to salvage the School from overpopulation.
 "We didn't own this school, all we want is for this school to be run properly, there are too many of students in the school, and we don't have enough accommodation for them, there is no secret in whatever decisions we have took so far, we didn't discriminate because we took the steps based on performance in the school."
"How can 70 students be in one class? they are too many, there is no enough accommodation to cater for all of them, we want to save the image of this school from over population",the former old students boss declared