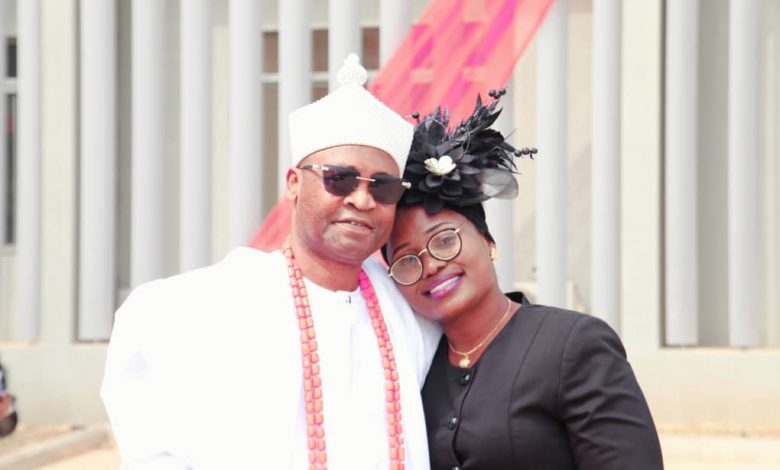 Metro Plus
Trending
OGUN TRADITIONAL RULER, OBA AKAMO'S DAUGHTER BECOMES A JUDGE
The traditional ruler of Itoriland in Ewekoro Local Government Area of Ogun State, Oba Fatai Akamo has recorded another feat, as his daughter, Omolabake Rosidat was sworn in as a judge in the Ogun State Judiciary.
Penpushing reports that, the daughter was among the newly elevated four new judges in the State,who were said to have been appointed to add value to the judiciary system of the State,and charged alongside her colleagues to promote efficient administration of Justice and avoid being influenced by families or friends in the discharge of their duties.
The excited Royal father who spoke with Penpushing said, 'today ,I see myself to be fortunate to  have  the privilege to occupy a position that pays well. Before my presence amidst reputable judges I witnessed with my own very eyes the induction of my daughter Omolabake Rosidat as a judge in the Ogun State Judiciary'.
'Today ,at her induction ceremony, slowly but surely, I can see update transformation of the metamorphoses  of the caterpillar into a butterfly, and in my perception ,my daughter's induction as a judge into Ogun State Judiciary symbolizes a very strong courage for me to totally change my life  style, my way of thoughts and behaviour. To Allah be all glory and adoration', he added.
The State Chief Judge, Justice Mosunmola Dipeolu while speaking at the ceremony held at High Court Complex, Kobape road, Abeokuta said a Research and Statistic Department had been set up to provide stakeholders a database for all cases, convictions and  easy identification of those with criminal records in the State.
Penpushing further reports that,  Dipeolu noted that efforts were on to establish a sex offenders' registry, where convicted offenders' names and conviction would be inputted and circulated through the media to the general public.
The Chief Judge said, the Judiciary, in conjunction with the Rule of Law and Anti-Corruption body (ROLAC) and the British Council, had inaugurated the Justice Sector Reform team in the State, comprising the Judges, Magistrates, Legal Practitioners and Law Officers from the Ministry of Justice, among others.
Penpushing also reports that, responding on-behalf of other sworn-in Magistrates, Mrs. Olajumoke Somefun, promised to deliver justice without fear or favour, to justify the confidence repose in them, pledging to serve the State and the nation diligently.
Meanwhile, other Magistrates sworn in were, Mrs. Akamo Oyede, Mr. Arogundade Adedayo Mrs. Olajumoke Somefun, and Mr. Soyoye Adebakin.