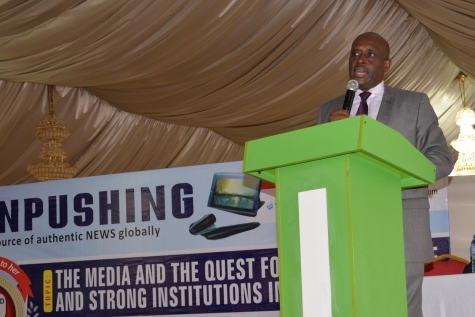 Archive
For the Record: The Media and the Quest for Peace, Justice and Strong Institutions in Nigeria Presentation by Ronald Kayanja, United Nations Information Centre (UNIC) Director Abeokuta – July 19, 2018 My discussion today is premised on Goal 16 of th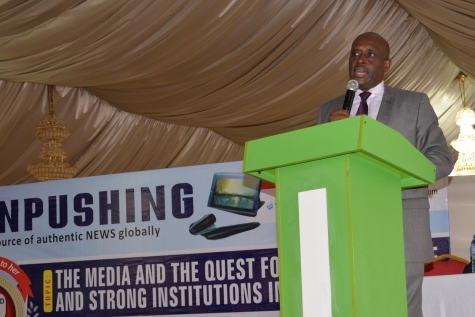 1.From neutrality to identity
The need for a clear media identity grows when online news content is spread in small, unidentifiable bites across the Internet. Also, in order to make people relate to and identity with you, you must show them what you stand for. Show them who you are, and from which perspective — geographically, socio-demographically, or politically — you view the world.
2.From omnibus to niche
Niche media's ability to create relevance for users — and to mobilize both interest and willingness to pay — is far greater than the ability of the omnibus media.
3.From flock to club
Gathering people around the news media, in clearly defined communities — clubs — is a strategy gaining momentum on both sides of the Atlantic. This implies transforming what were formerly known as subscribers, users, or readers into members that must either register or pay to join the inner circles of the crowd around the news media.
4.From ink to sweat
Many media companies are pursuing new ways to create physical journalism in the form of public meetings, festivals, events, and stage plays. Live and engaging. And yes, they consider it journalism.
5.From speaking to listening
But both in the U.S. and Europe, news organizations are increasingly opening up — physically and mentally — in order to be more accessible to the citizens they serve. More than anything, this means listening to citizens and creating more transparency in editorial matters. This can be done through direct personal dialogue, through physical presence in communities, or through the systematic use of small and big data.
6.From arm's length to cooperation
More and more newsrooms are involving citizens directly throughout the journalistic process: from ideation to research to delivery of independent content to the subsequent debate of published stories.
7.From own to other platforms
It weakens business opportunities of the news media and their journalistic control when they put their content on social media. That seems to be the common consensus in the news industry. Using social media is a double-edged sword, but handled in the right way — maybe more as a way to cooperate than distribute — social network technologies have big potential to enhance and deepen engagement, while at the same time creating stronger journalism.
8.From problem to solution
Even the most hardcore investigative journalists have discovered they gain greater impact if they add a solution-oriented level to their work. Constructive journalism simply creates more engagement among readers, users, viewers.
9.From observers to activists
Several news outlets — established as well as new ones — are testing whether they can create a new relevance to their readers, users, and viewers through activist campaigns or journalistic advocacy. This move is particularly controversial for many journalists — and clearly not a strategy suitable for all types of media operations.
Where is the place of the Nigeria media in all this?
Nigeria is making progress into becoming a substantive democracy. The media has played a significant role over the decades and will continue to do so in the future. This is the largest economy in Africa, the most populous nation on the continent and a country with abundance of talent and other resources. Yet this is a country where poverty is still a major challenge. Nigeria also faces violent conflicts and terrorism, in a region that has tremendous challenges to livelihoods caused by climate change.
Let me highlight a few areas that should be of concern to the media in the country in contemporary times in Nigeria, also basing on what we have discussed already:
1.The advent of digital and social media plus convergence means that journalism and media as we knew it has fundamentally changed. These days the most important tool of access to communication to majority of people in Nigeria is the mobile phone. The implication is that our media products must be accessible on the mobile phone. I know many media houses are very active on Facebook, Twitter and Instagram. Also, there are WhattsApp groups which access consolidated media outputs.
2.The challenges of Fake News and Hate Speech are real and critical. While Governments are using legislation to deal with this menace, journalists through their online presence will gain more credibility when they focus on ethical reporting as people try to discern between authentic and fake news. The media also has an obligation to protect Nigeria as an entity and as a society. In such an ethnically and religious diverse country, there is a danger of hate speech eating up the basic fabric of society and endangering the peace and stability of the country. Ethical reporting – telling the truth with fairness and with the interest of Nigeria at the forefront will be important to counter the narratives spewing out of social media.
3.While there are fears that traditional media – especially the newspaper – may disappear, I do not share this view. It is true that circulation has reduced dramatically. One newspaper in Nigeria told me that they have fallen from around 250,000 to about 75,000 daily circulation. They have to close some printing presses. However, the convergence of media means that content from those few copies finds its way into the social media and the online versions where millions will access. The critical element here is for the media to remain credible to the audiences by following the rules of ethical reporting.
4.The welfare of journalists and training them to be relevant in contemporary times is critical. There are some media houses which pay peanuts to the reporters and some do not pay salaries in a long time. Such media organisations will fissile out because it will be difficult to adhere to ethical reporting in such situations.
5.The Nigeria media scene is plural in nature and ownership, which provides for options for expression. However, there needs to be a return to basics – checking people in power. Yes, we can follow up politicians who have fake certificates, but we should also do more around private sector companies that do not operate within the law – on issues of labour and environment protection; the focus on those in authority who propagate sexual harassment especially against women; and other human rights areas. While the focus on the political class is important, social media has showed us that people are also concerned about other power wielders in society who abuse their positions. The media needs to do more on those.
6.Agenda 2030 and the SDGs provide a platform for the media to engage all those with power and influence in the public and private sectors. If we can achieve the targets in Agenda 2030, the country will be more peaceful and prosperous. All leaders at all levels should he held to account for their actions in relation to achieving the SDGs.
7.In many parts of the world, a vibrant civil society enables the media to include the voices of more people and to enable them articulate those in ways that will draw the attention of those in authority. While the civil society scene in Nigeria is not so vibrant, there are those who help to articulate concerns of the marginalised. The media should work more with them. I see that in this country the academia take most of the newspaper space and broadcast airtime for options, which is a good thing. Media should also try to provide platforms for marginalised groups and relevant and credible civil society actors should be provided with space to articulate the concerns.
In conclusion, the media has a major role to play not only to enable Nigeria achieve the SDGs, but specifically ensure that the democracy is substantive – one where voices of the people are heard and those in power are kept in check. But also the media should never be indifferent on issues that could split the basic fabric of the Nigerian society, and Nigeria as an entity.
Changes in technology demand for more ethical media practise for the public to choose journalists platforms as opposed to those fake news and hate speech outlets which will increase in the public sphere. To achieve all this will require continuous skilling of the journalists in addition to a focus of their welfare