Crime
Aggrieved well drillers kick against inauguration of Oyo State new executive
Segun Showunmi in Ibadan
A faction of the Association of Water Well Drilling Rig Owners and Practitioners, (AWADROP), has kicked against the inauguration of new Executives of the association in Oyo State chapter describing the ceremony as illegal.
Penpushing reports that the leader of the group, David Awosale while addressing journalists pointed out and alleged that, the inauguration was conducted by the National Executive despite a substantive court order not to carry out the exercise.
The aggrieved members alleged , that the unholy act was carried out in secret, saying that some members were not aware, stating that the shoddy selection, of  the former chairman of the association in the state, Mr. Kolawole Olayinka, was  contentious, accusing the swearing in committee headed by Mr. Michael Ale of an affront
Penpushing further reports that he maintained that the National President has always been known for his unprecedented and high-handedness which members have always complained about to no avail.
The leader of the aggrieved members said the National Executive despite being served with relevant court papers to desist from their unscrupulous act on the 20th of February, this year, they still went ahead to hold a kangaroo and illegal election the following day, which was February 21.
"The case which is expected to come up on the 24th of March this year also in the Oyo State High Court, precisely Court 8 has suit number I/192/2020 in the court's registry."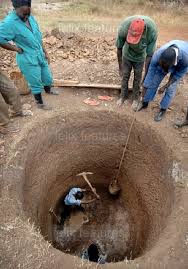 Penpushing reports that he however called on the Oyo State government to distance itself from the association, while the Ministry of Environment and Water Resources to take note of this development.
"We have never seen this type of people in the history of our association, talkless of those who would disregard court order and act illegally as if they are above the law.This show of shame which entails holding unlawful election and inaugurating fake executives in Oyo State is uncalled for and we are condemning their action in its entirety."
"We shall not relent and are ready to tow the path of the law through the law court, because we are not like them and we are sure that at the end of the day we shall win and be justified". Awosafe added.
Penpushing also reports that another member of the aggrieved group, Engr. Lana Edward said that "nobody is above the law and we are ready to pursue this case to a logical conclusion.
"Can you imagine anybody behaving in this irresponsible manner? It is wrong in all counts and all right thing minds will agree with this. They may think that this is all there is to it but they are really mistaken. Michael Ale and his supporters will be defeated in the end."