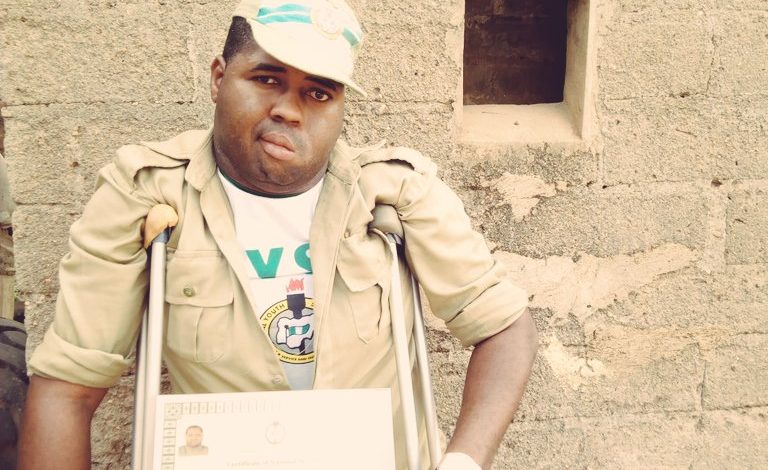 News
Trending
PHYSICALLY-CHALLENGED MASSCOMMUNICATION GRADUATE BEGS GOVERNOR ABIODUN FOR JOB
Yanju Uwala in Abeokuta
A Physically- Challenged Graduate of Mass communication from Moshood Abiola Polytechnic, (MAPOLY) Abeokuta, Ogun State, Abiodun Omoyayi has passionately appealed to Ogun State Governor,  Prince Dapo Abiodun  to offer  him job  in the state civil service.
Penpushing reports , Omoyayi, who is an orphan made the appeal in a letter dated January 4, he wrote to the Governor pleading that securing him  job will  improve his living conditions, as an orphan, lamenting that all efforts to secure a job in the last administration under Governor Ibikunle Amosun proved abortive.
 The polytechnic graduate who gave his telephone numbers as include.07033219924 and 07083847661  said, his physically challenged situation is not inability for him to perform as a civil servant, adding that he is also ready to work as a journalist having studied masscommunication, and expressed his competence on the profession
'Trust this meets you well, i would like to appreciate you immensely for the giant strides you have been taking, since you assumed the mantle of power as the Executive Governor of Ogun State. Let me also congratulate you on the successful exit of a victorious 2019, with the gigantic hurdles you have crossed with ease, and wish you a prosperous and glorious 2020 in office', he wrote the Governor.
'Mr. Governor sir, i am writing you for a paid employment position. This stems from the many challenges i faced since I lost my mother 10 years ago, as it has taken the grace of the Almighty God and well-wishers to sustain me till date. My present living condition is pitiable as i have barely enough to get by. A job opportunity would turn my situation around', Omoyayi begged.
'All efforts to secure a job opportunity in the last administration, proved abortive. Not because I am not qualified but largely owed to the past administration's unresponsiveness. I have a Higher National Diploma in Mass Communication, from the pretigious Moshood Abiola Polytechnic, my one year mandatory national youth service was observed at the Ogun state House of Assembly', the letter stated.
'I am free-spirited and have great interpersonal relationship with people. I am computer literate and have worthy experience as a volunteer trainer for the blind at Southwest Resource Center, and I have also interned at the Ogun State Broadcasting Corporation during the course of my diploma program'.
'Sir, It is my hope that sharing these little achievements I have been able to attain on my own, will trigger your sympathy and unquantified love you have for special people, to see to my appeal, aid my cause and paint my lips with smiles. Because i know you are a listening Governor, who loves cheerfully.
'I wish you the very best in office this year and may God ease your path to do more for our dear state, Ogun State. My credentials are available on demand in both soft and hard copy', Omoyayi emphasized in the letter', Omoyayi wrote