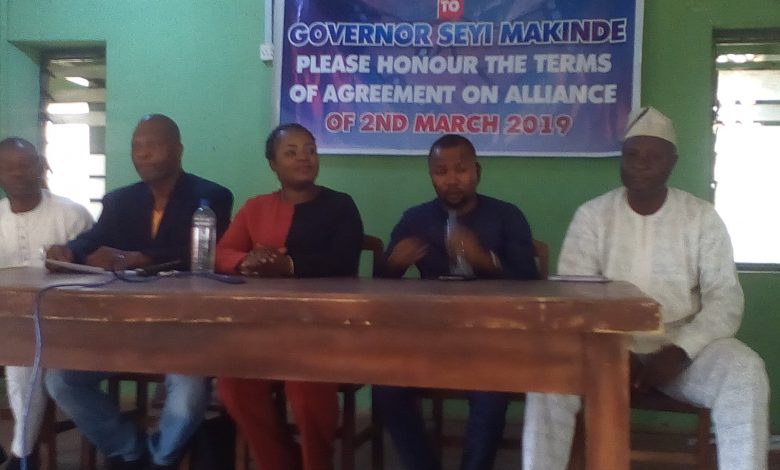 Politics
Oyo african Democratic Congress berates governor makinde, over unfulfilled coalition agreement
Segun Showunmi in Ibadan
The African Democratic Congress (ADC) candidate of the State House of Assembly at the 2019 Gubernatorial and House of Assembly election in Oyo state Hon Gafar Ojetola has berated Governor Seyi Makinde over his failure to fulfill his agreement with the coalition parties describing it as a bad precedence.
Penpushing reports that  Ojetola from Ibadan North Constituency 1, at  a press briefing at Nigeria Union of Journalists(NUJ) Press Center, Iyaganku, Ibadan on behalf of other ADC State House of Assembly Candidates noted that Makinde till date was yet to  fulfilled any of the agreement reached between him and their principal, Senator Lanlehin.
The aggrieved politician pointed out that , Governor Makinde as a man of honor, should as a matter of importance and urgency redeemed his promises according to the terms of agreement with Senator Lanlehin.
"This coalition is a bad precedence to the future of this State if Makinde fails to fulfilled his promises, and such agreement can never happened again, we have sacrificed so much than to be abandoned, used and dumped, ignored or treated in this manner."
Penpushing further reports that Ojetola noted that the body language of the Governor was that of abandonment to fulfilling his own part of the agreement despite that they have staked everything possible to his electoral victory at the polls, adding that the victory was their joint efforts and the terms of the promises should be fulfilled without further delay.
"It is important to note that the alliance of the 2nd March, 2019 was the master stroke that changed the calculus of the political landscape in  Oyo State which gave the four parties the deserving victory that threw up Engr. Seyi Mankinde to become the Oyo State governor."
Penpushing also reports that, Ojetola maintained that there were terms of agreement to the alliance of 2nd March, 2019 with a sharing fomular of political appointments across boards, which all the coalition parties agreed to the terms without any reservation.
"As the House of Assembly candidates of the ADC, which election ran concurrently with that of the Governorship elections the same way; we thus became eventually, the direct casualties and sacrificial lambs for the alliance as all the 32 seats of the House of Assembly was shared between the coalition Governorship candidate, Seyi Makinde and others."
Penpushing  reports that Ojetola explained further that "It is important to stress that we did not request for and were not given any financial compensation before consenting to the terms of the alliance as we were repeatedly assured that we shall be the first consideration for political appointment, and these assurances were also re-emphasized with us by the Governor during his Thank You visit to Senator Lanlehin residence."
"We should be setting good precedence, as we did in the last election, for other States to follow in similar circumstances; those that were given appointment are not part of the coalition because most of them had already lost their election prior to the coalition."