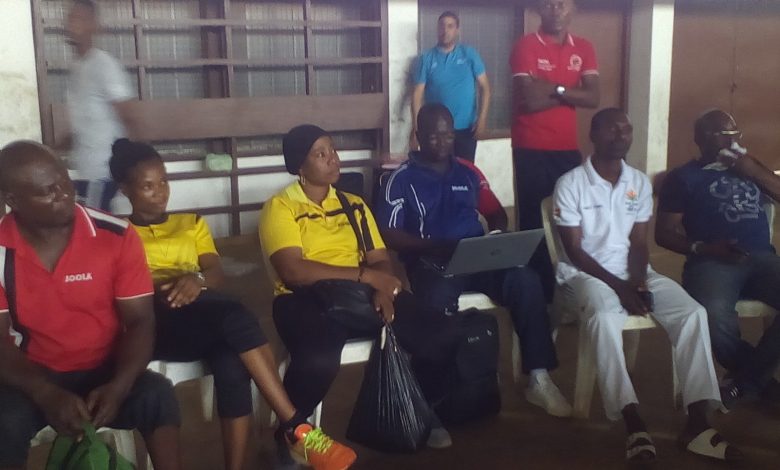 Archive
NIGERIA TRAINS AFRICAN TABLE TENNIS COACHES ON MODERN TECHNIQUES
The Federation Scribe pointed out that the level 2 Table Tennis Coaching course will further enhanced the knowledge of Nigerian Tennis Coaches, in addition to also keeping them abreast to modern Table Tennis Coaching Techniques particularly now that Nigeria is preparing for the African Game.
Penpushing further reports that the Chief Coach of Nigerian Table Tennis Federation, Bello Nasiru said that the level 2 Table Tennis Coaching course will help to freshen memory of Nigerian Table Tennis Coaches and give them advance step in coaching Table Tennis both locally and internationally,adding that  the level 2 is an international coaching course.
"It will help our coaches to know how to handle both men and women who are table tennis players, level 1 is for the beginners, while level 2 is the advance course and level three is the highest table tennis coaching course all over the world, level two is recognised internationally for any table tennis coach to handle good tennis players."
Penpushing also reports that, he reiterated that Nigeria has very good coaches explaining that despite the difficulty of the level 2 Table Tennis Coaching Course, most of the Coaches who participated in the course did well, adding that all the names of the successful participants will be publicized on the internet.
"This course will make us to meet up with international standard and whatever mistakes we have made before this course will be rectified and implemented on our Tennis players", he emphasised
The Federation Chief Coach, however thanked the Nigerian Olympic Committee (NOC) led by Banjo Oladapo who used his personal initiative to bring the course to Nigeria, noting that attending the level 2 course in foreign countries requires a lot of money.
Penpushing reports that, an Expert, who is also the course Coordinator/ Trainer, Ahmad Dawatly while reacting to the performance of the participants, noted that everybody cannot pass examination in school explaining that performance has to do with environment and the circumstances of the examination.
The Egyptian added that most of the participants of the level 2 coaching course are good and experienced Table Tennis Coaches, who had undergo  advance coaching knowledge in International Table Tennis Federation (ITTF).
Penpushing further reports that, one of the participants, David Senyo Ahiaba from Ghana noted that the essence of the course was to upgrade the knowledge  of Tennis Coaches in order to produce good Table Tennis players, and it is important for them to have attended a course like this.
"Three of us came from Ghana, if you look at the globe, the Chinese are dominating Table  Tennis,  so this is the time for us to learn new technique so as to meet up with the International standard',the participant said.
Penpushing reports that, the six days level 2 Table Tennis Training Course which was held at Liberty Stadium, Oke-Ado, Ibadan Oyo State Capital had  20 participants from four African countries which include;  Nigeria, Ghana, Borkinafaso and Tunishia.