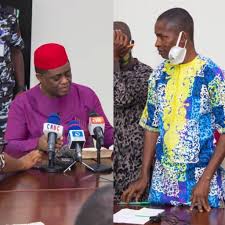 News
Media stakeholders condemn Fani-Kayode's attack on journalist
Stakeholders in the Penpushing media on Tuesday condemned former Minister of Aviation in Nigeria, Femi Fani-Kayode, for verbally attacking a journalist, who asked him a legitimate question about the source of funding of his recent tours of South-East and South-South geo-political zones  of Nigeria.
Penpushing reports that, the stakeholders having diligently watched the video clips after a press conference in Calabar, Cross Rivers State, where Fani-Kayode lambasted the Daily Trust reporter, described the former Minister behaviour as uncalled for, and insult to the Nigeria Union of Journalists (NUJ)
The stakeholders in response to the incident said the reaction of the former Minister showed that, he is a pompous character, displaying loose talk, stressing that his (Fani-Kayode) action was disappointing at his level.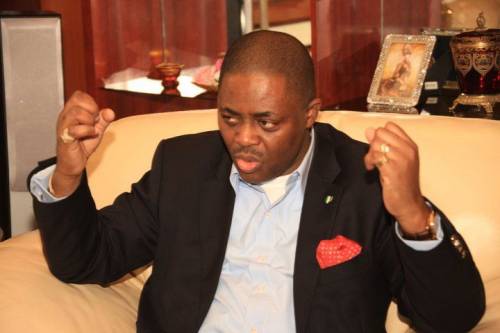 Penpushing further reports that, the journalist had during the press conference asked him if the former Minister was being bankrolled by any politician or political group – a question that attracted verbal assault from the ex-minister displaying loose talk, stressing that his (Fani-Kayode) action was disappointing at his level.
"I'm saying this live on TV, put that thing down, what kind of stupid question is that? Bankrolling who? Do you know who you are talking to? I will not take any further questions from this man. Who you do think you are talking to? Go and report yourself to your publisher. I don't want to take questions from this man, very stupid', he lambasted the reporter.
"I could see from your face before you got here how stupid you are. Don't ever talk to me like that. I'm not a poor man and will never be, bankroll who? A former minister, a lawyer, don't ever try that with me again, see me well, don't ever. You are very rude, it's not the standard of Daily Trust at all and I will report you to your publisher," he said.
Penpushing also reports that this will be the second time within four days Fani-Kayode will be attacking journalists, who dared asking a similar question, and while reacting to the latest attack, contributors on the platform expressed similar views on the bad conduct of the former Minister.
'I think the NUJ should issue a statement condemning this action. Harassment of a journalist at work. He was cursing that poor boy. He psychologically traumatised him. President Isiguzo and Chairman Akinreti, your attention is urgently needed, please. We must confront this affront', a journalist on the platform said.
.Penpushing further reports that, another veteran journalist in his reaction said, 'I feel utterly disappointed that our colleagues who ought to rise against this affront were even begging Fani Kayode. Haba! Where is journalism heading?  NUJ, we are waiting for your reaction'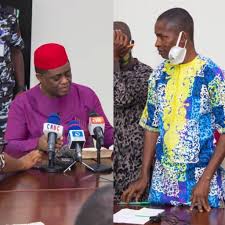 The founder of Penpushing Media, Dimeji Kayode-Adedeji in his own reaction wrote. 'It's unfortunate that the person who asked the question and his colleagues kept mute. Honestly, not all journalists he can do that to and go scot free, he would have gotten immediate answer to his (FFK) loose talk. Journalist can ask any question for clarification, it now depends on the IQ of respondent. The reaction of FFK has just revealed his pompous character'.
'With all due respect you cannot do that to me, I will look into your face and heaven will not fall, having asked a legitimate question' Honestly, it's worrisome that generation behind us now look elsewhere, no passion, dedication and commitment anymore. I hope the Lord of Journalism will revive the situation', he wrote
Penpushing also reports that, another top journalist in reacting said,'without trying to incite anybody,  I can't stomach one quarter of that insult.  At a press conference?  Even when I was locked up in police custody in 1992 for writing a perceived offensive story on Shina Rambo, I refused to be cowed. Inside the custody, I wrote other stories that annoyed the police than the story that took me to custody. Courage, confidence, self esteem, etc are qualities of a journalist. Hope they still are?
The reaction of another veteran reads, 'professional standard, generally, has fallen among today's media practitioners.  Comportment, self confidence, adequate knowledge of critical issues of discourse, inquisitiveness, display of maturity, etc hardly come into play in handling personality interviews nowadays.  The scenario is just what the Yorubas will describe as "iru wa, ogiri wa" (all comers' affairs). Enforcing the professional codes of conduct should help but where are the enforcers in all this?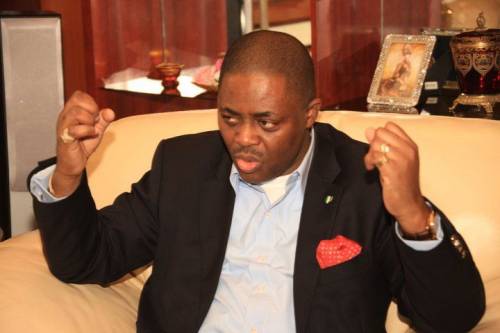 Penpushing reports that, other contributors pointed out that; it was a question, not an indictment, for crying out loud, adding that, 'poor emotional intelligence. That simple question brought out the real personality. That's vintage FFK…highly intolerant, arrogant, abusive and lacking emotional balance.  Reaction obviously shows that he's bankrolled
The reaction from another stakeholder has it that, 'and the fourth estate of the realm must put him in his place. It's an affront on journalism. It's a threat to free speech. NUJ or other relevant action must rise stoutly to defend the dignity of the profession and demand an apology from FFK
'At a press conference? Insulting journalists? And they  all sat down begging…..My God. The standard has fallen and many things are definitely wrong…..  May the labour of our founding fathers not be in vain… If u are sure of your facts, you walk out, write your reports and damn the consequences. This show of shame with FFK is definitely not the training.
'Absolutely! The fear in that guy could also be explain to mean being afraid of losing his job. You can even hear FFK threatening to report the poor guy to his publisher. The journalism profession is messed up here. Ownership structure and editorial independence is a major headache'.
'A threat to journalist to be reported to publisher is wasted efforts, if the journalist is sure of his competence, and his establishment is not a sellout. I had similar experience years back, when a government planned to uproot me without my knowledge, reported me to my employer when my write ups were becoming thorn in the flesh of the administration, my establishment stood by me and in response asked those behind the plot, that they can only recalled me if found me writing falsehood. They told that government i was doing my work diligently and professionally, hence, the management can't dance to their tune. End of story', a contributor wrote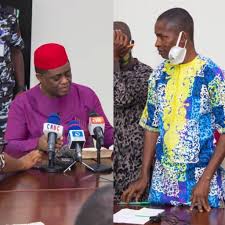 Penpushing also reports that, another participant wrote, 'this is a clear indication of low level of emotional intelligence on the part of FFK. Too bad for his high handedness and the vituperation. The journalists pleading are all disgrace to the profession. The axim that I Know in the labour parlance is "An injury to one is an injury to all. Too bad that his colleagues did not see the insult being passed as a collective one which is not only for the guy but all present at the parley and those that were not in attendance'
'FFK could be weak in managing his emotions as he has displayed .However it further exposed the lack of depth of a good number of Journalists who often fail to do background search on personalities or issues they are to work on before attending this type of conference. Media practitioners need to up their skills in dealing with  the crop of politicians we have who are slippery, evasive and dodge responsibility.
'I saw the video, and I was taken aback, not by the tirade of FFK, but at how quickly the guy 'chickened out'. Worse case scenario, I would have kept quiet all through, or better still, maintained my position, provided I am certain about question. Most of our politicos are like this, and more often than not, they are very quick to condemn others for 'gagging' them'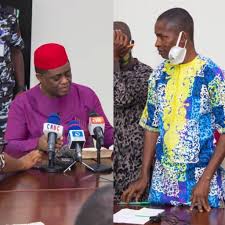 ' Please tell them o, about an injury to one being an injury to all.  Every single journalist around that table is culpable. The guy who asked the question could have been timid, lack necessary confidence or a rookie,… whatever!!! But the fact of his colleagues sitting there whilst FFK took him  to the cleaners and wiped  the floor with his face, belies imagination. Where is the professional pride and collective outrage?
'If any one dares to speak to any colleague of mine, be it a graduate assistant, like that in my presence, she/he will have me to contend with. Radarada. We cannot because we want to eat beef start calling the cow', the participant declared
'I think the journalists at the press conference were those attached to the State House or Governor's Office. This may be the reason why they became 'jelly". But why should they be lilly livered? At the worst scenario, the CPS may ask for their deployment if they had stood for their colleague. Let's wait to see the reaction of the management of Daily Trust'