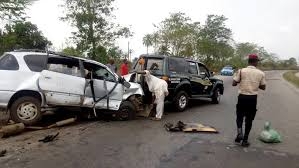 Archive
JUNE 12 DEMOCRACY DAY: TRIBUTE TO VICTIMS OF THE FATAL ROAD TRAFFIC CRASH THAT KILLED TRAVELLERS THAT JUST ARRIVED FROM SPAIN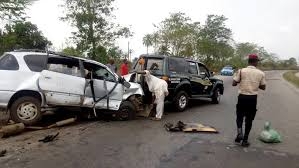 The piece was written in honour of those Spain returnees that died on the anniversary Nigeria declared June 12 as the country's new Democracy Day. Even though those responsible for the June 12, 2018 crash have been punished, recording another crash that killed 8 people around the same area, indeed calls for attitudinal change of respect to the sanctity of lives by obeying construction – zones maximum speed limit of 50 kilometers per hour.
As simple as this rule is, adjusting our speed to 50km/hour on the Lagos – Ibadan Expressway, currently undergoing rehabilitation, may be the required difference to preserving lives created only by God but unnecessarily wasted due to drivers' recklessness. May their souls rest in perfect peace.
Before the euphoria of today, June 12, 2019 as Nigeria's maiden Democracy Day dwindles , I remember today , exactly a year ago  on 12 June, 2018, at about 0840hrs,  how we lost eight  precious souls to the cold hands of deaths on the Lagos – Ibadan Expressway , Africa's busiest road.
The crash occurred before the Sagamu interchange of this Expressway, opposite  Witchtech Roofing and Pipes  Company , Sagamu, when a commercial bus, on the fleet of Iyare Motors, travelling from Lagos to Benin City crashed and within a twinkle ended these people's earthly dreams .
These victims, who just returned early that morning of June 12, last year , aboard Royal Air  Marock flight , from Spain ,died in the commercial bus crash transporting them to Benin, in South – South Nigeria.
In reminisce whenever I remember this unfortunate incident, I visualise what these men and women would have contributed to humanity before the cruel hands of deaths snatched them untimely from their loved ones.
While wishing them eternal rest in the bossom of the Lord,  I commiserate with their families and pray for God's strength to enable them bear the unfortunate loss. Even in this grieve,  I cannot but rejoice with the three other survived victims of that crash, who incidentally are all  females.
The first survival , Nweke Tina.  Her name just refused to be forgotten in our hearts, as she happened to be the first contact we could identify in the ill – fated bus, during the rescue operation. This was after we found her International Passport that evidenced she just arrived Nigeria from Spain early that fateful morning.
The commercial bus lacking a Passengers' Manifest, it was Nweke Tina's International Passport and Royal Air Marock's used boarding pass we used to establish the initial contact to most of the victims' next of kins.
Nweke Tina is the only survival out of the 8 passengers that flew in together with her from the  same flight from  Spain and the 8 passengers all – together boarded the ill – fated commercial bus.  Nweke's survival is a classical case of a miracle, as testified by the Medical Doctor that first treated her at the Olabisi Onabanjo University Teaching Hospital (OOUTH), Sagamu, Ogun State, South West Nigeria.
This Medical Doctor, considering Nweke's slim possibility of survival had immediately referred her to the University of Ibadan Teaching Hospital (UITH), which is 127.6  kilometers away, located in Oyo State, also in South West  Nigeria,.
The Medical Doctor saw me two days after the crash when we met by chance at OOUTH, during our routine visit to another set of crash victims the FRSC Rescue Team just rescued to this Hospital.
Upon identifying me and  my team , this Medical Doctor, after enquiries  was shocked to her bone marrows how Nweke Tina, quickly recovered few hours after her referral to UITH, and could even travel from Ibadan to FRSC Command in Abeokuta to collect her properties, rescued by the crops of dedicated  Federal Road Safety Corps Rescue Team.
The FRSC Rescue Team displayed high level of integrity that 12 June , 2018, where the sum of 65,780 Euros and other foreign and local  currencies were recovered from the crash scene, which in amalgam totaled the equivalent sum of 27 million Nigeria Naira.
In keeping with the Federal Road Safety Corps' core value of transperency, the entire  monies , in demonstration of integrity, were handed in full together with the other recovered properties .These were handed to the crash victims and the verified next of kin of the killed victims.
 I equally appreciate God for sparing the lives of the two other female victims who albeit  were not returning from Spain with their co- travellers in the Ill – fated bus, but instead joined those other victims that just arrived from Spain to travel  in the same commercial bus.
As Nigeria celebrates Democracy Day today , I with my colleagues remember vividly that unfortunate crash of June 12, 2018, which happened on the Lagos  – Ibadan Expressway. As my own vehicle, from the opposite direction, approaches the crash scene, what we saw was such a gory scene and painfully difficult rescue operations. I salute again the FRSC Rescue Team for coordinating this rescue effort with sister traffic and emergency agencies and ensuring that those who survived received prompt evacuation for medical attention.
As sad as this incident was, it was no doubt an avoidable crash that would have saved us all the consequences I am sure the immediate families of the victims might not have completely recovered from ,as well as the effect  the crash caused humanity. This is not to talk of the loss to the Transport Company, Iyare Motors.
I hope this painful incident would provide humanity God's grace and capacity to , as envisioned by the Nigeria Road Safety Strategy , we achieve a country where road traffic crashes result in no death.
Adieu.
Clement Oladele is the Ogun State Sector Commander, Federal Road Safety Commission (FRSC). He wrote this piece from Abeokuta, and can also be reach on [email protected]