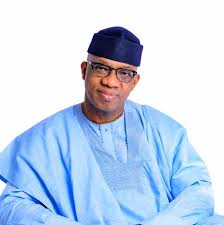 Opinion
Governor Dapo Abiodun: The Honoree Extraordinaire deserves re-election
By Samson Oderinde
Ogun State was created on the 3rd of February, 1976 during the Military administration of Generals Murtala Mohammed and Olusegun Obasanjo. From that time till date, various military and civilian administrations have governed the state and the demonstrated their leadership and managerial acumen and were able to make their marks in various in various fields of human endeavors, with laudable footprints in the sands of time, in the nooks and crannies of the state christened the Gateway State. They all contributed in no small measure to the enviable heights which it has attained so far. However, the incumbent Governor of the state, His Excellency, Prince (Dr) Dapo Abiodun, who assumed office in May, 2019 stands out, owing principally to his premier performance rating amongst his contemporaries in Nigeria, in all ramifications.
The exemplary performances of Governor Dapo Abiodun, vide envisioning great tasks and pursuing same with unequal intellectual sagacity for unusual results, versatility in the application of various resources, for great result on investment, unimaginable zeal to get tasks accomplished in record times, selfless leadership, with honesty of purpose and strong will, cum drive for prodigious accomplishment, have combined to make Ogun State to record first position in most fields of human endeavors and improved its rating to be amongst the first three (3) states or so in Nigeria, in most indices of socio-economic development, as well as single himself out as a pace setter and goal-getter.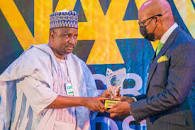 Some years ago, Ogun State was virtually a civil service state and was unable to provide the needed services and basic necessities for the populace easily, but that has since changed, because the state was blessed with performing Executive Governors who have piloted its affairs over the years, especially in the political dispensation, so far. Governor Dapo Abiodun has effectively anchored the headship of Government with great superability and attendant wonderful and incompatible deliverables.
The Governor's development mantra of ISEYA: Infrastructural Development, Social Welfare and Wellbeing, Education and Human Capital Development, Youth (and women) Empowerment, as well as improved Agriculture and Food Security, are all well executed in exceptionally brilliant and resourceful ways, such that the accomplishment so far are quite rare in the annals of Ogun State vis-à-vis the attendant accolade from within and without the state and even from the International communities and organizations.
At the inception of his administration in 2019, Governor Dapo Abiodun formulated people-oriented policies, which are been meticulously implemented. His superlative performanaces within a record time of three years had made the world leaders and institutions to divert their attention to the Gateway State, earning it various developmental support and partnership for further growth, in all sectors of the state and making it the first destination of choice for industrial activities and investment, with the manifestation of economic prosperity.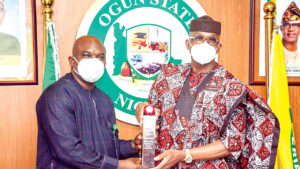 Some of the unimaginable achievement of Governor Dapo Abiodun is the ease of doing business, whereby the state now enjoys the most conducive atmosphere for businesses to be established and thrive, Agricultural revolution, whereby the state is the leader in cassava, rice and cotton cultivation, among others. The giant strides toward ensuring that the state becomes one of the oil producing states in Nigeria, through massive investment in Tongeji Island oil exploration and Olokola Free Trade Zone activities.
Based on the foregoing records, Governor Dapo Abiodun has won several laurels and awards to encapsulate his creativity, vision, wonderful drives and unprecedented and record breaking achievements. Some of these are chronicled as follows:
Good Governance Awards; at the 62nd Nigeria's Independent Anniversary Global Award Gala, held in London, United Kingdom.
Award as the Most Improved State on Agriculture and Economic Empowerment; by Business Day Newspaper.
Award as Best State in ICT Penetration and Adoption by National Council of Communication and Digital Economy.
Award as the Best State in Infrastructural Development; by the National Council on Communication on Digital Economy.
Award as the Most Supportive Governor on SMEs; by Association of Small Business Owners of Nigeria (ASBON).
Award as the Best Governor on Education; by National Parents and Teachers Association (PTA)
Award as the Best Education Friendly Governor by All Nigeria Conference of Principals of Secondary Schools (ANCOPSS).
Award as the Best Governor of the year on Agriculture; by Nigeria Agriculture Awards (NAA).
Award as the Best Governor on Macro, Small and Medium Enterprises (MSMEs)
The Best Governor in Industrial Revolution at the Award of Excellence in Public Service ;by President Muhammadu Buhari, GCFR
Award as the Best State Governor with the Most Improved State in Security and Infrastructure; by Business Day Newspaper.
Best Governor in Housing Delivery; by the Nigerian Housing Award.
Award as the Best State in ICT Infrastructure Development by National Council on Communication and Digital Economy
Award as Best Governor in Infrastructure in the South West; by Nigeria Union of Journalists (NUJ).
Award as the Outstanding Political Brand Personality of the Year; by Marketing Edge Summit Awards.
The Governor's "building our future together" policy enhances Public Private Partnership (PPP) and has actually galvanized every sector of the economy for efficient and fruitful service and massive investment in various areas of human endeavors, especially on the provision of more Infrastructure, sustainable Agriculture, Commerce and Industry, Health and Education, Housing, Agro-Cargo International Airports development, with all areas of the state involved in development almost simultaneously, have driven the development of Ogun State very aggressively, effectively and resultantly, there is appreciable increase in employment, empowerment, rural development and poverty reduction, as well as prosperity and stability.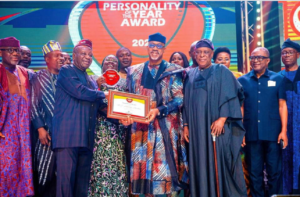 The excellent performance of Governor Dapo Abiodun so far, has further brightened the glorious image of Ogun State and taking it to the limelight. He has demonstrated an unequal dexterity and purposeful leadership in the affairs of the state. His adventures in Education and Youth Development for knowledge and skills acquisition, for the overall growth and development, as well as peace and stability of Ogun State presently and in the foreseeable future is second to none. His pacesetting standards in all sectors of the state are really dazzling and have done every discerning mind proud. He is really a beacon of hope and good fortune for the Gateway State in all ramifications.
Generally, Ogun State has been divinely blessed with the coming of Governor Dapo Abiodun, because God has equipped him with an excellent spirit, as it where, if his performances are juxtaposed with the desperate hostility which he experienced prior to his election in 2019 and stiff opposition by the opponents till date. As at today, he has been able to do well, in spite of all odds. Therefore, one can assert without any iota of fear that he is a God's revelation for Ogun State. He is endowed with the potency to perform more excellently than he has done and currently doing (which had made the state better and himself Mr. Honoree Extraordinaire), if he secures the mandate to serve once again: he will be divinely favored for the manifestation of more development and prosperity in all areas of human endeavors, for enhanced future.
Those who could not grasp the need for the Prince Dapo Abiodun's Governorship in 2019 are presently zealous for a fresh mandate for him in 2023, having experienced his efficacity; the grace of God upon him, through his unprecedented footprints in key sectors of the state.
In conclusion, the good people of Ogun State should resist every tendency to distort, halt or interrupt the ongoing systematic transformation and enviable development strides in the Gateway State. They should continue to support him, while his tenure lasted and graciously offer him a new mandate in 2023, so that he could spur the state to greater economic fortune, till it gets to its Eldorado. Thus, there is no alternative to Prince (Dr) Dapo Abiodun, as far as the 2023 Gubernatorial Election in Ogun State is concerned.
Chief Samson. Olu. Oderinde is former Member, OOU Governing Council, Ex- SSA (Political) to former Deputy Governor, Ogun State and Former Executive Chairman, Yewa (Egbado) North LG
FOOTNOTE: You want to share story with us? You want to advertise with us? You need publicity for product, or service, or   event? Contact us on WhatsApp +2348073463653 or email [email protected]