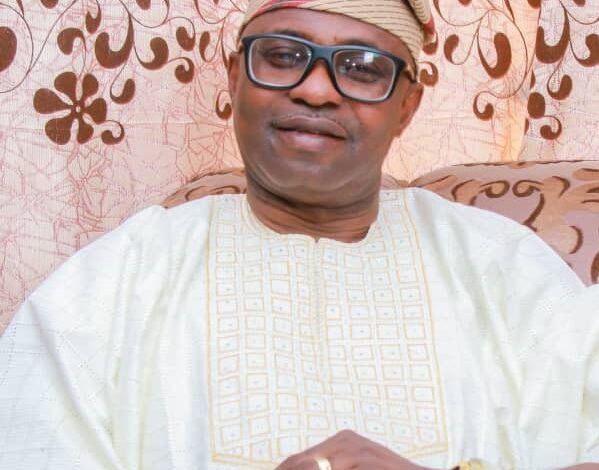 Opinion
For the records: Nigeria's healthcare delivery system and the 2023 democratic transition: A time to change the narrative. Presented by Dr Adewunmi Rafiu Alayaki at the 2022 Physicians' week of Nigeria Medical Association, Ogun State
THE NIGERIA'S HEALTHCARE DELIVERY SYSTEM
The Nigeria's healthcare has suffered several down falls. Despite Nigeria's strategic position in Africa, the country is greatly underserved in the health care sphere. Health facilities, personnel and medical equipment are inadequate in this country, especially in rural areas.
The health system remains weak as evidenced by ;Lack of co-ordination ,Fragmentation of services, Dearth of resources, including drug supply, Inadequate and decaying infrastructure ,Inequality in resource distribution and access to care, Very deplorable quality of care
BACKGROUND OF HEALTHCARE IN NIGERIA
In 1472, Portuguese Navigators reached Nigerian coast. They brought European Medicine, first to satisfy their own needs. In 1861, Britain established the colony and Protectorate of  Nigeria. In 1880, the first health care facility in Nigeria, a dispensary was opened by the Church Missionary Society. In 1885, the Sacred Heart Hospital, Lantoro, Abeokuta was established in Nigeria by the Roman Catholic Mission. In 1886, health care dispensaries were opened in Onitsha and Ibadan. In 1893, Lagos Island General Hospital was established in Marina, Lagos.
Between 1945 – 1955, the first Colonial development plan for healthcare in Nigeria was put in place. The health system  was regionalized. Most public hospitals provided cost free for civil servants and their dependents while parallel church-owned hospitals provided care for the needy during that period. In 1945, National Orthopaedic Hospital established was established in Shomolu, Lagos.
BACKGROUND OF HEALTHCARE IN NIGERIA CONT'D
As from 1993, the establishment of Federal Medical Centres and Federal Teaching Hospitals came into being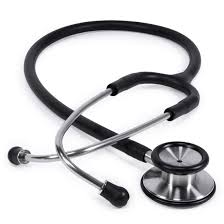 CURRENT STATUS OF THE HEALTHCARE DELIVERY SYSTEM IN NIGERIA
The three levels of healthcare system in Nigeria are : Primary health care ,Secondary health care, Tertiary health care .The main aim is to provide cost effective health services at lower cost and in higher amount to a large number of individuals. It is a mechanism for providing services that meet the health related needs of individuals
PRIMARY HEALTH CARE
Primary health care, or PHC refers to "Essential Health Care" that is based on scientifically sound and socially acceptable methods and technology. This makes universal health care accessible to all individuals and families in the community. In Nigeria, this was developed to the peak during the period of Prof. Olikoye Ransome- kuti as the Hon. Minister for health, our health indices improved because diseases that were supposed to affect common man were prevented at the health centers level, we had improved immunization coverage, improved mortality/mobility in all aspects of our health. But now primary health care system has been eroded and concentration is more on treatment at the secondary healthcare and tertiary healthcare levels.
The current state of PHC system in Nigeria appalling with only about 20% of the 30,000 PHC facilities across Nigeria working.
SECONDARY HEALTHCARE
These are hospitals and outpatient specialist clinics to which people go, after referral from primary health care level. The services are generally more specialized and further from primary health care. They often include a great range of diagnostic services such as X-ray and pathological laboratory services, they also include specialized treatment such as, surgeries, paediatrics, obstetrics and gynaecology, internal medicine, radiotherapy, and services not normally available in primary care.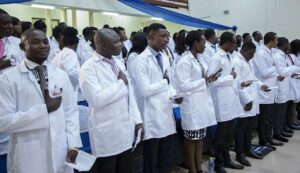 This is supposed to be at the level of General Hospitals, State Hospitals, Private Hospitals. Unfortunately, in Nigeria there are various factors making it rigorous such as, Poor legislation: all the stakeholders have not been performing their roles and responsibilities according to policy guidelines.
TERTIARY HEALTHCARE
Tertiary Health Care; it is a  specialized care that offers services to those referred from secondary care for diagnosis or treatment, which is not available in primary or secondary care. THC features in certain specialties for rare conditions, or where the diagnostic or treatment facilities are scarce or require scarce combinations of resources, or which remains essentially the subject of research. These facilities are commonly found in medical schools and teaching hospitals and Federal Medical Centres.
Due to lack of cutting edge equipment and wherewithal to qualify them as a tertiary institutions, most often, they fail to function at the level they are established for.
FACTORS AFFECTING HEALTHCARE DELIVERY AND HEALTH SYSTEM DEVELOPMENT IN NIGERIA
There are several factors affecting the performance of the Nigerian healthcare system .These include:
Lack of Political will:  Despite the indices of poor health services in the country, the Nigerian Government at all levels budget less than 5% on health, despite being a signatory to the 2000 Abuja declaration to increase the health budget to 15% of the total budgetary allocation for the country. Inequitable distribution of resources:  The number of health facilities, personnel, equipment, drugs and other resources needed to deliver healthcare services are distributed to favour urban communities, in some other cases, the location of health facilities in the rural areas are far off from where they are actually needed due to political influence. This sometimes results in neglect and complete abandonment of such facilities.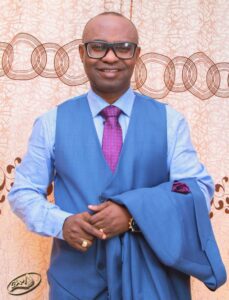 FACTORS AFFECTING HEALTHCARE DELIVERY AND HEALTH SYSTEM DEVELOPMENT IN NIGERIA CONT'D
Corruption: corruption is a key factor in the poor delivery of health services in Nigeria.  Evidence from the International Monetary Fund (IMF) reports shows that corruption has devastating negative effects on health indicators like infant and child mortality, female education, health budget and spending. Corruption, therefore, lowers the immunization rate of children, and also thwarts the delivery of essential treatment, especially for the poor; and as well dampens the use of public health facilities.
Low morale among health workers:  It is usually discovered that health workers in public health facilities are demotivated based on their remuneration package and the stress inherent in filling the gaps for the shortage in manpower.
FACTORS AFFECTING HEALTHCARE DELIVERY AND HEALTH SYSTEM DEVELOPMENT IN NIGERIA CONT'D
Inadequate/moribund health facilities, especially in rural communities.Grossly inadequate health personnel and medical equipment.  Poor health financing mechanisms. Poor quality of care. Unavailability of drugs and vaccines. Poor Health Insurance Policy. NHIS
WHERE WE GOT IT WRONG
Inadequate budgetary allocation to health.Non- release of complete budgetary allocation despite the fact that it is inadequate ab-initio.  Lack of political will to improve our health system. Corruption on the part of our leaders. Lackadaisical or non-challant attitude of the relevant stakeholders in the health sector.
HOW TO CORRECT THE ANOMALY
Until we rise up and hold our leaders accountable even when we face intimidation and persecution, inasmuch as what we are saying in the truth and not playing politics.
2023 DEMOCRATIC TRANSITION
All the political parties are showing the rots they are made up of. Despite non-performance of political parties at the helms of affairs, they still have the gut to lie to us, make us look like fools. E.g. in the area of  Electricity generation and distribution, Water supply, Insecurity,Banditry, Agriculture, Poor economic policy, Armed robbery, Kidnapping etc.
High scale corruption; how will anybody explain the quantum of money being deployed to buy the conscience of the delegates who went to Abuja to vote for the highest bidder for the post  of  the president irrespective of whether they are competent psychologically, mentally or medically fit for the job?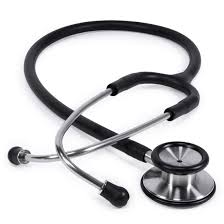 The down trodden who suffer the rot and incompetence the more and who are supposed to know better would because of 1,000-5,000 Naira, fez cap, T-shirt distributed to them would go hay wire to defend these politicians, may even kill themselves in the process out of ignorance and are blindfolded to their right.
The political system does not allow best candidate to emerge, rather, candidates are forced on the electorate to be voted for; we worship money, eulogized corruption, sing the praises of those who are supposed to be in jail due to their previous records.
Everybody is involved in promoting the rot, our security agencies (police, DSS etc.) are compromised, the journalist will because of brown envelopes look away, our lawyers will go ahead to defend them in courts, some judges will grant them injunctions to let them off the hook.
Good examples abound in the land. Some of the corrupt politicians who were left off the hook in Nigeria were indicted and convicted abroad.
All the above made the system to be unattractive to the elites and those with the minds of serving diligently with total commitment, hence, we have charlatans, thieves, rogues, and corrupt individuals irrespective to their profession and status in the society to continue to rule us.
Look at the electioneering, a lot are being revealed about all the candidates that are enough to put them behind bars, but we have their paid agents who will rise up to defend them and look away from the truth on the issues raised.
WHAT ARE THE EXPECTATIONS FROM THE NEW ADMINISTRATION
Political will to tackle corruption: To create accountability and justification for the actions of all stakeholders within the healthcare system and in compliance with WHO recommendation for Good Governance for Medicines (GGM) launched in 2004, the new administration should employ an anticorruption strategy that will leave no one out, from top to bottom.  This would help the governments to establish anti-corruption laws with mechanisms set up to ensure the smooth and independent running of it without any interference from 'the top' and facilitate legislation and regulation governing the health sector, especially pharmaceutical companies.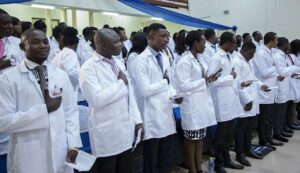 Increase fund to manage the health sector: Funding is a crucial element that keeps any sector running in Nigeria. As such, to make provisions for structural and infrastructural needs in the health system more budgetary allocation should be dedicated to the health sector from the federal, state, and local government.
WHAT IS EXPECTED FROM THE NEW ADMINISTRATION
Accountability framework that will ensure reward and punishment system. Reward for dedicated services and punishment for unruly actions.Salary increase for health workers. Primary Health Care under one roof with community participation.
REFERENCE: Readiness in Nigeria.BMC Health Services Research 17(2):1-12 Retrieved from https://bmchealthservres.biomedcentral.com/track/pdf/10.1186/s12913- 017-2112-8. Welcome, M.O. (2011). The Nigerian health care system: the need for integrating adequate medical intelligence and surveillance systems. Journal of
Pharmacy and BioAllied Sciences. 3(4):470-478. PMid: 22219580. http://dx.doi.org/10.4103/0975-7406.90100. World Health Organization (2015). Nigeria statistics summary (2002 – present). Retrieved from http://apps.who.int/gho/data/node.country.country-NGA. Dike, V. E. (2005). Corruption in Nigeria: A New Paradigm for Effective Control. Retrieved from http://www.africaeconomicanalysis.org/articles/gen/corruptiondikehtm.html
FOOTNOTE: You want to share story with us? You want to advertise with us? You need publicity for product, or service, or   event? Contact us on WhatsApp +2348073463653 or email [email protected]