Crime
Youths protest against alleged police brutality in Abeokuta
Yanju Uwala in Abeokuta
The youths on Friday in hundreds took over major streets of Abeokuta, Ogun State Capital to protest the call for final end of the Special Anti-Robbery Squad(SARS), and seen causing heavy traffic jam across the town.
Penpushing reports that the youths who were mainly students from various higher institutions across the state had converged as early as 6am, with number of placards carrying inscriptions such as  "#End Police Brutality, No more audio ban, My business will not grow if you keep SARS, End SARS Brutality Now, End Swat, iPhone no be Gun, This is a New Nigeria, #END SWAT NOW, Fucking end Police Brutality now and stop killing us"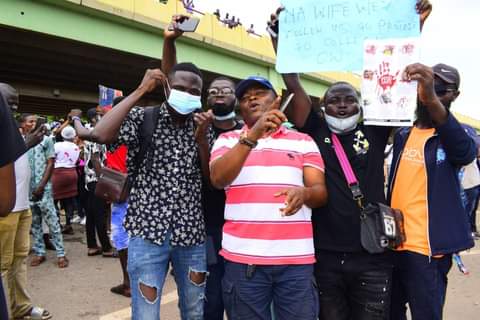 The leader of the protesters, Adedibola Adedeji said to be student of Moshood Abiola Polytechnic (MAPOLY) while speaking explained that the protest was focused on the police brutality, stressing that the youths cannot endure anymore.
"They are killing the youths and we are the leaders of tomorrow. They've been requesting money from us, and we cannot afford it. They call us lazy youths, we still try to live comfortably.  Some of us are feeding our family and SARS still threaten our lives."
The protesters  who also mounted barricade in number of entry point to Abeokuta, however demanded that the police should be reformed, with good welfare package by the authorities adding that the police will not disturb any youths if they are being paid well.
Penpushing also reports that in her own comments, a National Diploma II student of Moshood Abiola Polytechnic (MAPOLY), Omobolanle Jinadu disclosed that she was interested in the protest because many youths are being harass by  the anti- robbery squad,adding,"Government should end SARS, our live is paramount. End Police Brutality"